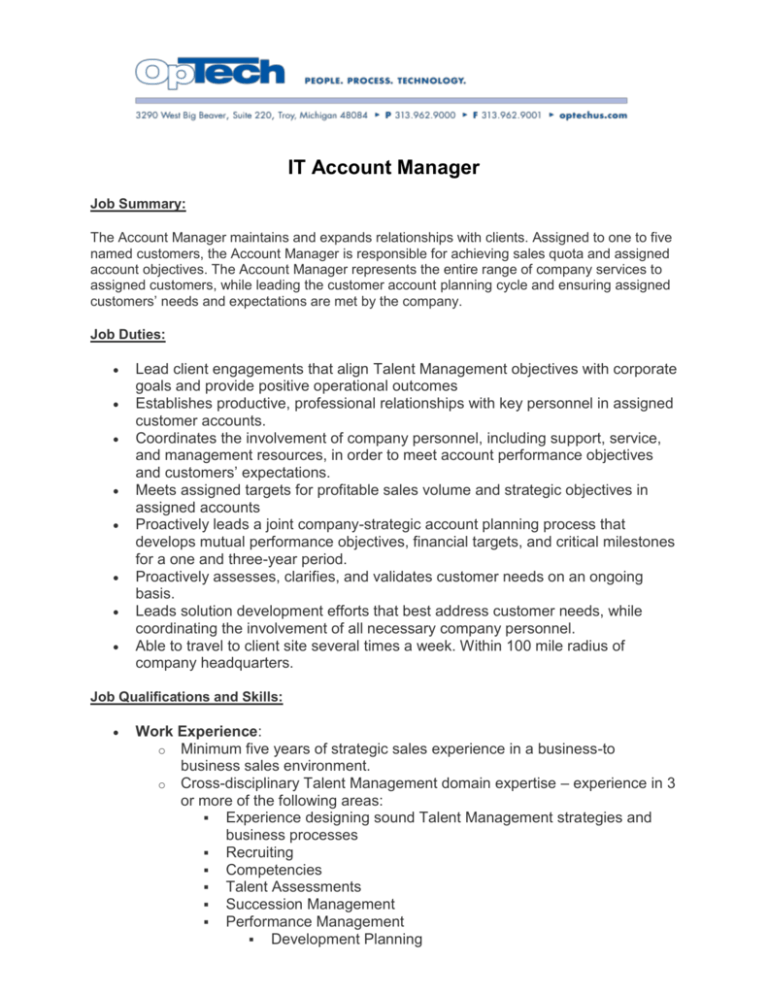 IT Account Manager
Job Summary:
The Account Manager maintains and expands relationships with clients. Assigned to one to five
named customers, the Account Manager is responsible for achieving sales quota and assigned
account objectives. The Account Manager represents the entire range of company services to
assigned customers, while leading the customer account planning cycle and ensuring assigned
customers' needs and expectations are met by the company.
Job Duties:








Lead client engagements that align Talent Management objectives with corporate
goals and provide positive operational outcomes
Establishes productive, professional relationships with key personnel in assigned
customer accounts.
Coordinates the involvement of company personnel, including support, service,
and management resources, in order to meet account performance objectives
and customers' expectations.
Meets assigned targets for profitable sales volume and strategic objectives in
assigned accounts
Proactively leads a joint company-strategic account planning process that
develops mutual performance objectives, financial targets, and critical milestones
for a one and three-year period.
Proactively assesses, clarifies, and validates customer needs on an ongoing
basis.
Leads solution development efforts that best address customer needs, while
coordinating the involvement of all necessary company personnel.
Able to travel to client site several times a week. Within 100 mile radius of
company headquarters.
Job Qualifications and Skills:

Work Experience:
o Minimum five years of strategic sales experience in a business-to
business sales environment.
o Cross-disciplinary Talent Management domain expertise – experience in 3
or more of the following areas:
 Experience designing sound Talent Management strategies and
business processes
 Recruiting
 Competencies
 Talent Assessments
 Succession Management
 Performance Management
 Development Planning




o
o
o
Compensation
Learning Management
Workforce Analytics
Talent Management Governance
Experience conducting business interviews and leading client workshops
6+ years general management consulting and software consulting
experience
Track record of managing client relationships and exceeding client
expectations
Education Experience: Advanced degree with concentration in Information Technology,
Human Resources or Organizational Development is preferred
Knowledge, Skills, and Abilities:




Ability to understand and articulate the strategic value of integrated Talent
Management processes with a strong business acumen
Understanding of enterprise software and Talent Management technologies (e.g.,
Recruiting, Performance Management, Learning Management, Succession
Management)
Strong writing skills including the ability to synthesize information into clear,
concise messages both for detailed analytical reports and executive summaries.
Effective verbal communication including the ability to relate well with others and
ability to adapt style as needed.
Please submit your resume and salary requirements to resumes@optechus.com.