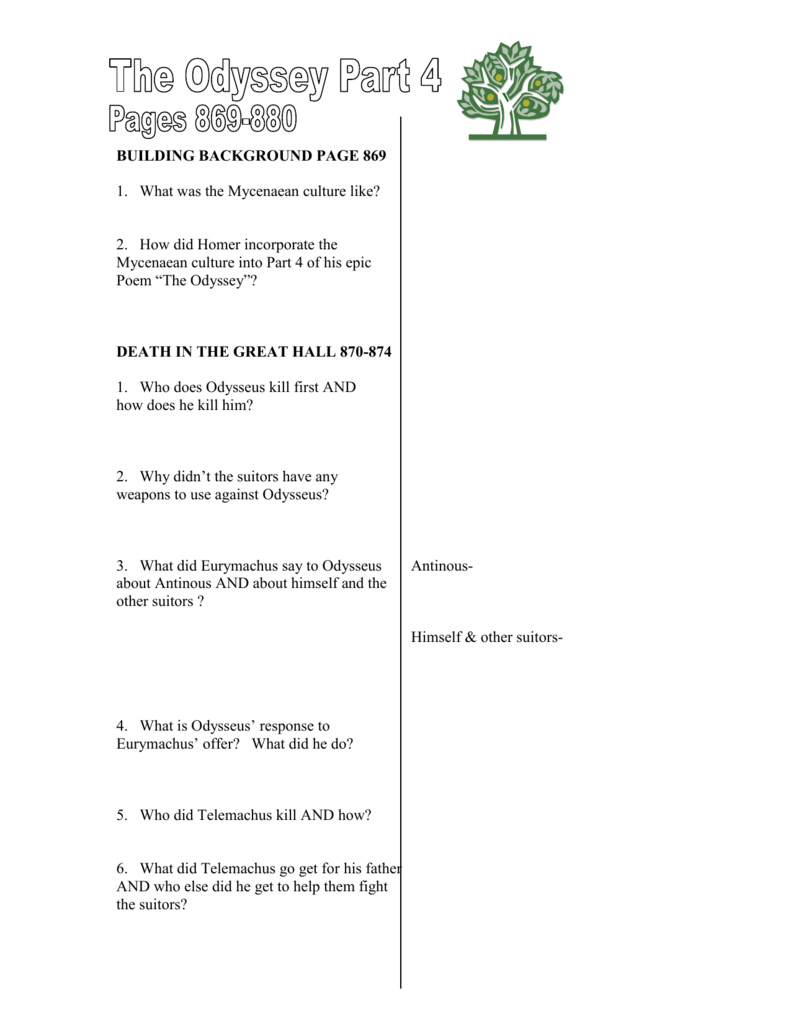 BUILDING BACKGROUND PAGE 869
1. What was the Mycenaean culture like?
2. How did Homer incorporate the
Mycenaean culture into Part 4 of his epic
Poem "The Odyssey"?
DEATH IN THE GREAT HALL 870-874
1. Who does Odysseus kill first AND
how does he kill him?
2. Why didn't the suitors have any
weapons to use against Odysseus?
3. What did Eurymachus say to Odysseus
about Antinous AND about himself and the
other suitors ?
Antinous-
Himself & other suitors-
4. What is Odysseus' response to
Eurymachus' offer? What did he do?
5. Who did Telemachus kill AND how?
6. What did Telemachus go get for his father
AND who else did he get to help them fight
the suitors?
7. What metaphor is used to describe all
the dead suitors in the great hall?
write in your own words
Lines_______________
Copy from book
THE TRUNK OF THE OLIVE TREE 874-880
1. How does Penelope's old nurse know for
certain that "the beggar" is indeed Odysseus?
2. Who does Penelope think the stranger is? Write in your own words
Why?
Lines_______________
Copy the lines that prove your reasoning
3. How does Telemachus feel about his
mom's reaction?
4. On line 58 what is Odysseus worried about
when he says, "As to this massacre, we must
see the end"?
What plan does he come up with to resolve
the situation with "the massacre"?
5. What did Athena do for Odysseus?
6. How does Penelope know for certain that
the stranger truly is her husband? What was
their "secret sign"?
7. How is the battle between Odysseus and
the suitors' families resolved?