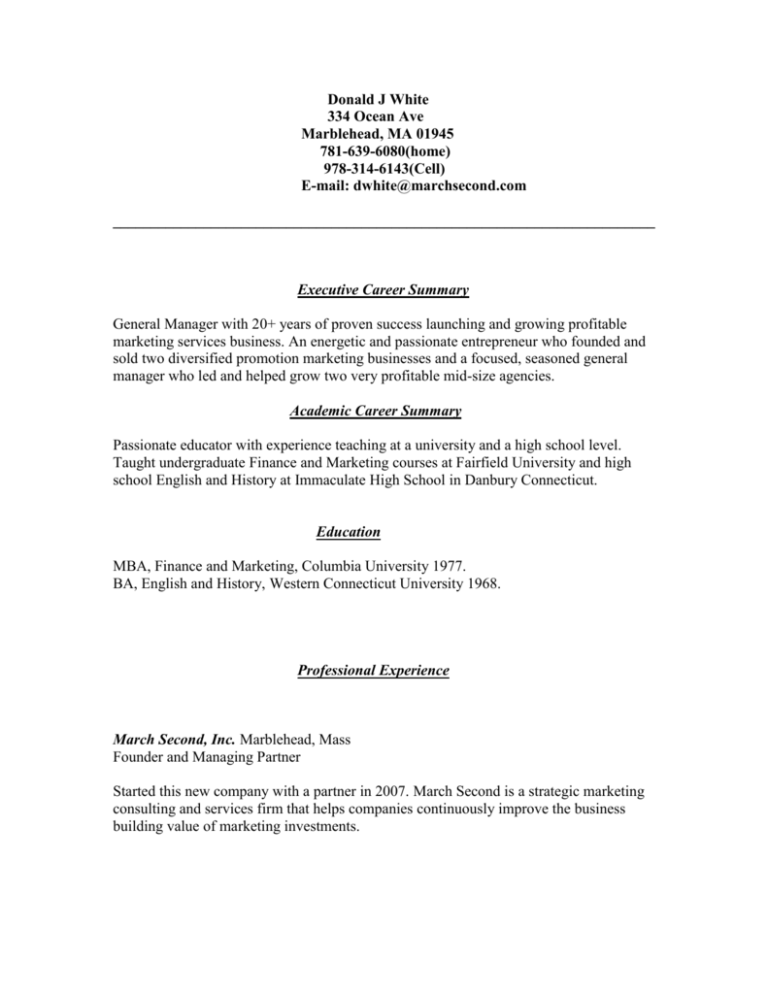 Donald J White
334 Ocean Ave
Marblehead, MA 01945
781-639-6080(home)
978-314-6143(Cell)
E-mail: dwhite@marchsecond.com
________________________________________________________________________
Executive Career Summary
General Manager with 20+ years of proven success launching and growing profitable
marketing services business. An energetic and passionate entrepreneur who founded and
sold two diversified promotion marketing businesses and a focused, seasoned general
manager who led and helped grow two very profitable mid-size agencies.
Academic Career Summary
Passionate educator with experience teaching at a university and a high school level.
Taught undergraduate Finance and Marketing courses at Fairfield University and high
school English and History at Immaculate High School in Danbury Connecticut.
Education
MBA, Finance and Marketing, Columbia University 1977.
BA, English and History, Western Connecticut University 1968.
Professional Experience
March Second, Inc. Marblehead, Mass
Founder and Managing Partner
Started this new company with a partner in 2007. March Second is a strategic marketing
consulting and services firm that helps companies continuously improve the business
building value of marketing investments.
Quaero Corp., Charlotte, North Carolina
Executive Vice President, Managing Director 2003-2007
Joined this early stage marketing technology and services company to manage and grow
Quaero SpringBoard, the company's CRM outsourcing division. Upgraded capabilities
by developing partnerships with Unica, MicroStrategy, Elity, and MarketSoft. Created
segment specific offerings for Pharmaceutical, Retail and Banking industries. Led sales
efforts that secured four new clients and $1.5M in annual fee revenue
Veridiem, Inc., Maynard, Massachusetts
Chief Marketing Officer
1999-2002
Recruited to join this early stage, venture funded Software Company shortly after initial
financing. Directed Marcom, Product Marketing, and Client Services staff. Developed
company name, positioning and early go-to-market strategy. Guided company through a
successful $25M Series B financing. Responsible for securing company's first six beta
customers. After original founder was replaced, agreed to remain with company and to
work with Board and new CEO to change business model from an analytical software
and services provider to an enterprise software company. The transition was completed
and the company's software product and service offerings were successfully relaunched.
Hill Holliday, Boston, Massachusetts
Executive Vice President, Managing Partner 1997-1999
Recruited to join this large Boston based advertising agency to revitalize and grow
Relationship Marketing business and add depth to executive team. Directed staff of 85
professionals. Had P&L responsibility for all the agency's non-advertising businesses
including Relationship Marketing, Data Technologies, and Teleservices. Tripled business
from $6M to nearly $20M by expanding relationships with existing clients Fidelity,
Humana and John Hancock and adding new clients Fleet bank, First Union, and British
Airways. Worked closely with CEO and executive team to complete successful sale of
agency to Interpublic Group in fall of 1998.
Clarion Marketing Group, Greenwich, Connecticut
President Clarion Direct
1994-1997
Joined this diversified marketing services agency after selling Saugatuck Marketing
Group to DMB&B and merging it with Clarion Marketing. Grew the direct marketing
division at Clarion from under $5M to over $13M in three years, contributing a third of
Clarion's revenue and 45% of the profit. Developed and launched the company's first
interactive division. Directed a staff of 55 professionals and managed senior level
relationships with Microsoft, Fleet Bank, British Airways and the Cadillac Division of
General Motors.
Saugatuck Marketing Group, Westport, Connecticut
President and Co-Founder
1989-1994
Co-founded Saugatuck Marketing, a promotion marketing consultancy, specializing in
developing and implementing business building promotional programs. Grew Saugatuck
to $4M in revenue with a blue chip client base and a reputation for developing successful
business building programs. Sold Saugatuck in 1991 to FKB Group, a UK based
marketing services company. In 1992 launched a successful discount travel club business.
The Carlson Companies acquired Saugatuck from FKB the same year. One year later
bought back Saugatuck, sans the travel club business, from The Carlson Companies, and
re-launched the company with a new focus on direct marketing. In 1994 received an
unsolicited offer to acquire Saugatuck by DMB&B and agreed to sell company and
merge it with Clarion Marketing, a wholly owned subsidiary of DMB&B.
The Direct Marketing Group, New York, New York
Executive Vice President
1986-1989
Joined The Direct Marketing Group, a $30M independently owned direct marketing
services company, after an unsuccessful attempt to acquire company for Pitney Bowes.
Led the agency business for three years, directing a staff of eighty, and doubling the size
of the business from $12M to $25M. Personally managed the Chase Manhattan and Bell
Atlantic accounts. Successfully completed the acquisition of a telemarketing company in
1988 and integrated and added these services to The Direct Marketing Group's service
offering.
Pitney Bowes Inc., Stamford, Connecticut
Vice President
1972-1986
Held several executive level positions in corporate development, marketing, finance, and
investor relations during fourteen-year career with Pitney Bowes. Helped complete
several major acquisitions in the mailing services category that now account for over
twenty percent of the company's revenue. Was appointed by Chairman to be company's
first Investor Relations Officer. Directed Strategy and Planning for the company's direct
sales organization.
Immaculate High School, Danbury, Connecticut
Teacher, Football and Track Coach
1968-1972
Fairfield University, Fairfield Connecticut
Adjunct Professor School of Business 1978-1980
Personal
Married, five children. Trustee Tower School. Avid sailor, tennis player and skier.