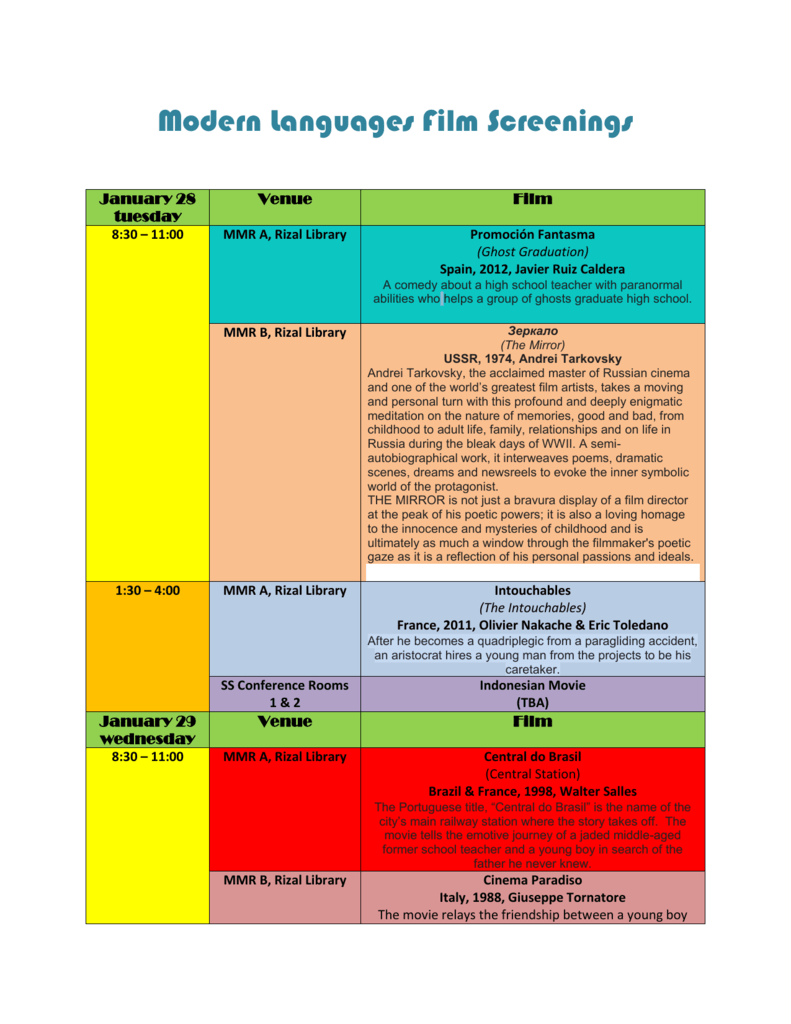 Modern Languages Film Screenings
January 28
tuesday
Venue
Film
8:30 – 11:00
MMR A, Rizal Library
Promoción Fantasma
(Ghost Graduation)
Spain, 2012, Javier Ruiz Caldera
A comedy about a high school teacher with paranormal
abilities who helps a group of ghosts graduate high school.
1:30 – 4:00
MMR B, Rizal Library
Зеркало
(The Mirror)
USSR, 1974, Andrei Tarkovsky
Andrei Tarkovsky, the acclaimed master of Russian cinema
and one of the world's greatest film artists, takes a moving
and personal turn with this profound and deeply enigmatic
meditation on the nature of memories, good and bad, from
childhood to adult life, family, relationships and on life in
Russia during the bleak days of WWII. A semiautobiographical work, it interweaves poems, dramatic
scenes, dreams and newsreels to evoke the inner symbolic
world of the protagonist.
THE MIRROR is not just a bravura display of a film director
at the peak of his poetic powers; it is also a loving homage
to the innocence and mysteries of childhood and is
ultimately as much a window through the filmmaker's poetic
gaze as it is a reflection of his personal passions and ideals.
MMR A, Rizal Library
Intouchables
(The Intouchables)
France, 2011, Olivier Nakache & Eric Toledano
After he becomes a quadriplegic from a paragliding accident,
an aristocrat hires a young man from the projects to be his
caretaker.
SS Conference Rooms
1&2
Indonesian Movie
(TBA)
January 29
wednesday
Venue
Film
8:30 – 11:00
MMR A, Rizal Library
Central do Brasil
(Central Station)
Brazil & France, 1998, Walter Salles
The Portuguese title, "Central do Brasil" is the name of the
city's main railway station where the story takes off. The
movie tells the emotive journey of a jaded middle-aged
former school teacher and a young boy in search of the
father he never knew.
MMR B, Rizal Library
Cinema Paradiso
Italy, 1988, Giuseppe Tornatore
The movie relays the friendship between a young boy
named Salvatore (Toto) and Alfredo, the projectionist of
Paradiso, the local movie house of a small town in Sicily.
1:30 – 4:00
MMR A, Rizal Library
Nae meorisokui jiwoogae
(A Moment to Remember)
Korea, 2004, Jaehan Lee
Sujin, a forgetful designer, accidentally meets a tough guy
Cheolsu. After they bumped into each other several times
and sweet events took place, they fall in love and finally get
married. While happily married, Sujin's forgetfulness
becomes serious and Cheolsu found out that she was
diagnosed with Alzheimer's disease. As Sujin's memory
deteriorates, Cheolsu's existence is also fading away in her
memory...
MMR B, Rizal Library
Almanya: Willkommen in Deutschland
(Welcome to Germany)
Germany, 2009 – 2011, Yasemin Samdereli
A comedy that explores the immigrant experience in
Germany. Huseyin came to Germany in the 1960s as a
'Gastarbeiter' and has become a model citizen with a large
family. He has decided to purchase some land in his home
village in Anatalya, Turkey and insists that all his family
accompany him on a sentimental journey home. The clash
between the generations and a nostalgia for the past
combine in a joyous, feel-good production.