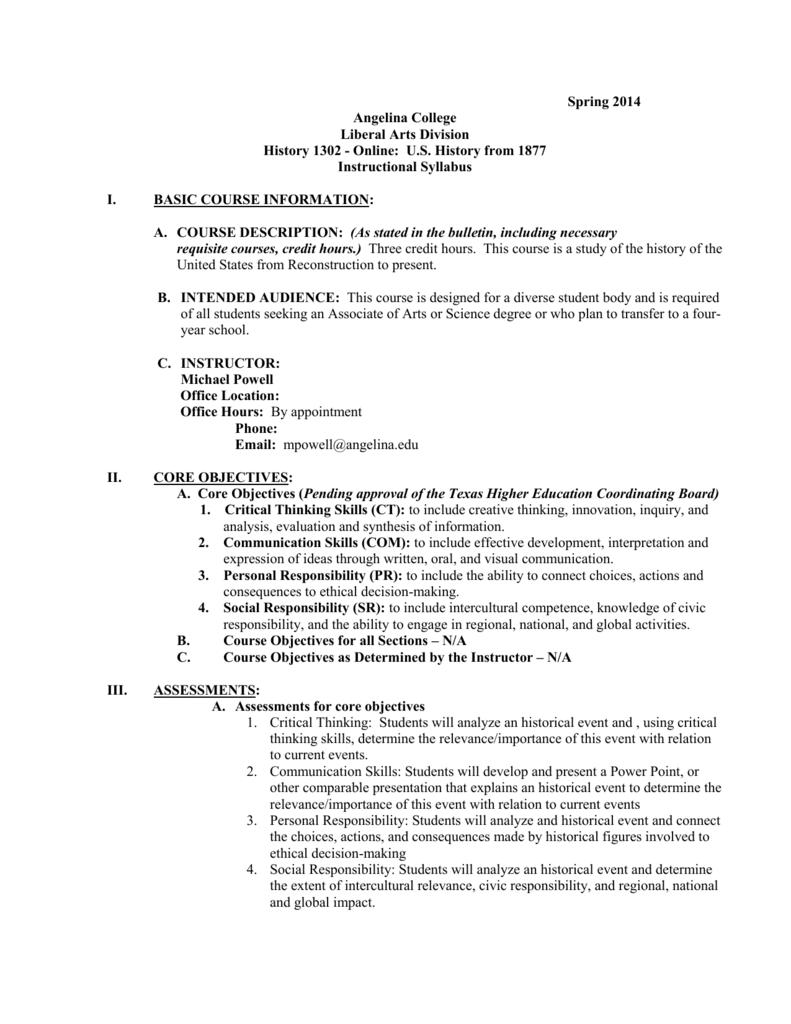 Spring 2014
Angelina College
Liberal Arts Division
History 1302 - Online: U.S. History from 1877
Instructional Syllabus
I.
BASIC COURSE INFORMATION:
A. COURSE DESCRIPTION: (As stated in the bulletin, including necessary
requisite courses, credit hours.) Three credit hours. This course is a study of the history of the
United States from Reconstruction to present.
B. INTENDED AUDIENCE: This course is designed for a diverse student body and is required
of all students seeking an Associate of Arts or Science degree or who plan to transfer to a fouryear school.
C. INSTRUCTOR:
Michael Powell
Office Location:
Office Hours: By appointment
Phone:
Email: [email protected]
II.
CORE OBJECTIVES:
A. Core Objectives (Pending approval of the Texas Higher Education Coordinating Board)
1. Critical Thinking Skills (CT): to include creative thinking, innovation, inquiry, and
analysis, evaluation and synthesis of information.
2. Communication Skills (COM): to include effective development, interpretation and
expression of ideas through written, oral, and visual communication.
3. Personal Responsibility (PR): to include the ability to connect choices, actions and
consequences to ethical decision-making.
4. Social Responsibility (SR): to include intercultural competence, knowledge of civic
responsibility, and the ability to engage in regional, national, and global activities.
B.
Course Objectives for all Sections – N/A
C.
Course Objectives as Determined by the Instructor – N/A
III.
ASSESSMENTS:
A. Assessments for core objectives
1. Critical Thinking: Students will analyze an historical event and , using critical
thinking skills, determine the relevance/importance of this event with relation
to current events.
2. Communication Skills: Students will develop and present a Power Point, or
other comparable presentation that explains an historical event to determine the
relevance/importance of this event with relation to current events
3. Personal Responsibility: Students will analyze and historical event and connect
the choices, actions, and consequences made by historical figures involved to
ethical decision-making
4. Social Responsibility: Students will analyze an historical event and determine
the extent of intercultural relevance, civic responsibility, and regional, national
and global impact.
IV.
INSTRUCTIONAL PROCEDURES:
A. Methodologies common to all section.
Methodologies that are utilized in presenting course content may include (but are not
limited to) lectures, class discussion, audio-visual presentation, and critical thinking
projects.
B. Methodologies determined by Instructor – N/A
V.
COURSE REQUIREMENTS AND POLICIES:
A. Required Textbooks, Materials, and Equipment – Tindall, George Brown, Shi, David
Emory; America: A Narrative History. Brief 9th Edition, (W.W. Norton & Co.; 2011)
B. Assignments – (Appropriate due dates, schedules, deadlines)
*Supplemental Unit for Critical Thinking on Blackboard
C. Course policies – (This course conforms to the policies of Angelina College as
stated in the Angelina College Handbook)
Academic Assistance – If you have a disability (as citied in Section 504 of the rehabilitation
Act of 1973 or Title II of the American with Disabilities Act of 1990) that may affect your
participation in this class, you should see Karen Bowser, Room 208 of the student center. At a
post-secondary, you must self identify as a person with a disability; Ms. Bowser will assist you
with the necessary information to do so. Angelina College (AC) admits students without regard
to race, color, religion, national origin, sex, disability, or age. Inquiries regarding the nondiscrimination policies of AC should be directed to: Dr. Patricia McKenzie, Vice President and
Dean of Instruction, 3500 South First, Lufkin, TX 75904, telephone 936-633-5201.
Additional Policies Established by the Individual Instructor
Attendance – Attendance will be taken! Students are expected to login to Blackboard at least
once a week and as needed with respect to submitting work online.
Pay attention to the due dates and the exam schedule on
the Course Calendar.
CLASS CONDUCT – THIS IS A COLLEGE CLASS. AS AN ADULT ASSUMING THE
RESPONSIBILITY OF HIGHER EDUCATION, YOU SHOULD ACT APPROPRIATELY.
THIS MEANS TREATING FELLOW STUDENTS AND THE INSTRUCTOR WITH
RESPECT. IN RETURN, YOU WILL BE TREATED WITH RESPECT. RESPECT MEANS
PROVIDING POSITIVE, CONSTRUCTIVE COMMENTS ON ALL DISCUSSIONS &
ESSAYS. DO NOT POST ANY HURTFUL, NEGATIVE, OR VULGUR COMMENTS ON
BLACKBOARD OR VIA EMAIL. VIOLATION OF THESE POLICIES MAY RESULT IN
REMOVAL FROM THE CLASS.
Exams – Four major exams – Schedule to be announced. No makeup exams.
VI.
COURSE CONTENT:
A. Content/Topics – A study of American history from 1877 to the present with special
emphasis on political, economic, and social change which led to the developments which made
America the larges industrial nation of the world, after which the Americans took an increasing
role in world politics so that they emerged as the self-proclaimed leader to the "free world" and
the promoter of free trade and globalization
B. Additional Content – (as required by the instructor) – Critically analysis of the
role of government (legislative, militarily, foreign policy, etc) in the shaping of
American history.
VII.
EVALUATION AND GRADING:
A. Grades will be determined by scores on exams and by evaluation of the Critical Thinking
Discussion Essays. Students must complete each Discussion Essay in order to get credit for all
of the Essays. The instructor reserves the right to offer extra credit opportunities, but do not ask
for extra credit. DO THE WORK ASSIGNED THROUGHOUT THE SEMESTER IN A
TIMELY MANNER! I HAVE NO TOLERANCE FOR THOSE WHO DO NOTHING
DURING THE SEMESTER AND IN THE LAST WEEKS PLEAD WITH ME TO
ALLOW THEM TO MAKE UP WORK OR OFFER THEM EXTRA CREDIT. DON'T
EVEN ASK!
B. Determination of the final grade – Your final grade will be calculated in the
following way:
89.1 – 100 = A
79.1 – 89 = B
69.1 – 79 = C
59.1 – 69 = D
00.0 – 59 = F
Exam #1 = 10%
Exam #2 = 10%
Exam #3 = 10%
Exam #4 = 10%
Essays(4) = 60%
Total
= 100%
VIII.
SYLLABUS MODIFICATION:
The instructor may modify the provisions of the syllabus to meet individual class needs by
informing the class in advance as to the changes being made.