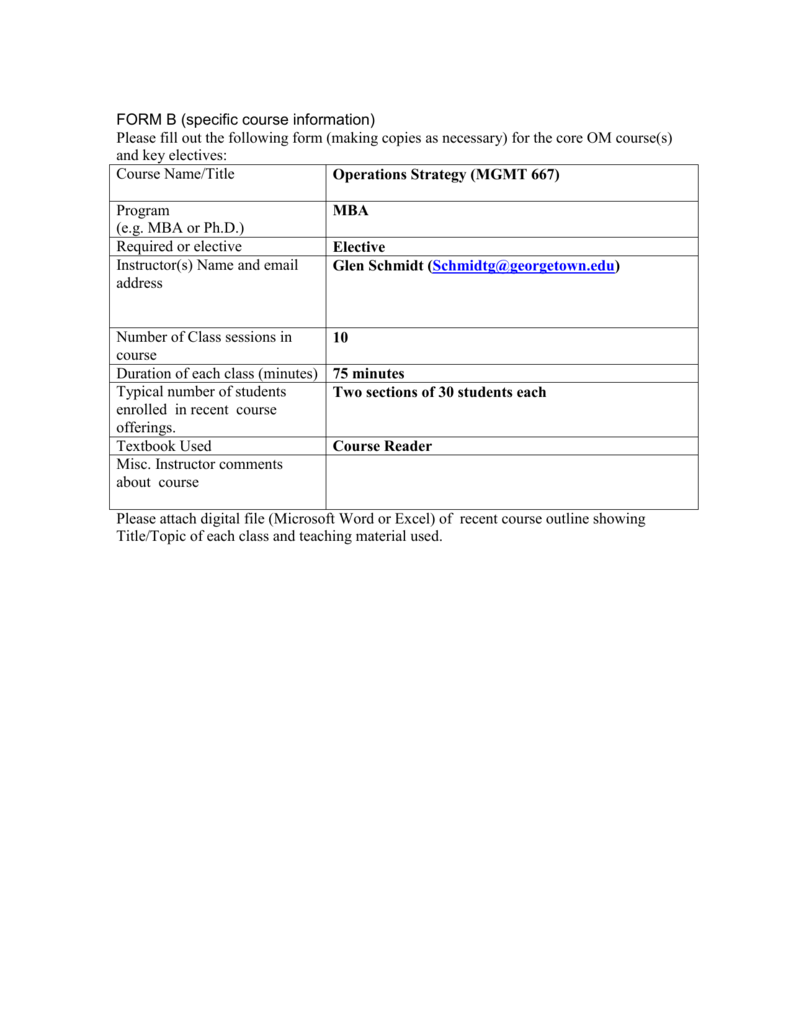 FORM B (specific course information)
Please fill out the following form (making copies as necessary) for the core OM course(s)
and key electives:
Course Name/Title
Operations Strategy (MGMT 667)
Program
(e.g. MBA or Ph.D.)
Required or elective
Instructor(s) Name and email
address
MBA
Number of Class sessions in
course
Duration of each class (minutes)
Typical number of students
enrolled in recent course
offerings.
Textbook Used
Misc. Instructor comments
about course
10
Elective
Glen Schmidt ([email protected])
75 minutes
Two sections of 30 students each
Course Reader
Please attach digital file (Microsoft Word or Excel) of recent course outline showing
Title/Topic of each class and teaching material used.
Operations Strategy, McDonough School of Business, Professor Glen
Schmidt
1
2
3
4
5
6
Topic: Introduction – The Dynamics of Innovation
Readings: Excerpts from Mastering the Dynamics of Innovation, Utterback
Excerpts from Intel's 2001 Annual Report
Topic: Competitive Positioning
Readings: "The Pooling Principle," & "Pooling Principle #2," Georgetown notes
Case: "Manzana Insurance," Stanford U. S-DS-87.
Topic: Strategic Implications of the Learning Curve
Readings: "The Nature of Exponential Change," Stanford Teaching Note
Case: "The Growth of Intel, and the Learning Curve," Georgetown Note
Topic: Encroachment Strategies
Readings: "Disruptive Technologies: Catching the Wave," HBR Jan-Feb '95
"Encroachment Strategies…," Georgetown Teaching Note POM-15
Case: "Seagate-Quantum: Encroachment Strategies," Georgetown Note
Tour: Chaparral Steel, Petersburg, VA
Topic: Rapid Process and Product Innovation
Readings: "Manufacturing by Design," HBR
Case: "Chaparral Steel: Rapid Product and Process Development," HBS 9-692-018
Topic: Capacity Management
Readings: "The Newsvendor Model," Georgetown Teaching Notes.
Case: "Harley Davidson Motor Company," Northwestern U.
Tour: Harley Davidson, York, PA, 10:00 a.m.
7
Topic: The Product Development Supply Chain
Readings: "How Architecture Wins Technology Wars", HBR Mar-Apr 93
Watch the 56 min. video, "The 21st Century Jet
Case: "Betting on the 21st Century Jet"
8
Topic: Strategic Quality Management
Readings: "Competing on the Eight Dimensions of Quality," HBR Nov-Dec '87
Case: "BMW: The 7-Series Project," HBS 9-692-083
Topic: Competing Through Mass Customization
Readings: "Mass Customization," Georgetown Teaching Note.
9
"A Long March," from The Economist, July 14, 2001.
10
Case: "National Bicycle Industrial Co.," The Wharton School
Topic: Competitive Positioning
Readings: "The OM Triangle," Georgetown Teaching Note.
Case: "Shouldice Hospital," HBS case 9-683-068.