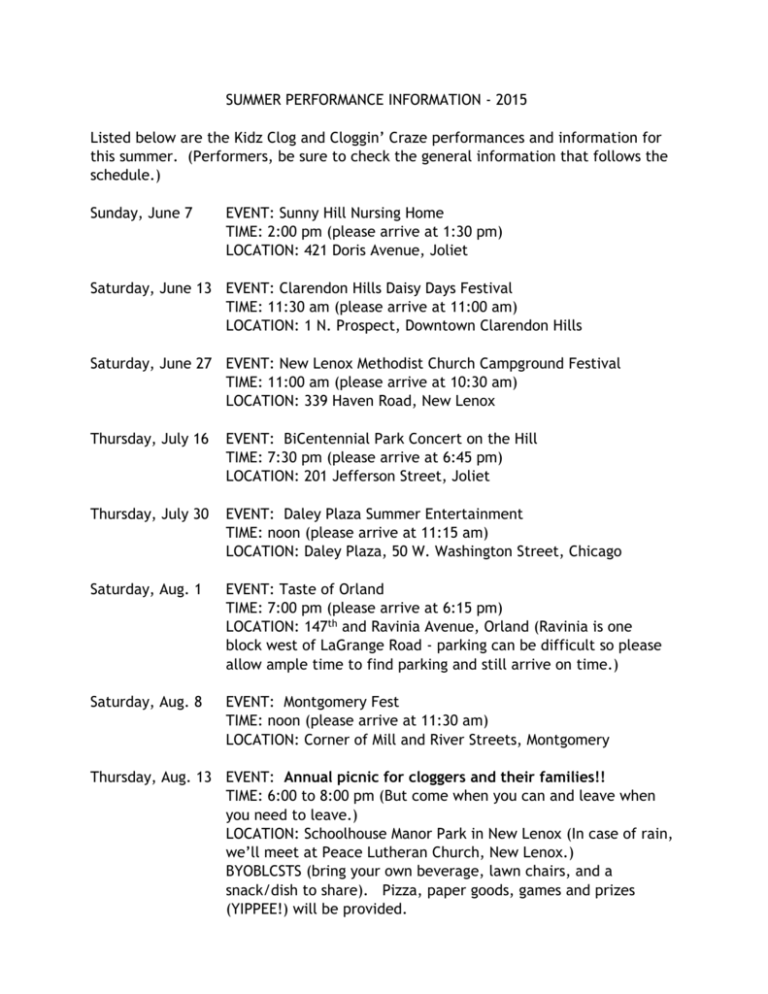 SUMMER PERFORMANCE INFORMATION - 2015
Listed below are the Kidz Clog and Cloggin' Craze performances and information for
this summer. (Performers, be sure to check the general information that follows the
schedule.)
Sunday, June 7
EVENT: Sunny Hill Nursing Home
TIME: 2:00 pm (please arrive at 1:30 pm)
LOCATION: 421 Doris Avenue, Joliet
Saturday, June 13 EVENT: Clarendon Hills Daisy Days Festival
TIME: 11:30 am (please arrive at 11:00 am)
LOCATION: 1 N. Prospect, Downtown Clarendon Hills
Saturday, June 27 EVENT: New Lenox Methodist Church Campground Festival
TIME: 11:00 am (please arrive at 10:30 am)
LOCATION: 339 Haven Road, New Lenox
Thursday, July 16
EVENT: BiCentennial Park Concert on the Hill
TIME: 7:30 pm (please arrive at 6:45 pm)
LOCATION: 201 Jefferson Street, Joliet
Thursday, July 30
EVENT: Daley Plaza Summer Entertainment
TIME: noon (please arrive at 11:15 am)
LOCATION: Daley Plaza, 50 W. Washington Street, Chicago
Saturday, Aug. 1
EVENT: Taste of Orland
TIME: 7:00 pm (please arrive at 6:15 pm)
LOCATION: 147th and Ravinia Avenue, Orland (Ravinia is one
block west of LaGrange Road - parking can be difficult so please
allow ample time to find parking and still arrive on time.)
Saturday, Aug. 8
EVENT: Montgomery Fest
TIME: noon (please arrive at 11:30 am)
LOCATION: Corner of Mill and River Streets, Montgomery
Thursday, Aug. 13 EVENT: Annual picnic for cloggers and their families!!
TIME: 6:00 to 8:00 pm (But come when you can and leave when
you need to leave.)
LOCATION: Schoolhouse Manor Park in New Lenox (In case of rain,
we'll meet at Peace Lutheran Church, New Lenox.)
BYOBLCSTS (bring your own beverage, lawn chairs, and a
snack/dish to share). Pizza, paper goods, games and prizes
(YIPPEE!) will be provided.
Sunday, Aug. 23
EVENT: Illinois State Fair
TIME: Clogging groups from around the state will perform from
1:30 to 4:30. We will eventually be assigned a 30 minute time
slot within that range. (please arrive at the stage at 12:45)
LOCATION: Springfield - State Fairgrounds - Ethnic Village Stage
(Parking and admission will be free for cloggers.)
Sunday, Sept. 13
EVENT: Sandwich Fair (Adults only)
TIME: 3:00 pm (please arrive at 2:30 pm)
LOCATION: Sandwich Fairgrounds
NOTES FOR PERFORMERS
*
Everyone is included at each performance unless we have indicated
otherwise. Each performance generally lasts about 45 minutes.
*
For each performance, PLEASE CAREFULLY NOTE the performance time
as well as the arrival time.
*
If you are going to participate in a performance, you need to be at
practice the Thursday/Friday evening before. On occasion, we will make exceptions;
however, it is your responsibility to let us know of your absence in advance. Our
phone number is 815-485-5324 and our email is dhedlin@hotmail.com.
*
For each performance, wear the new maroon shirts (not tucked in) with
basic, plain blue denim shorts (no designs, no holes, no lace, no cut-offs, no glitter,
no ties, etc. - just plain). Shorts should be above the knee and not too short. Please
wear white socks - the low kind that don't show in your shoe or just barely come up
above your shoe. Also only wear your shirt for performances so that it stays nice.
Once our performing season is over, then feel free to wear it whenever you want.
Please wear your hair back off your face.
*
We try to get this information to you in advance so that you can mark
your calendars and hold as many of these dates open as possible. We know it is
difficult to know your entire summer schedule at this time. However, to the best of
your ability, please indicate your availability on the attached pink sheet and return it
to us no later than May 22. If you have a conflict come up after you make the
commitment, please contact us AS SOON AS YOU CAN so that we can adjust as
necessary.
*
We enjoy our group and our performances, but there are two situations
that make us crazy. Situation #1 - when people call us at the last minute to cancel
when the situation was avoidable; so when at all possible, please give us advance
notice. Situation #2 - when people don't arrive on time. We understand that
sometimes it is frustrating for you to arrive on time and then feel like you are just
standing there. However, it takes all of the advance time for us to organize. We
appreciate all of you who arrive on time and then just patiently wait while we line
people up and attend to last minute details.
*
Reminder: Thursday, May 28, is the special practice night for everyone
who is planning to perform with us at all this summer. We will meet at our usual
location, Francis Field, from 6:30 - 8:30 pm. We need EVERYONE there! Although
your absence would not necessarily preclude you from performing this summer, we
ask you to make this practice a priority in your schedule. If you cannot attend, we do
need to know in advance.
Thank you for your willingness to participate. We are glad to have you performing
with us this summer - we hope you have fun!
If you have any questions, please talk to us on a Thursday/Friday, email, or give us a
call.