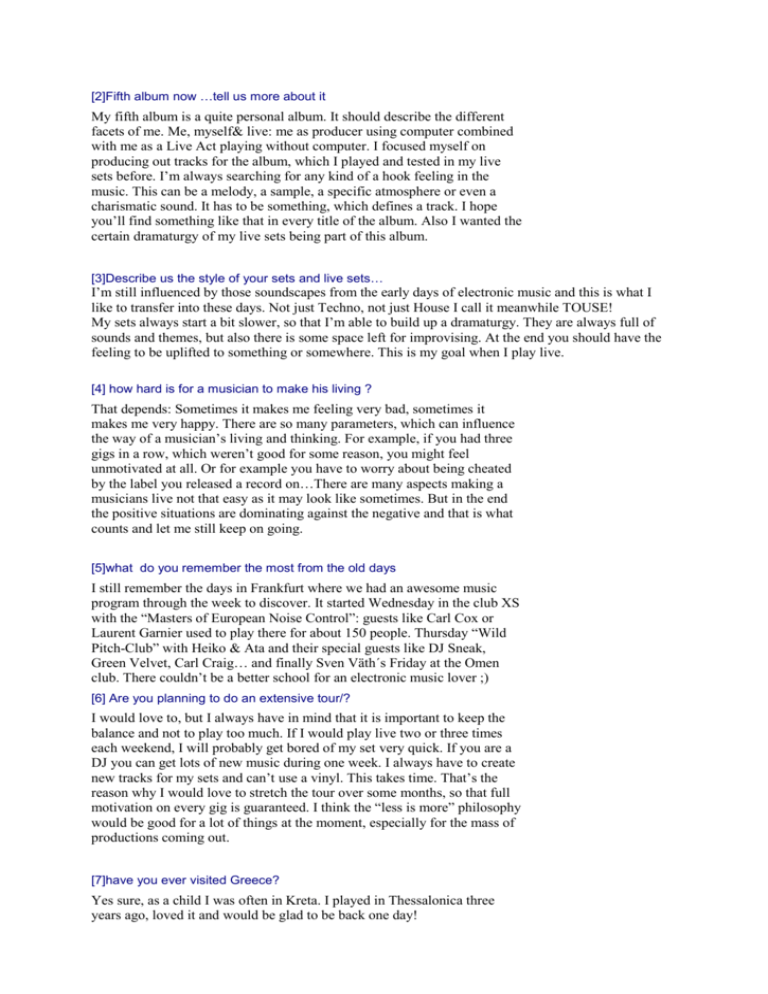 [2]Fifth album now …tell us more about it
My fifth album is a quite personal album. It should describe the different
facets of me. Me, myself& live: me as producer using computer combined
with me as a Live Act playing without computer. I focused myself on
producing out tracks for the album, which I played and tested in my live
sets before. I'm always searching for any kind of a hook feeling in the
music. This can be a melody, a sample, a specific atmosphere or even a
charismatic sound. It has to be something, which defines a track. I hope
you'll find something like that in every title of the album. Also I wanted the
certain dramaturgy of my live sets being part of this album.
[3]Describe us the style of your sets and live sets…
I'm still influenced by those soundscapes from the early days of electronic music and this is what I
like to transfer into these days. Not just Techno, not just House I call it meanwhile TOUSE!
My sets always start a bit slower, so that I'm able to build up a dramaturgy. They are always full of
sounds and themes, but also there is some space left for improvising. At the end you should have the
feeling to be uplifted to something or somewhere. This is my goal when I play live.
[4] how hard is for a musician to make his living ?
That depends: Sometimes it makes me feeling very bad, sometimes it
makes me very happy. There are so many parameters, which can influence
the way of a musician's living and thinking. For example, if you had three
gigs in a row, which weren't good for some reason, you might feel
unmotivated at all. Or for example you have to worry about being cheated
by the label you released a record on…There are many aspects making a
musicians live not that easy as it may look like sometimes. But in the end
the positive situations are dominating against the negative and that is what
counts and let me still keep on going.
[5]what do you remember the most from the old days
I still remember the days in Frankfurt where we had an awesome music
program through the week to discover. It started Wednesday in the club XS
with the "Masters of European Noise Control": guests like Carl Cox or
Laurent Garnier used to play there for about 150 people. Thursday "Wild
Pitch-Club" with Heiko & Ata and their special guests like DJ Sneak,
Green Velvet, Carl Craig… and finally Sven Väth´s Friday at the Omen
club. There couldn't be a better school for an electronic music lover ;)
[6] Are you planning to do an extensive tour/?
I would love to, but I always have in mind that it is important to keep the
balance and not to play too much. If I would play live two or three times
each weekend, I will probably get bored of my set very quick. If you are a
DJ you can get lots of new music during one week. I always have to create
new tracks for my sets and can't use a vinyl. This takes time. That's the
reason why I would love to stretch the tour over some months, so that full
motivation on every gig is guaranteed. I think the "less is more" philosophy
would be good for a lot of things at the moment, especially for the mass of
productions coming out.
[7]have you ever visited Greece?
Yes sure, as a child I was often in Kreta. I played in Thessalonica three
years ago, loved it and would be glad to be back one day!
[8] what do u believe about electronic musik In general towards rock
music…..the evolution of electronic music is the one you thought would be?
Obviously I like both. If Rock Music is well done I love it. The problem we
have in the electronic music scene at the moment is that music is produced
like spam. In my opinion the reason for that is that not much money is
needed to build up a studio. Ableton & other softwares makes it possible.
Everybody can release his first steps into electronic music directly via
portals like Beatport. Because of that we have a big problem concerning the
value towards music at all. This is something I did not expected when I
started doing this kind of music. You don't have this phenomenon in rock
music, because you have to learn how to play an instrument first before
getting started to release a track. Putting some tracks together with preprepared samples in Ableton is no big deal at all. And it has nothing to do
with being a musician! That's why I would like to found an electronic band
someday just to get a distance to that entire "half –music", which is
produced day by day.