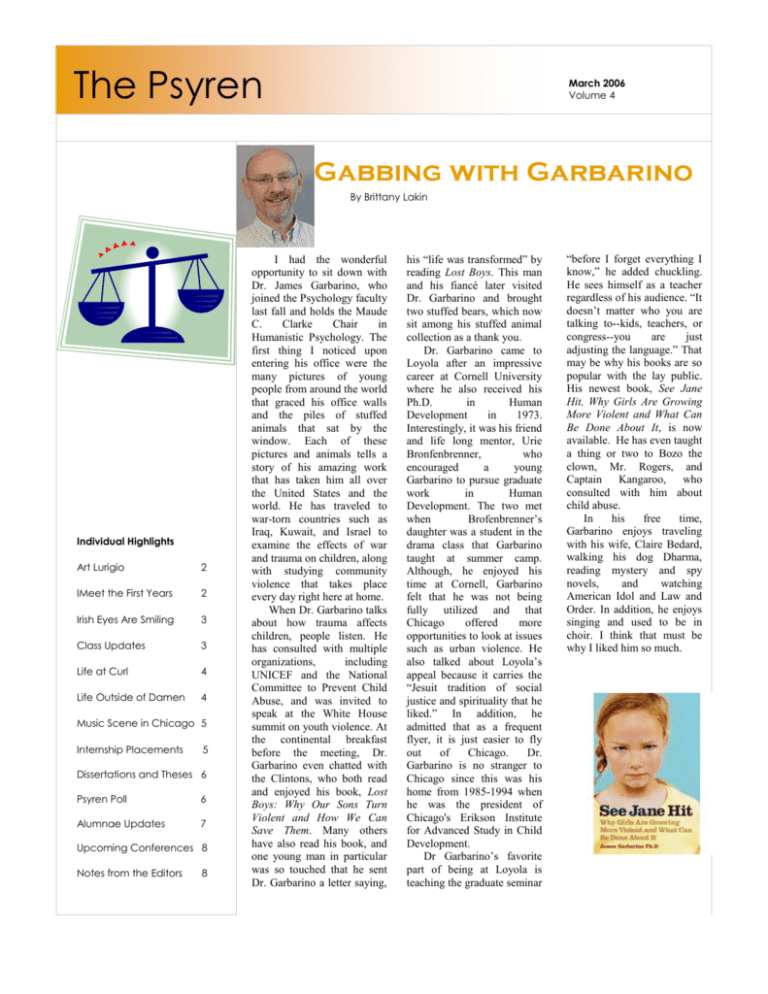 The Psyren
March 2006
Volume 4
Gabbing with Garbarino
By Brittany Lakin
Individual Highlights
Art Lurigio
2
IMeet the First Years
2
Irish Eyes Are Smiling
3
Class Updates
3
Life at Curl
4
Life Outside of Damen
4
Music Scene in Chicago 5
Internship Placements
5
Dissertations and Theses 6
Psyren Poll
6
Alumnae Updates
7
Upcoming Conferences 8
Notes from the Editors
8
I had the wonderful
opportunity to sit down with
Dr. James Garbarino, who
joined the Psychology faculty
last fall and holds the Maude
C.
Clarke
Chair
in
Humanistic Psychology. The
first thing I noticed upon
entering his office were the
many pictures of young
people from around the world
that graced his office walls
and the piles of stuffed
animals that sat by the
window. Each of these
pictures and animals tells a
story of his amazing work
that has taken him all over
the United States and the
world. He has traveled to
war-torn countries such as
Iraq, Kuwait, and Israel to
examine the effects of war
and trauma on children, along
with studying community
violence that takes place
every day right here at home.
When Dr. Garbarino talks
about how trauma affects
children, people listen. He
has consulted with multiple
organizations,
including
UNICEF and the National
Committee to Prevent Child
Abuse, and was invited to
speak at the White House
summit on youth violence. At
the continental breakfast
before the meeting, Dr.
Garbarino even chatted with
the Clintons, who both read
and enjoyed his book, Lost
Boys: Why Our Sons Turn
Violent and How We Can
Save Them. Many others
have also read his book, and
one young man in particular
was so touched that he sent
Dr. Garbarino a letter saying,
his "life was transformed" by
reading Lost Boys. This man
and his fiancé later visited
Dr. Garbarino and brought
two stuffed bears, which now
sit among his stuffed animal
collection as a thank you.
Dr. Garbarino came to
Loyola after an impressive
career at Cornell University
where he also received his
Ph.D.
in
Human
Development
in
1973.
Interestingly, it was his friend
and life long mentor, Urie
Bronfenbrenner,
who
encouraged
a
young
Garbarino to pursue graduate
work
in
Human
Development. The two met
when
Brofenbrenner's
daughter was a student in the
drama class that Garbarino
taught at summer camp.
Although, he enjoyed his
time at Cornell, Garbarino
felt that he was not being
fully utilized and that
Chicago
offered
more
opportunities to look at issues
such as urban violence. He
also talked about Loyola's
appeal because it carries the
"Jesuit tradition of social
justice and spirituality that he
liked." In addition, he
admitted that as a frequent
flyer, it is just easier to fly
out
of
Chicago.
Dr.
Garbarino is no stranger to
Chicago since this was his
home from 1985-1994 when
he was the president of
Chicago's Erikson Institute
for Advanced Study in Child
Development.
Dr Garbarino's favorite
part of being at Loyola is
teaching the graduate seminar
"before I forget everything I
know," he added chuckling.
He sees himself as a teacher
regardless of his audience. "It
doesn't matter who you are
talking to--kids, teachers, or
congress--you
are
just
adjusting the language." That
may be why his books are so
popular with the lay public.
His newest book, See Jane
Hit, Why Girls Are Growing
More Violent and What Can
Be Done About It, is now
available. He has even taught
a thing or two to Bozo the
clown, Mr. Rogers, and
Captain Kangaroo, who
consulted with him about
child abuse.
In
his
free
time,
Garbarino enjoys traveling
with his wife, Claire Bedard,
walking his dog Dharma,
reading mystery and spy
novels,
and
watching
American Idol and Law and
Order. In addition, he enjoys
singing and used to be in
choir. I think that must be
why I liked him so much.
2
THE PSYREN
Introducing Dr. Arthur Lurigio
By Viviana Ortiz
Welcome the
New
First Years!!
Sasha Berger
Cynthya Campbell
Christine Celio
The Psyren wanted to
take the opportunity to
welcome Dr. Arthur J.
Lurigio, Associate Dean
for Faculty at College of
Arts and Sciences, and
Director of Center for
the Advancement of
Research, Training and
Education.
To our
delight, Dr. Lurigio is
also
has
a
joint
appointment
as
a
Caitlin Sparks
Rebecca Wasserman
Lauren Zurenda
has been recognized for
his outstanding research
on the treatment of drugabusing and dependent
offenders.
He has also developed
a specialized program for
mentally
ill
adult
probationers in Cook
County (Chicago).
In
addition, Dr. Lurigio is
currently writing a book
on the mentally ill in the
criminal justice system.
He
has
successfully
interwoven his passions
for criminal justice and
psychology and serves as
a role model for many
graduate students in our
department!
Meet the First Years!
By Sasha Berger
Mawiyah Lythcott
Erica Luboyeski
professor of Criminal
Justice and Psychology at
Loyola, giving us an
opportunity to meet him
and learn from him.
We would like to
highlight some of his
important research and
work. Dr. Lurigio is
extremely knowledgeable
in the field of criminal
justice and is valued by
the
Department
of
Psychology for the many
research and work-related
opportunities he provides
for our graduate students
in clinical psychology. For
example, Dr. Lurigio is at
the forefront of research
investigating the spread of
HIV among adult and
juvenile probationers. He
East meets West with a bit of
Southern charm in this firstyear class. In August 2005,
eight young women packed
up and headed to Chi-town to
begin their graduate studies at
Loyola. We all come from
various backgrounds, have
stories about what we might
have been or done had the
application process not come
to such sweet fruition (ask us,
it's quite intriguing!), and
have very different opinions
on the infamous Chicago
winter. Despite, or maybe
because of, our differences,
we became quite a cohesive
group ("ducklings," if you
must). And now, after our
first semester, we blearily
look around us with a bit
of wonder and a lot of
satisfaction…the
first
semester
of
graduate
school is behind us!
How did we get through
it? A few things come to
mind: homemade baking;
Halas kickboxing classes,
group study sessions, late
night stats consults with
Fred Bryant, our pets, a
marriage
proposal
question,
professor
interventions, a lot of hard
work, and a whole lot of
laughter. And, of course,
the students, faculty and
staff at Loyola could not
have
been
more
welcoming
or
supportive.
And as
hard as we worked, we
mixed in a lot of fun-really, we swear we
did! We look forward
to continuing our
journey and moving
forward together.
Irish Eyes are Smiling: Clinical Social Event
3
By Sasha Berger
On November 10, 2005 Loyola students, faculty, and
staff descended upon Irish Eyes, a bar in Lincoln
Park, for a night of fundraising and fun.
The
neighborhood jaunt opened its doors and its bar to
benefit Jamal House, an organization for boys that
are wards of the state. Scott Leon, a member of the
board, was joined by none other than Grayson
Holmbeck behind the bar. Together, the dynamic
duo brought in over $1200 for the organization.
There was music, lively conversation and great fun
had by all. Pictures of the event were captured by
Rebecca Wasserman -- check them out at
http://www.luc.edu/psychology/graduate/clinical/fall
2005irisheyes.shtml. Thanks to Scott and the social
committee for organizing this great event!
Class Updates
Second Years
By Jeff Sieracki
The second year clinical psychology students are
continuing down the long and winding road to one day
having a job. We have spent the past year learning about
our profession (and ourselves) in the classroom, in the
office, and at the Wellness Center. New and continuing
challenges include attempting to complete a thesis,
administer therapy, apply for practicum, and emerge as
adults.
As of the time of this publication, we have all
proposed our theses, and lord willing, by the time that
next year's update rolls along, we will have all defended.
We have also grown professionally from our experiences
at the Wellness Center. As an example, recently in the
practicum class we were debating the pros and cons of
starting a new therapy technique with only a few sessions
remaining with a particular client. This discussion
reminded our supervisors, Amy and Scott, of a
conversation from the beginning of the year when we
discussed "ok the first session is over… what do we do
now?" Clearly, all of us have become more confident
and more effective therapists. Whether discussing case
conceptualizations, the meaning of life, or the location of
free food, our supervision at the Wellness Center has
always been interesting and enjoyable.
In the coming months we will attempt to sort out our
externship sites for the next year. Molly, Krista, Jen, and
Jeff are applying to child assessment/diagnostic sites,
while the "adult" of the group, Pedja, is going the therapy
route. If you know anyone, put in a good word for us!
Unfortunately, at this point in time we have no
shocking and salacious personal developments to report.
To leave you guessing at the end of the article, perhaps
over the course of the next year, one of us will appear on
a reality show, write the great American novel, or
become engaged. Your guess as to who, is as good as
mine. Adios from the second years.
Third Years
By Brittany Lakin
Whoever said that the third year of
graduate school was the hardest
was telling the truth. For the third
year class, there is little time to
leisurely waddle about. They are
busy with multiple responsibilities
including externship, teaching,
research, and classes. Becky is
doing a therapy externship at
Amundsen High School, while the
rest of the third year class is
polishing their assessment skills.
Kerry is doing child assessment at
the University of Illinois at
Chicago, Jon is at the University of
Chicago, Danielle and Brittany are
both at Illinois Masonic's Pediatric
Developmental Center, and Holly
is doing adult assessment at Hines
VA Hospital. In addition, before
the busy year began, the third years
did some traveling. Kerry, Becky,
Jon, Holly, and Danielle enjoyed
having their own European
adventures. Among the places
visited were Portugal, Paris,
Barcelona, Provence, Italy, and
Holland. Brittany stayed in the
states and presented a poster at the
APA conference in Washington,
D.C. The latest and most exciting
news, however, is that one third
year (yes, Becky) will be expecting
her own little duckling in July.
Fourth Years
By Melissa Robinson
It's been a busy and eventful year for the
4th years. In the Fall of 2005, this class
of seven successfully took and passed
their qualifying exams, officially
advancing them to doctoral candidacy.
Their second externship year is also in
full swing. Emily and Kei are doing
assessment at Rush and Illinois
Masonic, respectively.
Barbara and
Melissa are conducting therapy at John
Stroger Hospital of Cook County. Jill
and Jessie are also doing therapy at
Lakeview High School and Mt Sinai
Hospital, respectively. Without classes
to attend, the 4th years have also found
time to get involved in some other
events and activities. Jamie became the
proud mother of an adorable son named
Miles. She and her husband recently
moved out to California and will be
doing a practicum at Palo Alto VA.
Melissa got engaged in April of last
year. Melissa will be married in May
and Barbara is not too far behind with
her wedding date set for June. Jessie is
finishing up the classes required for her
MJ degree. Kei applied to internships
and has successfully matched at
Advocate Illinois Masonic Medical
Center. With all this business, marriage
and such, the 4th years still found time to
celebrate together as a class after
passing their exams. There's no telling
what 5th year will bring!
4
THE PSYREN
Life at CURL
By Emily Edlynn
Last spring, I ventured out of my clinical
psychology cocoon and applied for a full-time
position as a research coordinator at CURL. In case
you don't know what CURL is, it is the Center for
"This experience has Urban Research and Learning at Loyola. CURL is
given me a whole new very unique in that it conducts a combination of
qualitative and quantitative research for a variety of
appreciation for the
purposes, including informing public policy. The
city of Chicago,
year so far has been full of new and exciting
including its social,
experiences—including giving a presentation to a
historical, and
political landscape." room of 30 Chicago City commissioners and staff,
including the CEO of the CHA and an alderman;
attending innovative conferences like "Racial
Justice and Public Policy;" and writing reports that
are actually used in the real world. CURL is all
about community-based and participatory research
so I have attended meetings and conducted
interviews all over the city with a range of
community leaders. This experience has given me a
whole new appreciation for the city of Chicago,
including its social, historical, and political
landscape. I have not forgotten about mental health,
of course, as this widening perspective gives whole
new meaning to taking a "systemic" view of
psychopathology. I plan to use these developing
skills of forming relationships in the community and
with government leaders, and conducting creative
and innovative research in my future of incorporating
public policy work with being a child psychologist.
CURL loves people from across disciplines so if you
have any interest, they offer graduate fellowships and
always welcome volunteers. I am not a pioneer from
the clinical psychology department: Maryse Richards
has been a faculty fellow and 3rd-year Rebecca
Sanderson was a graduate fellow last year. Check out
the website at www.luc.edu/curl.
Life Outside of Damen
Pictured on the left are 4th
year Melissa Robinson and
fiancé Antoine Brown at
their engagement party.
The couple is looking
forward to their Cleveland
wedding on May 20.
Pictured on the right are
4th-year Barbara Jandasek
and Jason Kane, busily
planning their June 23rd
wedding at the Nature
Museum in Chicago.
Enjoy your special days,
lovely brides!
Fourth-year Jamie
Kent and husband,
Alex, have recently
moved to northern
California with their
adorable son, Miles
Kent, born in June,
2005.
Recent graduate
Brigid Rose and
her husband, Matt,
welcomed their
beautiful baby
boy, James Robert
Lakin, into the
world on August
30 (the day before
Brigid officially
got her degree).
James is now a
happy 6-monthold.
5
MUSIC SCENE IN CHICAGO
By Viviana Ortiz & Melissa Robinson
If you're in the mood to hear
some blues, we recommend
KINGSTON MINES (2548 N.
Halsted St.). Guaranteed, you'll
have to talk loud but it's open
until 5:00 am on Saturdays…for
all of you late-night partiers!
They also serve Southern style
food all night. Cover ranges from
$12-$15.
If you have an eclectic taste in
music, the HOTHOUSE (31 E.
Balbo Drive) is the perfect spot
for you! They offer Blues,
Ethnic, Other, Folk, Funk/Acid
Jazz, Jazz, Latin, Rock, and
World music styles. Try a mojito,
which is their house drink! Cover
ranges from $7-$25.
…for jazz lovers, we recommend
THE GREEN MILL (4802 N.
Broadway). They have live jazz
nightly, big band/swing on
occasion, and a world famous
poetry slam on Sunday nights.
Cover ranges from free - $8.
For all those hip/hop and R&B
fans, check out ELM STREET
LIQUORS (12 W. Elm). No
cover and open late. Combines a
loungy feel w/ a jumpin dance
floor. Hip/hop and R&B usually
start a little later in the evening
so you may have to make it a late
night stop. Also try THE
HANGGE UPPE (right next door
to Elm Street). Featuring 3 dance
floors, top 40's tunes and some
oldies. Cover is $5.
Looking for a great place to hear
some reggae? Try out THE
WILD HARE (3530 N. Clark).
Open 7 nights a week, the bar
hosts live performances by local
and internationally known talent
(including Rita Marley) and/or
various dj's. Have a cup of their
signature rum punch and enjoy
the ambience, which boasts a
Jamaican flare. Cover ranges from
$7 - $15.
Internship Placements
2005-2006
Nicole Cruz
Kennedy Krieger/Johns Hopkins University (Baltimore, MD)
Janhavi Desai
Children's Memorial Hospital (Chicago, IL)
Elizabeth Franks-Bruno
Rush University Medical Center (Chicago, IL)
Chisina Kapungu
University of Illinois-Chicago-Psychiatry-IJR (Chicago, IL)
Rita Khang
University of North Carolina-Chapel Hill (Chapel Hill, NC)
Colette Smart
Cornell University/Payne Whitney/New York Hospital (New York, NY)
Allyse Sturdivant
University of Illinois-Chicago-Counseling (Chicago, IL)
2006-2007
Mona Abad
Long Island Jewish/Zucker-Hillside (Glen Oaks, NY)
Emily Edlynn
Children's Hospital at Stanford (Palo Alto, CA)
Kei Kawashima
Advocate Illinois Masonic Medical Center (Chicago, IL)
Inna Meerson
Allendale Association – Bradley Counseling Center (Lake Villa, IL)
David Morgan
Allendale Association – Bradley Counseling Center (Lake Villa, IL)
Philip O'Donnell
UC Davis Medical Center – CAARE Center (Sacramento, CA)
Viviana Ortiz
Jesse Brown VA Medical Center (Chicago, IL)
6
THE PSYREN
Theses & Dissertations
Thesis Proposals
Molly Pachan 9/1/05
Jeff Sieracki 10/6/05
Jen Edidin 11/27/05
Pedja Stevanovic 11/29/05
Krista Kohl 12/6/05
Dissertation Proposals
Kei Kawashima 1/14/05
Inna Meerson 3/28/05
Mona Abad 6/30/05
Emily Edlynn 9/23/05
Phil O'Donnell 10/28/05
Viviana Ortiz 10/28/05
Jessie Snowden 1/5/06
Holly Hunley 1/20/06
Kerry O'Mahar 1/23/06
Thesis Defenses
Holly Hunley 4/21/05
Kerry O'Mahar 9/12/05
Brittany Lakin 10/28/05
Jon Goldner 11/29/05
Becky Sanderson 12/14/05
Danielle Morgan 12/21/05
Dissertation Defenses
Deborah Friedman 4/14/05
Laura Renteria 5/6/05
Cara Lanza Hurley 5/10/05
Jessie Wolf 7/5/05
Angie Sedeno 11/1/05
Michelle Wasserman 1/23/06
Psyren Poll: If you weren't a psychologist,
what would you be when you grow up?
"A translator for
dignitaries."
--Cynthya Campbell
"A chef or architect."
–Phil O'Donnell
"A travel writer for Lonely
Planet or a photographer
for National Geographic."
–Colette Smart
"An actress or a
pediatrician."
--Brittany Lakin
"By day I would be a
mild-mannered professor
at UNLV and by night a
crime-fighting, mysterysolving, casino pit boss at
the Bellagio."
–Jeff Sieracki
"I would probably yield to
the dark side of the Force
and become a
psychiatrist!"
–David Morgan
"A fashion editor at
Vogue or a theoretical
"A tour director in Europe!" astrophysicist."
–Viviana Ortiz
–Emily Preheim Dupre
"A zoologist or someone who
studies and rescues
animals."
–Jill Zukerman
"A star on Broadway or a
backup singer for Madonna,
or perhaps a co-star on CSI."
–Rebecca Wasserman
"Either an archaeologist or
an international food
critic."
–Barbara Jandasek
"A gardener or a Geek
Squad person."
-Kei Kawashima-Ginsberg
Alumni Updates: Where are they now?
Many alumni wrote in to say hi and update
us all on their personal and professional
news! Read on to check out how your
classmates and friends are doing! Thank you
for all the alumni who wrote to us.
Michelle (Christiansen) Sarche reports that
she had a baby boy, Eli, on 9/20/05. She
has recently returned to work where she is
working on a new grant to organize a
national research center for American Indian
Head Start and Early Head Start programs.
She's also working on a grant to explore how
American Indian culture influences the
occurrence, experience, and course of cooccurring substance abuse and
mental disorders.
Amy Swarr writes "I'm engaged--yahoo!
To Jake Hill, a librarian I met here at
Elmhurst College. Otherwise, I'm directing
the Counseling Center at Elmhurst College,
and also have a private practice in Oak
Park."
Laura (Tillotson) Rubin has recently
moved to Portsmouth NH and had a baby
girl, Hannah Caroline. She is now in the
process of starting a private pediatric
neuropsychology practice. She's recently
met up with Wendy McKernon, who works at
a neuropsychology center in Portsmouth.
Sharon Etzweiler also lives nearby (Portland,
ME), and they are planning to connect soon.
Arielle (Berman) Albert writes: "We are
living in Connecticut now and I am working
as a pediatric neuropsychologist in a group
practice, and really enjoying it. The most
exciting thing, though, is that we are
expecting our second child in about 13 days
(though who knows - it could be today).
Nate - our 2 1/2 year old, is doing very well so adorable."
Brigid Rose proudly announces: "After I
finished my internship, my son James was
born on August 30, and I've been spending
the year at home with him. In September
2006, I'll be starting a 2-year postdoctoral
fellowship in neuropsychology at VA
Northern California Health Care System."
Karin Nussbaum finished her post-doc at
Northwestern in July, had a baby in August,
and is in the process of studying for
licensure. She is hoping to be back to work
in the next 6 months, doing part-time private
practice and psych testing.
7
Rachael Millstein Coakley writes: "I
wanted to let you know that on Jan 18th
Gerry and I welcomed the (late!) arrival of
our son. His name is Curran Elijah Coakley
and he weighed in at 8 lbs 9oz. It's been an
amazing and exhausting few weeks, but I'm
catching my breath at this point and we're
all doing great! I'm working at Children's
Hospital Boston part-time on the
Consultation Liaison Service and part-time
in a pediatric psychology private practice."
what will develop over time, (such as
serious health issues). It's been so
important to understand educational
issues and behavioral health issues along
with personality and abnormality so that
symptoms aren't misconstrued. Though I
consider myself a psychodynamic
therapist, I also rely on my training in
family systems and cognitive-behavioral
techniques. I love my work. Thanks
Loyola!"
Catherine Romero is an Assistant
Professor at Baylor College of Medicine in
Houston, TX, and the Director of the
Intensive Outpatient Program for the
treatment of personality disorders at Ben
Taub General Hospital. Her current
research projects include an evaluation of
the effectiveness of integrative treatment for
comorbid Axis I and Axis II conditions, and
a randomized controlled trial of expressive
writing in older women with risk factors for
chronic cardiovascular disease.
Karen Burk-Paull writes, "After
completing a post doc in pediatric
neuropsychology at Children's Hospital
Boston and staying on board for 4 years
as a neuropsychologist in their clinic for
Deaf children, I returned home to
Cleveland, Ohio, with my husband and
two children (ages 5 and 2). I recently
began working part-time at Rainbow,
Babies & Children's Hospital on a multisite study exploring the medical and
neurocognitive effects of Urea Cycle
Disorder, an inborn error of
metabolism."
Venette Westhoven recently moved to
Friendswood, TX (a suburb of Houston) and
is getting to know the town while working
on getting licensed in TX. In the meantime,
she has been working with a psychologist
and an assessment group in the area and she
is going to be doing some assessments for
Children's Protective Services and the
Juvenile Courts system. On a personal note,
she writes, "My oldest is now driving with a
permit and will be getting his license in just
5 months!!!!"
Dean W. Beebe writes: "The bad news:
My son's hamster ("Squeaky") died.
The good news: I passed ABPP boards in
Clinical Neuropsychology, my wife was
finally able to get some pottery samples
from Azerbaijan so she may not be ABD
forever, and we're all healthy. So, while I
suppose the Squeaky thing was sad, on
balance it's been a good year….I hope all is
well!"
Joy L. Huston writes: "I'm now in private
practice in Summit and Montclair, New
Jersey. In Summit I work closely with a
well-known child psychiatrist, Margaret
Tompsett, M.D. I'm treating adults,
adolescents and children. I have been very
happy about the breadth of my training,
because you never know who will walk
through your door in private practice (or
Cindy Ewell Foster reports," I
completed a post doc in child clinical
psychology at the University of
Michigan and have stayed on at U of M
in a research position. I'm currently
writing grants, working on manuscripts,
and participating in a large research team
focused on youth depression and suicide
prevention. Personally, we've had big
changes! Chuck and I now have a 2 year
old boy (Charlie), who keeps us very
busy. He is excited to meet his new little
sister who will be joining us in early
April."
John Philbin is a founding partner with
Strategic Talent Solutions. He works in
the areas of executive fit, alignment,
development and engagement. John
advises senior business leaders on the
talent needs of their organization and
whether a particular candidate for a job is
likely to succeed and excel. John also
speaks to executives throughout North
America on Executive Coaching and
Development, Succession Planning and
the Talent and Career Management.
Coincidentally, Marc Wenzel recently
joined the same firm
(www.strattalent.com) where he provides
consulting services to executives and the
leadership teams of larger firms.
8
THE PSYREN
Loyola University Dept. of
Psychology
Damen Hall 6th Floor
6525 N. Sheridan Rd.
Chicago, IL 60626
Phone
(773) 508-3001
Webpage:
http://www.luc.edu/psych
ology/graduate/clinical/cl
inicalpsychology.shtml
Upcoming Conferences
American Psychological Association, New Orleans, LA: August 10-13, 2006
Midwestern Psychological Association, Chicago, IL: May 4-6, 2006
National Conference on Child Health Psychology, Gainesville, FL: April 19-22, 2006
American Psychological Society, New York, NY: May 25-28, 2006
A Note from the Psyren Staff
Thanks for reading our
fourth edition of the
Psyren newsletter. This
edition was made possible
by editors Emily Edlynn,
Kei Kawashima, and
Melissa Robinson, under
the guidance of Dr.
Grayson Holmbeck. We
DEPARTMENT OF PSYCHOLOGY
LOYOLA UNIVERSITY CHICAGO
DAMEN HALL 6TH FLOOR
CHICAGO, IL 60626
hope you enjoyed it and
we are always open to
ideas for new features, or
any guest journalists who
want to contribute! The
editors would especially
like to thank all the
incredibly busy clinical
students who took some
time to write great articles
for this edition. Threetime chief editors, Kei
Kawashima and Emily
Edlynn, are signing off
their Psyren duties as they
go on to internship. We
look forward to bigger and
better future editions!