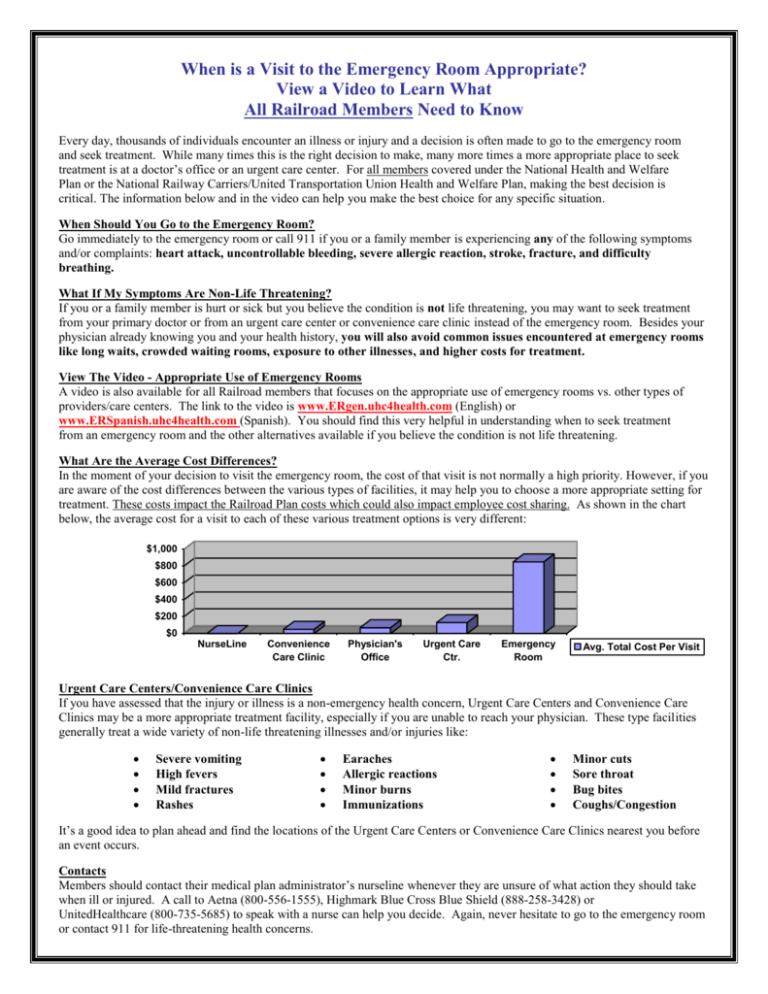 When is a Visit to the Emergency Room Appropriate?
View a Video to Learn What
All Railroad Members Need to Know
Every day, thousands of individuals encounter an illness or injury and a decision is often made to go to the emergency room
and seek treatment. While many times this is the right decision to make, many more times a more appropriate place to seek
treatment is at a doctor's office or an urgent care center. For all members covered under the National Health and Welfare
Plan or the National Railway Carriers/United Transportation Union Health and Welfare Plan, making the best decision is
critical. The information below and in the video can help you make the best choice for any specific situation.
When Should You Go to the Emergency Room?
Go immediately to the emergency room or call 911 if you or a family member is experiencing any of the following symptoms
and/or complaints: heart attack, uncontrollable bleeding, severe allergic reaction, stroke, fracture, and difficulty
breathing.
What If My Symptoms Are Non-Life Threatening?
If you or a family member is hurt or sick but you believe the condition is not life threatening, you may want to seek treatment
from your primary doctor or from an urgent care center or convenience care clinic instead of the emergency room. Besides your
physician already knowing you and your health history, you will also avoid common issues encountered at emergency rooms
like long waits, crowded waiting rooms, exposure to other illnesses, and higher costs for treatment.
View The Video - Appropriate Use of Emergency Rooms
A video is also available for all Railroad members that focuses on the appropriate use of emergency rooms vs. other types of
providers/care centers. The link to the video is www.ERgen.uhc4health.com (English) or
www.ERSpanish.uhc4health.com (Spanish). You should find this very helpful in understanding when to seek treatment
from an emergency room and the other alternatives available if you believe the condition is not life threatening.
What Are the Average Cost Differences?
In the moment of your decision to visit the emergency room, the cost of that visit is not normally a high priority. However, if you
are aware of the cost differences between the various types of facilities, it may help you to choose a more appropriate setting for
treatment. These costs impact the Railroad Plan costs which could also impact employee cost sharing. As shown in the chart
below, the average cost for a visit to each of these various treatment options is very different:
$1,000
$800
$600
$400
$200
$0
NurseLine
Convenience
Care Clinic
Physician's
Office
Urgent Care
Ctr.
Emergency
Room
Avg. Total Cost Per Visit
Urgent Care Centers/Convenience Care Clinics
If you have assessed that the injury or illness is a non-emergency health concern, Urgent Care Centers and Convenience Care
Clinics may be a more appropriate treatment facility, especially if you are unable to reach your physician. These type facilities
generally treat a wide variety of non-life threatening illnesses and/or injuries like:




Severe vomiting
High fevers
Mild fractures
Rashes




Earaches
Allergic reactions
Minor burns
Immunizations




Minor cuts
Sore throat
Bug bites
Coughs/Congestion
It's a good idea to plan ahead and find the locations of the Urgent Care Centers or Convenience Care Clinics nearest you before
an event occurs.
Contacts
Members should contact their medical plan administrator's nurseline whenever they are unsure of what action they should take
when ill or injured. A call to Aetna (800-556-1555), Highmark Blue Cross Blue Shield (888-258-3428) or
UnitedHealthcare (800-735-5685) to speak with a nurse can help you decide. Again, never hesitate to go to the emergency room
or contact 911 for life-threatening health concerns.