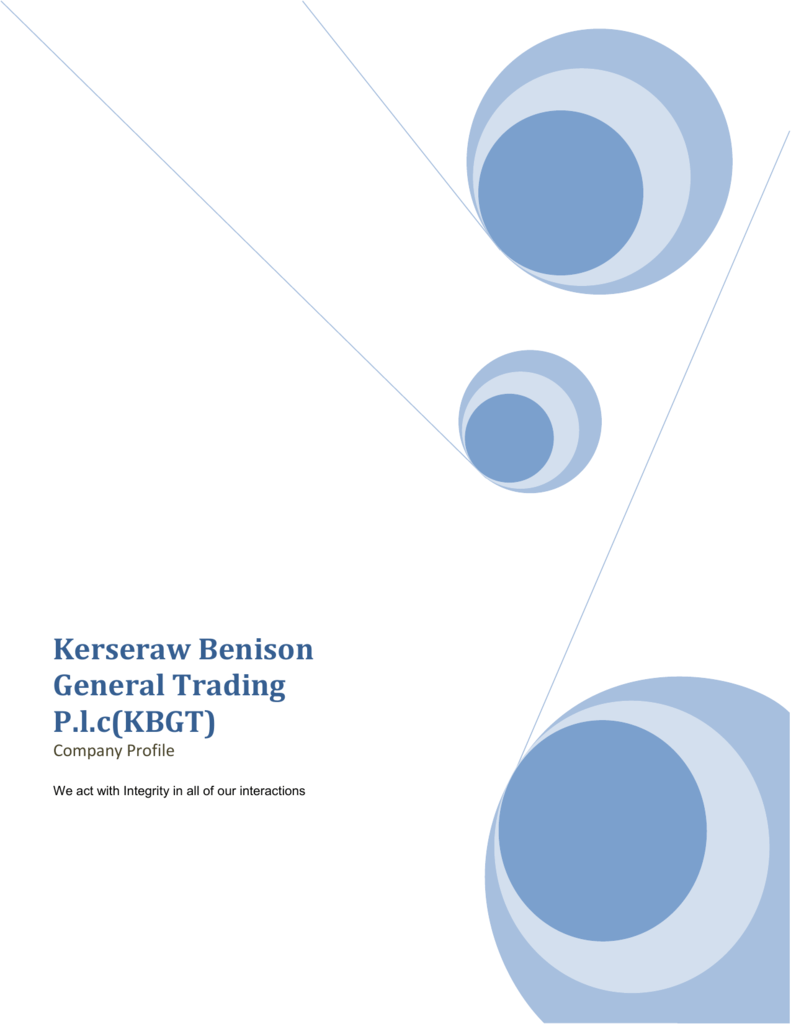 Kerseraw Benison
General Trading
P.l.c(KBGT)
Company Profile
We act with Integrity in all of our interactions
We certify that, to the best of our knowledge, the information
presented in this profile is accurate. In the event of any changes in
the firm's position, such as annual accounts, management
structure etc. We undertake to issue details of these as soon as
they are available.
Signed,,,,,,,,,,,,,,,,,,,,,,,,,,,,,,,,,,,,,,,
Gebregziabher Hailu, KBGT Managing Director
Company Details
Name of Company: Kerseraw Benison General Trading Plc (KBGT)
Business Sector: Construction (Electro-Mechanical), Service (Insurance Agent & Foreign Trade
Auxiliary) and Agriculture (Soybean, Sesame & Maize Production)
Address of Registered Business: Kolfe Keranio Sub-city
Around Betl Teaching Hospital
Worda: 08
House No.: New
Addis Ababa, Ethiopia
Principle Address of Business:
Telephone: 0911915146
Fax: 0116628017
E-mail: [email protected]
Taxpayer Identification Number (TIN): 00 05 44 49 43
VAT Registration Number: 31 77 88 00 10
Business License and Commercial Registration Certificate:
Issued Under Commercial Registration and Business license Proc.No. 686/2010
Principal Registration No: MT/AA/2/0002828/2001
Business License No: 14/667/8188/2004
Date of issuance both Business license and Principal Registration Certificate: October 12, 2009
Capital in ETB: 600,000.00
General Manager: Gebregziabher Hailu
SHAREHOLDERS AND SHARES
As indicated in the following table:
Shareholders
Capital Subscribed
Percentage
G/egziabher Hailu
300,000.00 Birr
50%
Kidus Hailu
300,000.00 Birr
------------------600,000.00 Birr
50%
-------100%
Total
Vision Statement
In 2015 e.c to be a leading company at national level in a
multi -disciplinary business filed specially in Construction,
Service & Agriculture.
Our Mission
Through providing a level of service that will exceed the expectations of our clients,
To contribute our fair share for the success of Growth and Transformation Plan
(GTP) of the country.
Level of quality and allow our employees the opportunity to grow and prosper. To
instill confidence with all parties by professionally managing all aspects of each
and every project be it large or small.
At KBGT we:
aim to supply a high quality and versatile service to all our clients, delivering the
best value at all times whilst continuing to develop our people skills through
advance training opportunities.
make continuous improvements to our services and people - a prime factor in our
Continual success.
operate an open and honest relationship with all of our clients and this includes
joint decisions making processes, agreed objectives and anticipated goals
Values
We act with Integrity in all of our interactions never compromising our
business ethics. This is the cornerstone of who we are as a company,
and is essential to our future success.
The company has clear values, which are:
Safety – we care about people
Reliability – we have integrity
Responsiveness – we listen to what you say.
KBGT has a proven track record of effectively delivering diverse
projects to a broad range of customers.
We are:
Dedicated – proactive and dependable
Agile – flexible and smart
Measured – we make carefully balanced decisions.
Our core Principles
Honesty: To always be truthful, open and candid
Integrity: To do what we say, live up to the highest standard of fairness and
ethical behavior
Culture: We seek new opportunities to learn, to improve, to teach and to add
value
Passion: We love what we do, we lead by example and we take the lead.
Customer Care
The management of KBGT believes that customer (client) satisfaction is an important
key to the success of our business. This message is cascaded throughout the
company.
We have developed a comprehensive approach to customer care and to minimizing
defects on all our schemes.
Our objective is to achieve customer satisfaction and repeat business by providing
Service that conforms to agreed requirements.
KBGT has built its foundations on relationships with partners, associations, clients,
contractors, and employees.
Our reputation is based upon recommendations and this has helped set us apart from
Our competitors.
The code of conduct at KBGT stems from traditional values within our workforce.
Trust, honesty and understanding encompass many of our beliefs and for your own
peace of mind we have implemented the following and will endeavor to:
•Be polite, friendly and courteous
•Maintain a high stand of professionalism
•Carry cooperative and flexible attitudes
•Acknowledge concerns
•Be informative
•Listen to feedback
Key Personnel - Head Office
Shear Holder
Full Name:
Position in Firm
TIN:
Home Address:
Mr.G/egziabher Hailu
KBGT 50% share holder
0005976857
Around Axum Hotel, Haile G/selasse Street
E-mail: [email protected]
Full Name:
Position in firm
TIN:
Home Address:
Mr.Kidus Hailu
KBGT 50% share holder
0028627147
Kolfe keranio Sub-city, around Betel teaching Hospital.
E-mail: [email protected]
Sales & Marketing Manager:
Hailemichel Hailu
Qualification: BA Degree in Economics, MSC. In Logistic
Management, with 9-year Experience
E-mail: [email protected]
Technical Director:
Asheber Balcha
Qualification: BA. Degree Mechanical Engineer with 9year Experiance
Design Supervisors:
Yared Fekadu
Qualification: BA. Degree Electrical Engineer With 5-year
Experience
Contracts Manager:
Tesada Lulseged: B.A Degree Electrical Engineer With
5-year Experience
Site Supervisor:
Tatek Alemayhu
Qualification: BA Degree Electrical Engineer with 4years
Experience
Warehouse supervisor:
Seffefe Doya
Qualification: Diploma in Electronics technology
Currently Active Clint of Kerseraw Benison General Trading PLC (KBGT)
Construction Sector (Grade- 5 Electro-Mechanical Works)
o
Client Name:
Ethiopian Electric Power Corporation Universal Electricity Access Program
Project Details: Construction of MV & LV Distribution Networks to Electrify Towns & Villages
Contract Name: UEAP B_1/2003 LOT_33
Sit Location:
Somali Region
Contract Price: ETB 5,177,769.80
o Client Name:
China Gezhouba Group Company (CGGC)
Project Details: Construction of 33kV Distribution Line from Negele Borena to Genale Dawa
(GD-3) Hydropower Transmission Project
Sit Location: From Negele Borena to Genale Dawa
Contract Price: ETB 18,755,049.42
o
Client Name:
Kalpataru Power Transmission Limited
Project Details: 230kv Alamata - Mehuni - Mekel Transmission Line
Contract Name: KP/205/T-Erection/KBGT /12-13 Dt.19th Oct
Sit Location: Alamata - Mehuni - Mekel Transmission Line
Contract Price: ETB 8,000,000.00
Construction Sector (Grade- 5 Building Contractor)

Currently involved
Construction Sector (Rental of Construction Machineries)

Currently involved
Service Sector (Insurance Agent & Foreign Trade Auxiliary)
Insurance Client
o
Clint Name:
Hyosung Corportation
Project Details: procurement of plant, supply and installation of sululta -
Gebreguracha
power Transmission project on Turn-key Basis under EDCF Korean loan ETH-1
Agreement Detail: Agent to Erection All Risk Insurance
Total Sum Insured: usd 76,000,000
o
Client Name:
Norinco International Cooperation LTD
Agreement Detail: Agent to Marin Insurance
Total Sum insured: USD 21,548,894.51
Warehouse to Warehouse
Foreign Trade Auxiliary
o
Client Name:
Sinohydro Corporation Limited of China.
Project Details: Facilitation & Consultation of Rehabilitation and Upgrading of
Five substations EEPCO-III/G-002/11 on behalf of Sinohydro Corporation
Total Project Cost: USD 50,897,345.98
o
Client Name:
Emixis Corporation, avenue Van Volxem 79,1190 Brussels, Belgium
Sole Representative of the company in Ethiopia
Promoting and selling Fleet management Solution
Agriculture Sector (Production of oil Seeds)


We have design ETB 40,000,000 agriculture project named by ''Agri-west''. This will be
implemented in the western part of Ethiopia, Gambella regional state. Currently we have
acquired 1000hct of land in the region, Dima Worda.
We have planned to cultivate oil seeds like sesames and soybean for local as well as for
international market by using European standard way of harvesting.
Remark:
We are gland to notify you that, for any of the participant (Individual or company) in the
event, wants to engaged in Ethiopian market with any form of business arrangement,
we gone extra miles to accept your offer.
 Joint Venture
 Partnership
 Commercial Representative
 Promoter
 Market Research
Our cumulative effort will change the world!