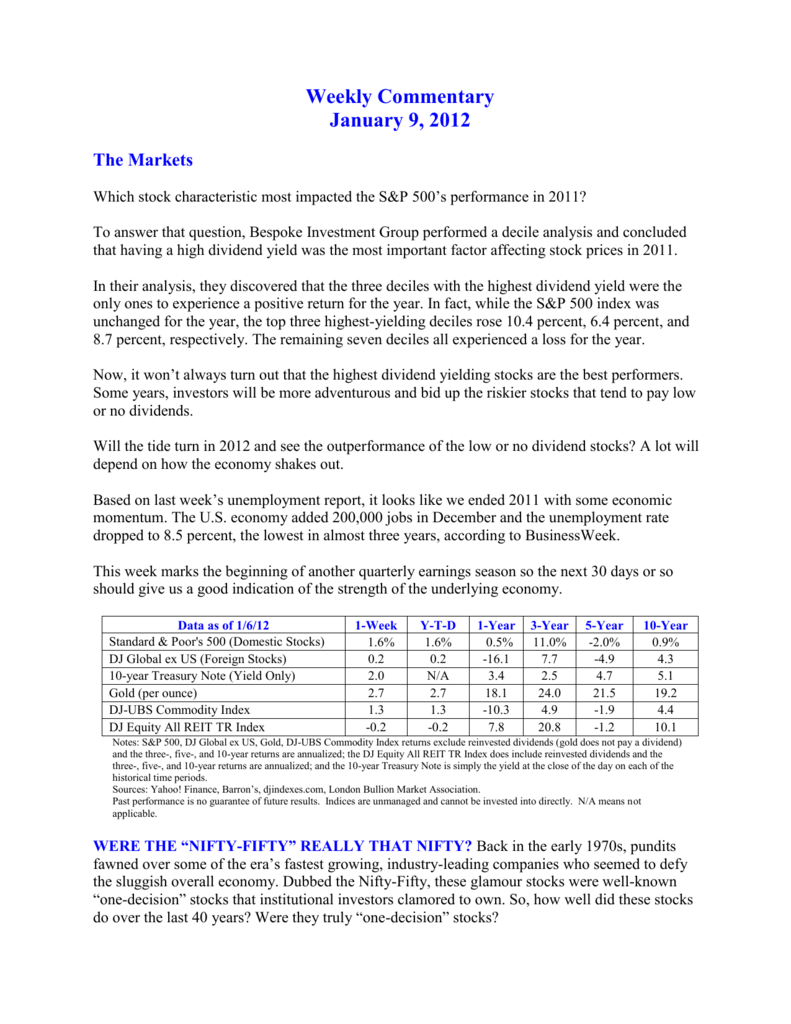 Weekly Commentary
January 9, 2012
The Markets
Which stock characteristic most impacted the S&P 500's performance in 2011?
To answer that question, Bespoke Investment Group performed a decile analysis and concluded
that having a high dividend yield was the most important factor affecting stock prices in 2011.
In their analysis, they discovered that the three deciles with the highest dividend yield were the
only ones to experience a positive return for the year. In fact, while the S&P 500 index was
unchanged for the year, the top three highest-yielding deciles rose 10.4 percent, 6.4 percent, and
8.7 percent, respectively. The remaining seven deciles all experienced a loss for the year.
Now, it won't always turn out that the highest dividend yielding stocks are the best performers.
Some years, investors will be more adventurous and bid up the riskier stocks that tend to pay low
or no dividends.
Will the tide turn in 2012 and see the outperformance of the low or no dividend stocks? A lot will
depend on how the economy shakes out.
Based on last week's unemployment report, it looks like we ended 2011 with some economic
momentum. The U.S. economy added 200,000 jobs in December and the unemployment rate
dropped to 8.5 percent, the lowest in almost three years, according to BusinessWeek.
This week marks the beginning of another quarterly earnings season so the next 30 days or so
should give us a good indication of the strength of the underlying economy.
Data as of 1/6/12
Standard & Poor's 500 (Domestic Stocks)
DJ Global ex US (Foreign Stocks)
10-year Treasury Note (Yield Only)
Gold (per ounce)
DJ-UBS Commodity Index
DJ Equity All REIT TR Index
1-Week
1.6%
0.2
2.0
2.7
1.3
-0.2
Y-T-D
1.6%
0.2
N/A
2.7
1.3
-0.2
1-Year
0.5%
-16.1
3.4
18.1
-10.3
7.8
3-Year
11.0%
7.7
2.5
24.0
4.9
20.8
5-Year
-2.0%
-4.9
4.7
21.5
-1.9
-1.2
10-Year
0.9%
4.3
5.1
19.2
4.4
10.1
Notes: S&P 500, DJ Global ex US, Gold, DJ-UBS Commodity Index returns exclude reinvested dividends (gold does not pay a dividend)
and the three-, five-, and 10-year returns are annualized; the DJ Equity All REIT TR Index does include reinvested dividends and the
three-, five-, and 10-year returns are annualized; and the 10-year Treasury Note is simply the yield at the close of the day on each of the
historical time periods.
Sources: Yahoo! Finance, Barron's, djindexes.com, London Bullion Market Association.
Past performance is no guarantee of future results. Indices are unmanaged and cannot be invested into directly. N/A means not
applicable.
WERE THE "NIFTY-FIFTY" REALLY THAT NIFTY? Back in the early 1970s, pundits
fawned over some of the era's fastest growing, industry-leading companies who seemed to defy
the sluggish overall economy. Dubbed the Nifty-Fifty, these glamour stocks were well-known
"one-decision" stocks that institutional investors clamored to own. So, how well did these stocks
do over the last 40 years? Were they truly "one-decision" stocks?
While there was no official list of the Nifty-Fifty, two competing lists of 50 stocks are commonly
cited, according to a research report titled, "The Nifty-Fifty Re-Revisited," by Jeff Fesenmaier and
Gary Smith of Pomona College. For today's purpose, we'll look at the 24 stocks that made both
lists and were dubbed the "Terrific 24" by Fesenmaier and Smith.
Some of the household names on the Terrific 24 list include: McDonald's, Walt Disney, Avon,
Johnson and Johnson, and Coca-Cola. These companies are still doing well. However, some other
household names on the Terrific 24 list performed poorly. Consider the following:
Xerox: It's still around, but is a shadow of its former self and trades for about $8 per share.
MGIC Investment Corp: It went through various corporate restructurings throughout the
years, but is still around as a private mortgage insurer. However, it got battered in the
mortgage insurance meltdown of recent years and trades for about $4 per share.
Polaroid: The inventor of instant film couldn't make the transition to a new world and filed
for bankruptcy in 2001.
Eastman Kodak: Perhaps the saddest story of the bunch, Kodak has struggled for years to
make the transition to a digital world and is now rumored to file for bankruptcy as early as this
month, according to Reuters. Its stock sold for less than 50 cents per share last week.
Ironically, Kodak invented the digital camera in 1975, but was never able to capitalize on it.
With 40 years of history, here are three key lessons we can learn from the Nifty-Fifty story:
1. Some "glamour" stocks do remain glamorous for many years, e.g, McDonald's, Walt
Disney, and Coca-Cola (although each had its "rough periods" over the past 40 years).
2. Promoting "one-decision" stocks is more of a headline-grabbing marketing strategy than a
sound investment strategy.
3. Even the "best" stocks can fall to zero so it's important to have a sell discipline.
As the British statesman and philosopher Edmund Burke said, "Those who don't know history are
destined to repeat it."
Weekly Focus – Think About It
"The supreme purpose of history is a better world." --Herbert Hoover, U.S. President
Best regards,
Hiram Chip Hutchison
Registered Representative of INVEST Financial Corporation
P.S. Please feel free to forward this commentary to family, friends, or colleagues. If you would
like us to add them to the list, please reply to this e-mail with their e-mail address and we will ask
for their permission to be added.
This newsletter has been provided by PEAK for use by Hiram "Chip" Hutchison, registered representative and
securities offered through INVEST Financial Corporation (INVEST) member FINRA, SIPC. Information provided
herein is presented for general information only and has been obtained from sources considered to be reliable,
however is not guaranteed to be accurate or complete and is not meant as a solicitation for any product or security.
Any expression of opinion does not necessarily reflect the opinion of Hiram "Chip" Hutchison or INVEST, its
affiliates, officers, directors or branch offices may in the normal course of business have a position in any securities
mentioned in this report.
Past performance is no guarantee of future results.
The Standard & Poor's 500 (S&P 500) is an unmanaged group of securities considered to be representative of the
stock market in general.
The Dow Jones Industrial Average is a price-weighted index of 30 actively traded blue-chip stocks.
The NASDAQ Composite Index is an unmanaged, market-weighted index of all over-the-counter common stocks
traded on the National Association of Securities Dealers Automated Quotation System.
This information is general in nature and should not be construed as tax or legal advice. INVEST does not provide tax
or legal advice. Please consult your tax and/or legal advisor for guidance on your particular situation.
Consult your financial professional before making any investment decisions.
The DJ Global ex US is an unmanaged group of non-US securities designed to reflect the performance of the global
equity securities that have readily available prices.
Gold represents the London afternoon fold price fix as reported by the London Bullion Market Association.
The DJ Commodity Index is designed to be highly liquid and diversified benchmark for the commodity futures
market. The Index is composed of futures contracts on 19 physical commodities and was launched on July 14, 1998.
The 10-year Treasury note represents debt owned by the United States Treasury to the public. Since the US
Government is seen as risk-free borrower, investors use the 10-year Treasury Note as a benchmark for the long-term
bond market.
The DJ Equity ALL REIT TR Index measures the total return performance of the equity subcategory of the Real
Estate Investment Trust (REIT) industry as calculated by Dow Jones.