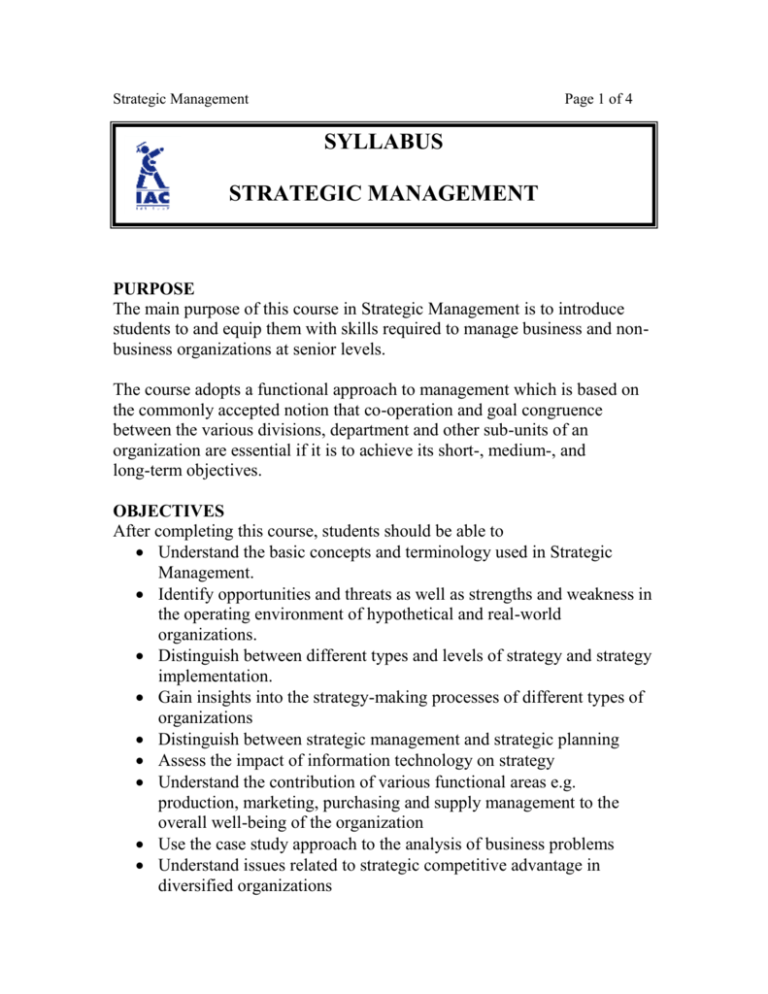 Strategic Management
Page 1 of 4
SYLLABUS
STRATEGIC MANAGEMENT
PURPOSE
The main purpose of this course in Strategic Management is to introduce
students to and equip them with skills required to manage business and nonbusiness organizations at senior levels.
The course adopts a functional approach to management which is based on
the commonly accepted notion that co-operation and goal congruence
between the various divisions, department and other sub-units of an
organization are essential if it is to achieve its short-, medium-, and
long-term objectives.
OBJECTIVES
After completing this course, students should be able to
 Understand the basic concepts and terminology used in Strategic
Management.
 Identify opportunities and threats as well as strengths and weakness in
the operating environment of hypothetical and real-world
organizations.
 Distinguish between different types and levels of strategy and strategy
implementation.
 Gain insights into the strategy-making processes of different types of
organizations
 Distinguish between strategic management and strategic planning
 Assess the impact of information technology on strategy
 Understand the contribution of various functional areas e.g.
production, marketing, purchasing and supply management to the
overall well-being of the organization
 Use the case study approach to the analysis of business problems
 Understand issues related to strategic competitive advantage in
diversified organizations
Strategic Management
Page 2 of 4
PRESCRIBED MATERIAL
IAC Study Pack
RECOMMENDED MATERIAL
(i) Strategic Management – Concepts and Cases by A>A Thompson &
A.J. Strickland (11th Edition 1999) McGraw-Hill
(ii) Management Policy & Strategy by G.A. Steiner, J.R. Miner & E.R.
Gray (3rd Edition 1998) Maxwell Macmillan
(iii) Management by R.J. Aldag & T.M Stearns (2nd Edition 1991) SouthWestern Publishing Company
(iv) Various issues of the Harvard Business Review
DETAILED SYLLABUS
SECTION 1:
Overview of Strategic Management (10%)
 Tasks of strategic management
 Strategic analysis, content and choice
 Factors that shape an organization's strategy
 Essential features of an organization's strategy
 Responsibility for strategic management
 Evolution of strategy
 The distribution of strategic management functions
SECTION 2:
Analysis of the Environment
(5%)
 The general environment
 The economic environment
 The technological environment
 The legal environment
 The socio-political environment
 The internal environment: structure, culture and resources
SECTION 3:The Functional Approach to Strategy Formulation (10%)
 Production/Operations
 Marketing
Strategic Management





Page 3 of 4
Purchasing and supply
Human resources
Research and development
Information technology
The co-ordination of strategy
SECTION 4:
The Formulation of Strategy
(10%)
 Industry and sector analysis
 Alternative industry scenarios
 The need for and extent for flexibility in strategy formulation
 Matching strategy to a company situation
 Group aspects of strategy formulation
 The use of independent consultants
SECTION 5:
The Implementation of Strategy
(10%)
 Budgets and budgeting control
 Supporting chosen strategies through appropriate policies and
procedures
 Motivational aspects of strategy
 The identification of strategically relevant performance outcomes
 The matching of organizational structures with strategy
SECTION 6:
Competitive Advantage
(10%)
 The identification of competitive forces
 Drivers of change
 Strategic cost and profit analysis
 Technology-based competitive advantage
 Value chains and benchmarking the costs of key activities
 Balanced score-cards
 Generic competitive strategies
 Vertical and co-operative competitive strategies
 Defensive strategies
Strategic Management
Page 4 of 4
SECTION 7:
Strategy and Diversification
(10%)
 Definition and scope of diversification
 Related and unrelated diversification strategies
 Assessment of a diversification strategy
 Relationship between diversification strategies and core activities and
competencies
 Strategic fit analysis
 Resource fit analysis
SECTION 8:
Management of change
(10%)
 Definition and identification of issues
 Response to change as a strategic issue
 Power and culture as catalysts for change
 Types of change and intervention strategies
 Framework and its impact on change management
 Strategists, implementers and recipients in the change process
SECTION 9:
International Business Strategy
(10%)
 The environment of international business
 Finance of international trade
 Advances in international marketing
 Survival and growth strategies within international firms
 Cultural issues in international firms
SECTION 10:
Case Analysis
(15%)
 The examination will include a case study on one or more aspects of
company strategy. Although no specific answers are expected in this
section students will be required to show familiarity with the issues
involved, and to suggest practical solutions to business problems.