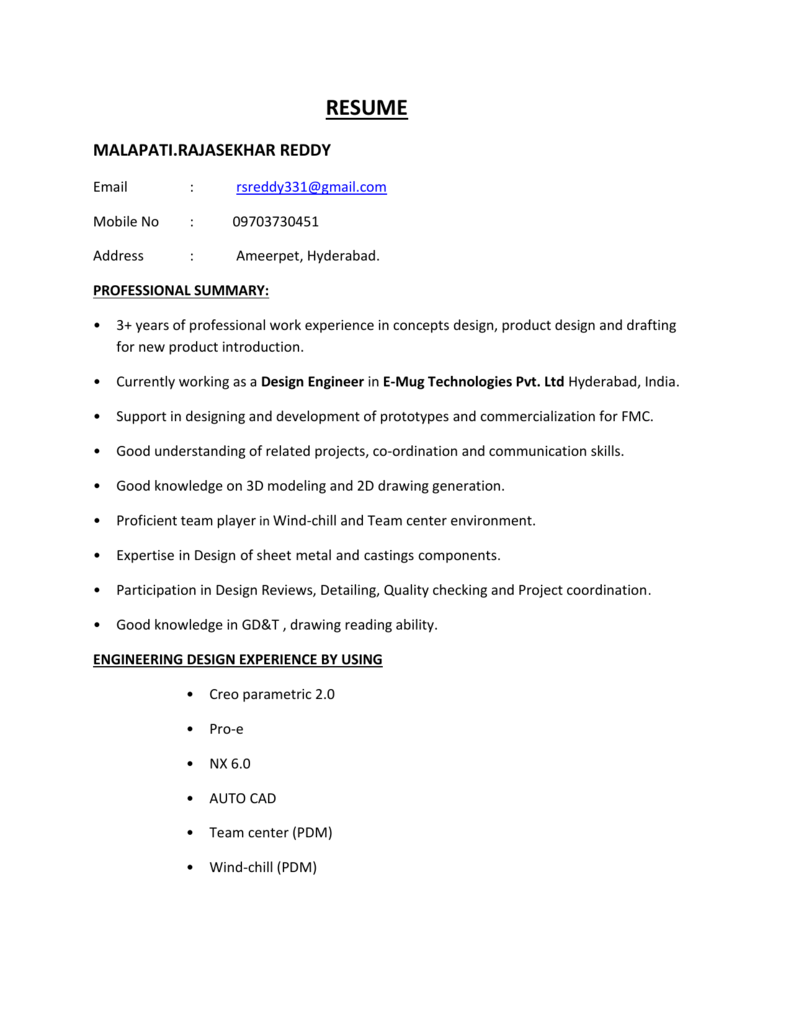 RESUME
MALAPATI.RAJASEKHAR REDDY
Email
:
[email protected]
Mobile No
:
09703730451
Address
:
Ameerpet, Hyderabad.
PROFESSIONAL SUMMARY:
•
3+ years of professional work experience in concepts design, product design and drafting
for new product introduction.
•
Currently working as a Design Engineer in E-Mug Technologies Pvt. Ltd Hyderabad, India.
•
Support in designing and development of prototypes and commercialization for FMC.
•
Good understanding of related projects, co-ordination and communication skills.
•
Good knowledge on 3D modeling and 2D drawing generation.
•
Proficient team player in Wind-chill and Team center environment.
•
Expertise in Design of sheet metal and castings components.
•
Participation in Design Reviews, Detailing, Quality checking and Project coordination .
•
Good knowledge in GD&T , drawing reading ability.
ENGINEERING DESIGN EXPERIENCE BY USING
•
Creo parametric 2.0
•
Pro-e
•
NX 6.0
•
AUTO CAD
•
Team center (PDM)
•
Wind-chill (PDM)
WORK EXPERIENCE:
Current Employer
: E-Mug Technologies Pvt. Ltd.
Client
: FMC Technologies India Ltd.
Period
: June 2014 – Till Date
FMC Technologies, Are designs, manufactures and services systems and products such as
subsea production and processing systems, surface wellhead systems, and marine loading
systems for the oil and gas industry.
Role:







Working towards completion of Connection assemblies and developing sub-assemblies
of Hub and Termination head used for connecting Manifolds and X-Mas Trees in subsea.
Preparation of GA's (General Assemblies) and other top and sub-level assemblies for
client and also all assemblies and sub-assemblies and their DBI in Team Center, Windchill.
Redesign of CAT (Connection actuation tool) which failed during Subsea operation by
modifying the section of cylinder rod and other support structures.
Improved the functionality of RSLT (Rigid spool lifting tool) which is used by ROV
(Remotely operated vehicle) by designing a part which prevented accidental unlatching
of RSLT when operating.
Conversion of all connection system parts and assemblies from Creo to UG NX6.0
Data migration to Team center and Wind-chill server.
Team player for ECN preparation.
Previous Employer
: CIMTECH Systems (P) Ltd.
Period
: July 2012 – June 2014
CIM Tech Systems Pvt Ltd is an India based medium scale Industry focused on technical support
to Coke, Atlanta regarding refrigerated show case coolers and Cooler refrigeration unit. CIM
also involved in manufacturing automated 'Rinser, Filler and Capper' (RFC) machines for water
line industry.
Project #1 (Cooler refrigeration unit)
Clients : FRIGOGLASS, WESTERN.
Role





:
Modeling, assembling and drafting components of metallic Cooler refrigeration unit
(Cassette).
Converting non parametric models of condenser, evaporator and compressors into
parametric models.
Worked on documentation works like preparation bill of materials (BOM) and PPT's etc.
Worked on sheet metal components which are the parts of Cooler refrigeration unit.
Created Wiring and wire harness drawings.
Project #2 (Workhorse Cooler 1110L)






Re Modeling, assembling and manufacturing drawing creation based on STEP data
received.
Checking for design validation and interferences in the existing design
BOM creation
Comparison sheet preparation for differences and advancements between various
versions of designs.
Data migration to Wind-chill server.
Team player for ECN preparation.
Project #3 (RFC Machine)
Clients: Kinley, Coca-Cola, Aditya Agro Foods & Beverages etc.
Role :








Preparation of GA's (General Assemblies).
Preparation of P&ID diagram.
Worked on modeling of parts, assemblies, sub-assemblies and drafting for RFC machine.
Participated design review meetings and coordinating with the clients.
Done the self-checking QC after completion of manufacturing for each part and
assemblies.
Worked on documentation works like preparation bill of materials (BOM) and PPT's etc.
Worked on sheet metal components which are the parts of RFC machine.
Conversion of 2D drawings to 3D models.
Previous Employer
: ENMAX ENGINEERING (I) P-Ltd.
Period
: October 2011 – June 2012
Role :




Joined as a graduate engineer trainee in Production Department.
Worked on marking of MS and SS sheets before cutting and rolling operations.
Worked on pressure vessels like Storage tanks, boilers, economizers, condensers, etc.
Preparations of all weld joints for NDT tests like DP, RT etc.
ACADEMIC PROFILE:
Graduation
:
B.Tech (Mechanical) , (2007-2011)
Percentage
:
73.5%
College
:
Narasaraopeta Engineering College.
Intermediate
:
M.P.C (2005-2007)
Percentage
:
91.8%
College
:
Sarada Junior College.
SSC
:
2004-2005
Percentage
:
84.1%
School
:
Netaji Public School.
KEY STRENGTHS:
• Ability to work in groups and adaptable to any situations.
• Ability to interact with all levels of people and capacity to convince.
• Everlasting willingness to learn new things.
ACHIEVEMENTS:
• I got silver medal in 4th year from Narasaraopeta Engineering College.
• Secured 2nd position in the 4-2 SEM.
• Secured 2nd position in the 2-1 SEM.
PERSONAL INFORMATION:
Name
:
Malapati Rajasekhar reddy
Date of Birth
:
06-06-1990
Father's Name
:
Malapati Ramalakshma Reddy
Languages Known
:
English, Telugu
Marital Status
:
single.
Permanent Address
:
Naragayapallem,
Vinukonda (mandal),
Guntur (Dist), Andhra Pradesh.
DECLARATION:
I hereby declare that the information furnished above is true to the best of my knowledge.
Place: Hyderabad
Yours sincerely,
Date:
M. Rajasekhar reedy.