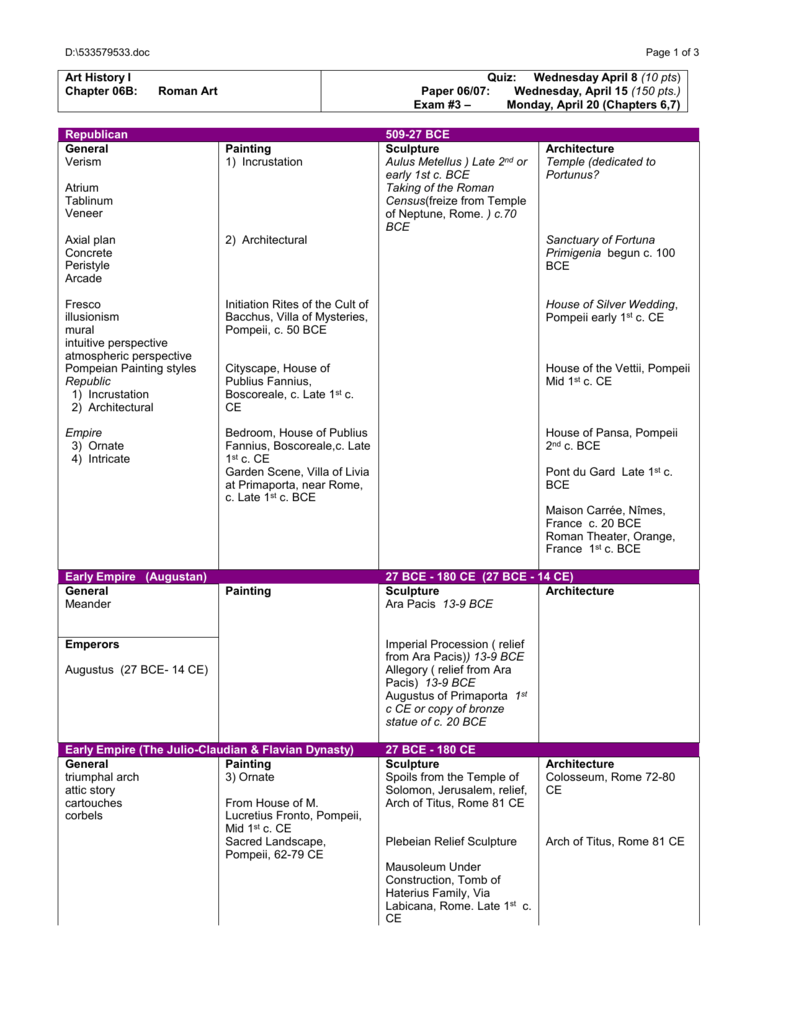 D:\533579533.doc
Art History I
Chapter 06B:
Page 1 of 3
Quiz: Wednesday April 8 (10 pts)
Paper 06/07:
Wednesday, April 15 (150 pts.)
Exam #3 –
Monday, April 20 (Chapters 6,7)
Roman Art
Republican
General
Verism
Painting
1) Incrustation
Atrium
Tablinum
Veneer
509-27 BCE
Sculpture
Aulus Metellus ) Late 2nd or
early 1st c. BCE
Taking of the Roman
Census(freize from Temple
of Neptune, Rome. ) c.70
BCE
Architecture
Temple (dedicated to
Portunus?
Axial plan
Concrete
Peristyle
Arcade
2) Architectural
Sanctuary of Fortuna
Primigenia begun c. 100
BCE
Fresco
illusionism
mural
intuitive perspective
atmospheric perspective
Pompeian Painting styles
Republic
1) Incrustation
2) Architectural
Initiation Rites of the Cult of
Bacchus, Villa of Mysteries,
Pompeii, c. 50 BCE
House of Silver Wedding,
Pompeii early 1st c. CE
Cityscape, House of
Publius Fannius,
Boscoreale, c. Late 1st c.
CE
House of the Vettii, Pompeii
Mid 1st c. CE
Empire
3) Ornate
4) Intricate
Bedroom, House of Publius
Fannius, Boscoreale,c. Late
1st c. CE
Garden Scene, Villa of Livia
at Primaporta, near Rome,
c. Late 1st c. BCE
House of Pansa, Pompeii
2nd c. BCE
Pont du Gard Late 1st c.
BCE
Maison Carrée, Nîmes,
France c. 20 BCE
Roman Theater, Orange,
France 1st c. BCE
Early Empire (Augustan)
General
Meander
Painting
Emperors
Augustus (27 BCE- 14 CE)
Early Empire (The Julio-Claudian & Flavian Dynasty)
General
Painting
triumphal arch
3) Ornate
attic story
cartouches
From House of M.
corbels
Lucretius Fronto, Pompeii,
Mid 1st c. CE
Sacred Landscape,
Pompeii, 62-79 CE
27 BCE - 180 CE (27 BCE - 14 CE)
Sculpture
Architecture
Ara Pacis 13-9 BCE
Imperial Procession ( relief
from Ara Pacis)) 13-9 BCE
Allegory ( relief from Ara
Pacis) 13-9 BCE
Augustus of Primaporta 1st
c CE or copy of bronze
statue of c. 20 BCE
27 BCE - 180 CE
Sculpture
Spoils from the Temple of
Solomon, Jerusalem, relief,
Arch of Titus, Rome 81 CE
Architecture
Colosseum, Rome 72-80
CE
Plebeian Relief Sculpture
Arch of Titus, Rome 81 CE
Mausoleum Under
Construction, Tomb of
Haterius Family, Via
Labicana, Rome. Late 1st c.
CE
D:\533579533.doc
Emperors to know
Vespasian (69-79 CE)
Titus (79-81 CE)
Page 2 of 3
4) Intricate
Still Life, detail of painting
from House of Julia Felix,
Pompeii, Late 1st c. CE
Young Woman Writing,
detail of wall painting,
Pompeii, Late 1st c. CE
Early Empire
27 BCE - 180 CE
(The "Good Emperors") 96-180 CE
General
Painting/Mosiacs
Groin vault
Battle of Centaurs and Wild
Barrel or tunnel vault
Beasts, from Hadrian's
Basilica
Villa, Tivoli, c. 118-28 CE
Coffering
Dome
Heracleitus. The Unswept
Oculus
Floor, 2nd c. CE
equestrian monument
aisles
apses
Emperors to know
Trajan (98 - 117 CE)
Hadrian (117-138 CE)
Marcus Aurelius (161-180
CE)
Portrait Sculpture
Young Flavian Woman. c.
90 CE
Middle Aged Flavian
Woman Late 1st c CE
Sculpture
Allegorical Harbor Scene,
Ostia c. 200 CE
Architecture
Imperial Forums, Rome c.
46 BCE- 117 CE)
Hadrian Hunting Boar and
Sacrificing to Apollo (reused
on Arch of Constantine)
Basilica Ulpia, Rome c.
113 CE)
Marcus Aurelius 161-180
CE
Commodus as Hercules c.
190 CE
Column of Trajan, Rome c.
106-13 CE)
Romans Crossing the
Danube and Building a Fort
City Planning
Timgad, Algeria begun c.
100 CE
Markets of Trajan, Rome
110-12 CE
Pantheon (PAN-thi-on),
125-28 CE
Hadrian's Villa, Tivoli c.
135 CE
Market Place from Miletus
(Miletos) Turkey, (S06-62)
c. 120 CE
Hadrian's Wall, 2nd c. CE
Late Empire (From Severan Dynasty to the Tetrarchs)
General
Painting
Sculpture
Caracalla Early 3rd c. CE
Phillip the Arab c. 244-49
CE
The Tetrarchs c. 305 CE
Emperors
Diocletian (Die-owe-KLEEshan)
Constantine
Architecture
Baths of Caracalla, Rome,
c. 211-17 CE
Palace of Diocletian, Split,
Serbian Croatia c. 300 CE
Peristyle Court
Ludovisi Battle
Sacrophagus, near Rome
Battle Between Roman and
Barbarians c. 250 CE
Late Empire (Constantine the Great and His Legacy)
General
Painting
Emperors
Sculpture
Constantine the Great from
Basilica of Maxentius and
Constantine, Rome 325-26
CE
Helen, Mother of
Constantine. 320 CE
Constantine
Late Empire (Roman Traditionalism After Constantine)
Priestess of Bacchus(?)
Architecture
Basilica of Maxentius and
Constantine, Rome, 306-13
CE
Basilica, Trier, Germany
Early 4th c CE
Arch of Constantine, Rome,
312-15 CE
Constantine Speaking to
the People relief panel 31215 CE
D:\533579533.doc
Page 3 of 3
390-401 CE
Required Reading:
233 - 285.
Slides "eligible" for slide identification (S06 refers to Stokstad Chapter Six)
S05-48
(no mistake)
S06-33
S06-16
S06-22
S06-25
S06-27
S06-28
S06-30
S06-35
S06-67
S06-37
S06-76
S06-41
S06-77
S06-50
S06-86
S06-51
S06-89
S06-55
Slide Identification:
Artist
Title
Paper Assignment:
Culture /Period:
Roman Republic
Roman Empire
Apx. Date
To a quarter of
a century
Due: Wednesday, April 15
Medium
Location
(for architectural
sites)
Points: 150
Combined with Chapter 07.
1. Discuss the way in which the technique used by the Roman architects influenced the type of buildings that they
created. Use examples to illustrate your knowledge of Roman architecture.
What features did Early Christian architects take from Roman builders and what new techniques did they develop?
Exam Essay Questions:
1.
Some or all will be on the Unit Exam
Compare and contrast the Imperial Procession of the Ara Pacis (S06-28, J286) and the Procession from the freize
of the Parthenon (S05-48, J287).