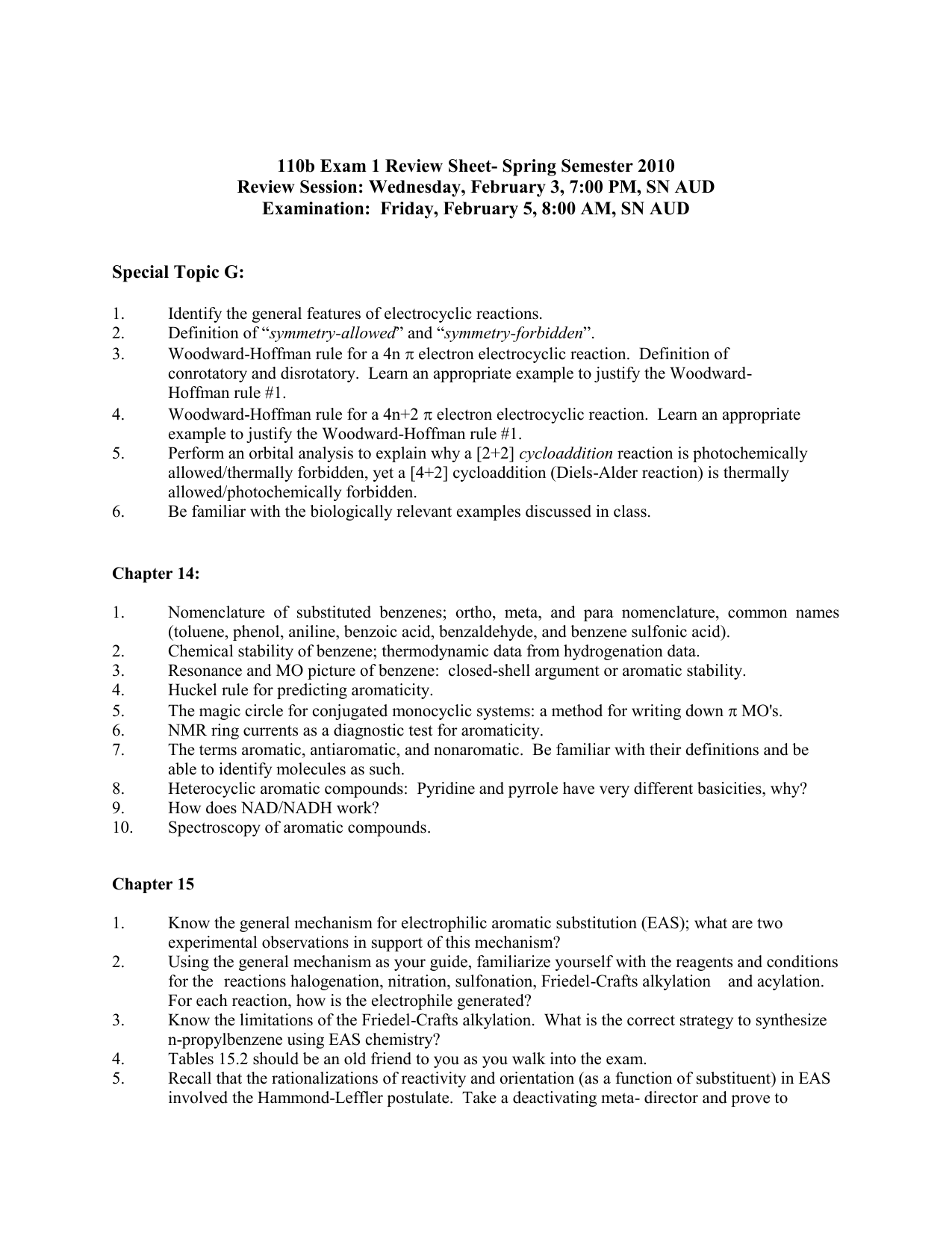 110b Exam 1 Review Sheet- Spring Semester 2010
Review Session: Wednesday, February 3, 7:00 PM, SN AUD
Examination: Friday, February 5, 8:00 AM, SN AUD
Special Topic G:
1.
2.
3.
4.
5.
6.
Identify the general features of electrocyclic reactions.
Definition of "symmetry-allowed" and "symmetry-forbidden".
Woodward-Hoffman rule for a 4n  electron electrocyclic reaction. Definition of
conrotatory and disrotatory. Learn an appropriate example to justify the WoodwardHoffman rule #1.
Woodward-Hoffman rule for a 4n+2  electron electrocyclic reaction. Learn an appropriate
example to justify the Woodward-Hoffman rule #1.
Perform an orbital analysis to explain why a [2+2] cycloaddition reaction is photochemically
allowed/thermally forbidden, yet a [4+2] cycloaddition (Diels-Alder reaction) is thermally
allowed/photochemically forbidden.
Be familiar with the biologically relevant examples discussed in class.
Chapter 14:
1.
2.
3.
4.
5.
6.
7.
8.
9.
10.
Nomenclature of substituted benzenes; ortho, meta, and para nomenclature, common names
(toluene, phenol, aniline, benzoic acid, benzaldehyde, and benzene sulfonic acid).
Chemical stability of benzene; thermodynamic data from hydrogenation data.
Resonance and MO picture of benzene: closed-shell argument or aromatic stability.
Huckel rule for predicting aromaticity.
The magic circle for conjugated monocyclic systems: a method for writing down  MO's.
NMR ring currents as a diagnostic test for aromaticity.
The terms aromatic, antiaromatic, and nonaromatic. Be familiar with their definitions and be
able to identify molecules as such.
Heterocyclic aromatic compounds: Pyridine and pyrrole have very different basicities, why?
How does NAD/NADH work?
Spectroscopy of aromatic compounds.
Chapter 15
1.
2.
3.
4.
5.
Know the general mechanism for electrophilic aromatic substitution (EAS); what are two
experimental observations in support of this mechanism?
Using the general mechanism as your guide, familiarize yourself with the reagents and conditions
for the reactions halogenation, nitration, sulfonation, Friedel-Crafts alkylation and acylation.
For each reaction, how is the electrophile generated?
Know the limitations of the Friedel-Crafts alkylation. What is the correct strategy to synthesize
n-propylbenzene using EAS chemistry?
Tables 15.2 should be an old friend to you as you walk into the exam.
Recall that the rationalizations of reactivity and orientation (as a function of substituent) in EAS
involved the Hammond-Leffler postulate. Take a deactivating meta- director and prove to
6.
7.
8.
9.
10.
11.
yourself, with the book closed, that this can be done. Your analysis should involve a number of
resonance structures.
Along the same lines, how are inductive and resonance effects used to rationalize reactivity and
orientation in EAS? Non-bonding pairs of electrons should enter into your analysis. Point 4 of
this review sheet asks you to be familiar with Table 15.2. Here I'm asking you to think about
why the substituents behave the way they do. We discussed several "anomalies" in class.
Side chain reactions of alkylbenzenes. Halogenation at the benzylic site. What is appealing
about a particular intermediate in this reaction? (Examine the case of an NBS bromination).
Review the orientation of addition reactions of alkenylbenzenes. What is appealing about a
particular intermediate in this reaction? (Examine the case of HBr addition to 1-phenylpropene,
with no peroxides present).
Oxidation of the aromatic side chain using hot and basic KMnO4. Know the substrates which
work and what the products is. This is an easy one-- no mechanism!
Synthesis of substituted benzene derivatives. Practice, Practice, Practice.
The Birch reduction: show that the mechanism is very similar to the dissolving metal reduction
of alkynes to trans- olefins. Explain the regiochemistry of the Birch reaction as a function of
EWG vs EDG.