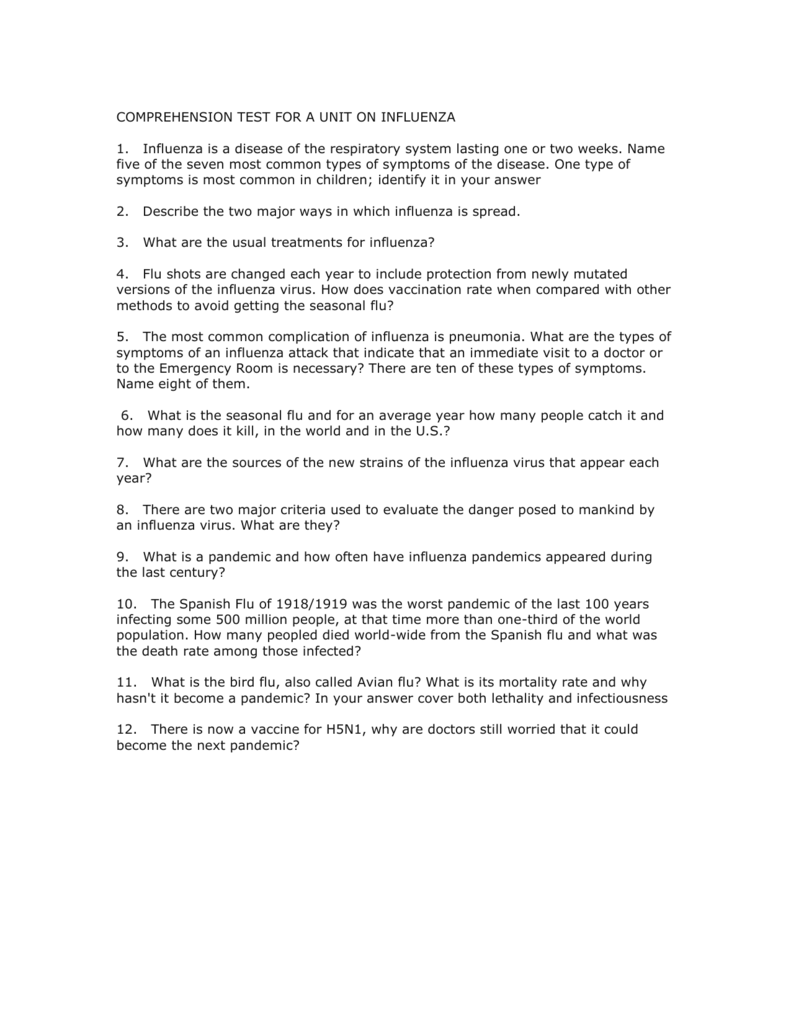 COMPREHENSION TEST FOR A UNIT ON INFLUENZA
1. Influenza is a disease of the respiratory system lasting one or two weeks. Name
five of the seven most common types of symptoms of the disease. One type of
symptoms is most common in children; identify it in your answer
2.
Describe the two major ways in which influenza is spread.
3.
What are the usual treatments for influenza?
4. Flu shots are changed each year to include protection from newly mutated
versions of the influenza virus. How does vaccination rate when compared with other
methods to avoid getting the seasonal flu?
5. The most common complication of influenza is pneumonia. What are the types of
symptoms of an influenza attack that indicate that an immediate visit to a doctor or
to the Emergency Room is necessary? There are ten of these types of symptoms.
Name eight of them.
6. What is the seasonal flu and for an average year how many people catch it and
how many does it kill, in the world and in the U.S.?
7. What are the sources of the new strains of the influenza virus that appear each
year?
8. There are two major criteria used to evaluate the danger posed to mankind by
an influenza virus. What are they?
9. What is a pandemic and how often have influenza pandemics appeared during
the last century?
10. The Spanish Flu of 1918/1919 was the worst pandemic of the last 100 years
infecting some 500 million people, at that time more than one-third of the world
population. How many peopled died world-wide from the Spanish flu and what was
the death rate among those infected?
11. What is the bird flu, also called Avian flu? What is its mortality rate and why
hasn't it become a pandemic? In your answer cover both lethality and infectiousness
12. There is now a vaccine for H5N1, why are doctors still worried that it could
become the next pandemic?