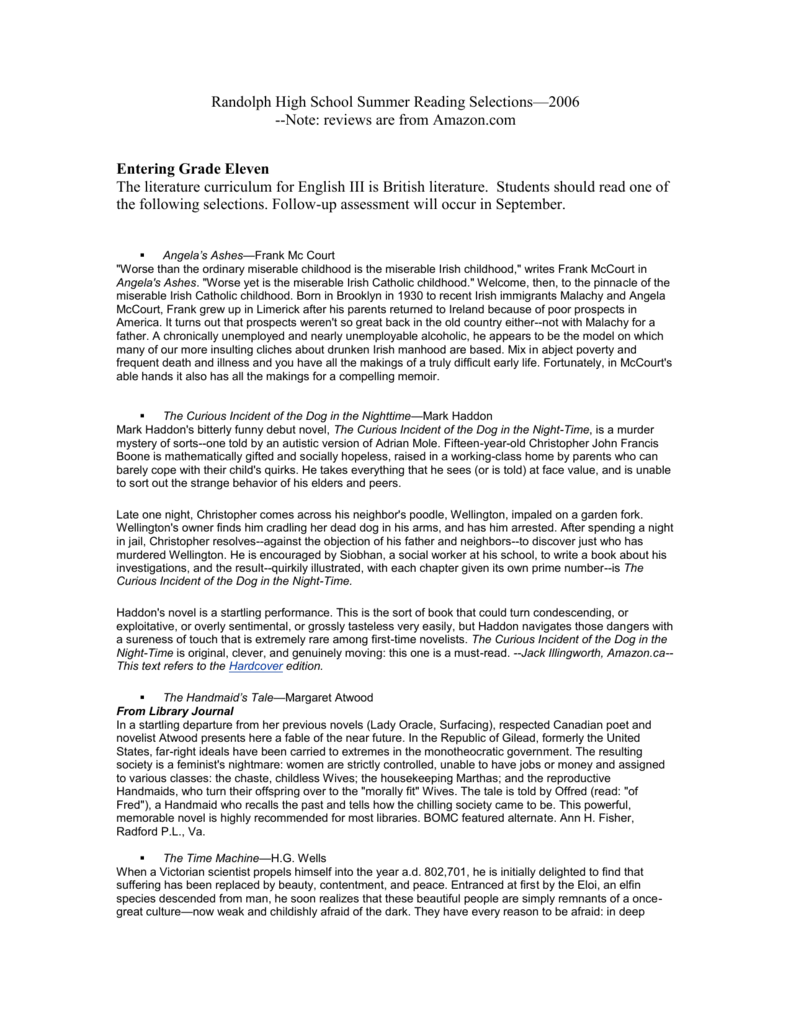 Randolph High School Summer Reading Selections—2006
--Note: reviews are from Amazon.com
Entering Grade Eleven
The literature curriculum for English III is British literature. Students should read one of
the following selections. Follow-up assessment will occur in September.

Angela's Ashes—Frank Mc Court
"Worse than the ordinary miserable childhood is the miserable Irish childhood," writes Frank McCourt in
Angela's Ashes. "Worse yet is the miserable Irish Catholic childhood." Welcome, then, to the pinnacle of the
miserable Irish Catholic childhood. Born in Brooklyn in 1930 to recent Irish immigrants Malachy and Angela
McCourt, Frank grew up in Limerick after his parents returned to Ireland because of poor prospects in
America. It turns out that prospects weren't so great back in the old country either--not with Malachy for a
father. A chronically unemployed and nearly unemployable alcoholic, he appears to be the model on which
many of our more insulting cliches about drunken Irish manhood are based. Mix in abject poverty and
frequent death and illness and you have all the makings of a truly difficult early life. Fortunately, in McCourt's
able hands it also has all the makings for a compelling memoir.

The Curious Incident of the Dog in the Nighttime—Mark Haddon
Mark Haddon's bitterly funny debut novel, The Curious Incident of the Dog in the Night-Time, is a murder
mystery of sorts--one told by an autistic version of Adrian Mole. Fifteen-year-old Christopher John Francis
Boone is mathematically gifted and socially hopeless, raised in a working-class home by parents who can
barely cope with their child's quirks. He takes everything that he sees (or is told) at face value, and is unable
to sort out the strange behavior of his elders and peers.
Late one night, Christopher comes across his neighbor's poodle, Wellington, impaled on a garden fork.
Wellington's owner finds him cradling her dead dog in his arms, and has him arrested. After spending a night
in jail, Christopher resolves--against the objection of his father and neighbors--to discover just who has
murdered Wellington. He is encouraged by Siobhan, a social worker at his school, to write a book about his
investigations, and the result--quirkily illustrated, with each chapter given its own prime number--is The
Curious Incident of the Dog in the Night-Time.
Haddon's novel is a startling performance. This is the sort of book that could turn condescending, or
exploitative, or overly sentimental, or grossly tasteless very easily, but Haddon navigates those dangers with
a sureness of touch that is extremely rare among first-time novelists. The Curious Incident of the Dog in the
Night-Time is original, clever, and genuinely moving: this one is a must-read. --Jack Illingworth, Amazon.ca-This text refers to the Hardcover edition.

The Handmaid's Tale—Margaret Atwood
From Library Journal
In a startling departure from her previous novels (Lady Oracle, Surfacing), respected Canadian poet and
novelist Atwood presents here a fable of the near future. In the Republic of Gilead, formerly the United
States, far-right ideals have been carried to extremes in the monotheocratic government. The resulting
society is a feminist's nightmare: women are strictly controlled, unable to have jobs or money and assigned
to various classes: the chaste, childless Wives; the housekeeping Marthas; and the reproductive
Handmaids, who turn their offspring over to the "morally fit" Wives. The tale is told by Offred (read: "of
Fred"), a Handmaid who recalls the past and tells how the chilling society came to be. This powerful,
memorable novel is highly recommended for most libraries. BOMC featured alternate. Ann H. Fisher,
Radford P.L., Va.

The Time Machine—H.G. Wells
When a Victorian scientist propels himself into the year a.d. 802,701, he is initially delighted to find that
suffering has been replaced by beauty, contentment, and peace. Entranced at first by the Eloi, an elfin
species descended from man, he soon realizes that these beautiful people are simply remnants of a oncegreat culture—now weak and childishly afraid of the dark. They have every reason to be afraid: in deep
tunnels beneath their paradise lurks another race descended from humanity—the sinister Morlocks. And
when the scientist's time machine vanishes, it becomes clear he must search these tunnels if he is ever to
return to his own era.

The Elephant Man—Bernard Pomerance
The Elephant Man was first produced in London at the Hampstead Theatre. It soon moved to New York and
opened Off-Broadway at the Theatre of St. Peter's Church, and then to Broadway and the Booth Theatre.
Pomerance's play earned good reviews and a number of awards, including a Tony Award, the New York
Drama Critics award, the Drama Desk Award, and the Obie Award.
The play is based on the story of Joseph Merrick; in large part, it draws from the book by Frederick Treves,
which chronicles Merrick's life story. Critics applauded Pomerance's efforts to depict the conflict that results
when Treves saves Merrick from the freak shows only to exploit Merrick himself.