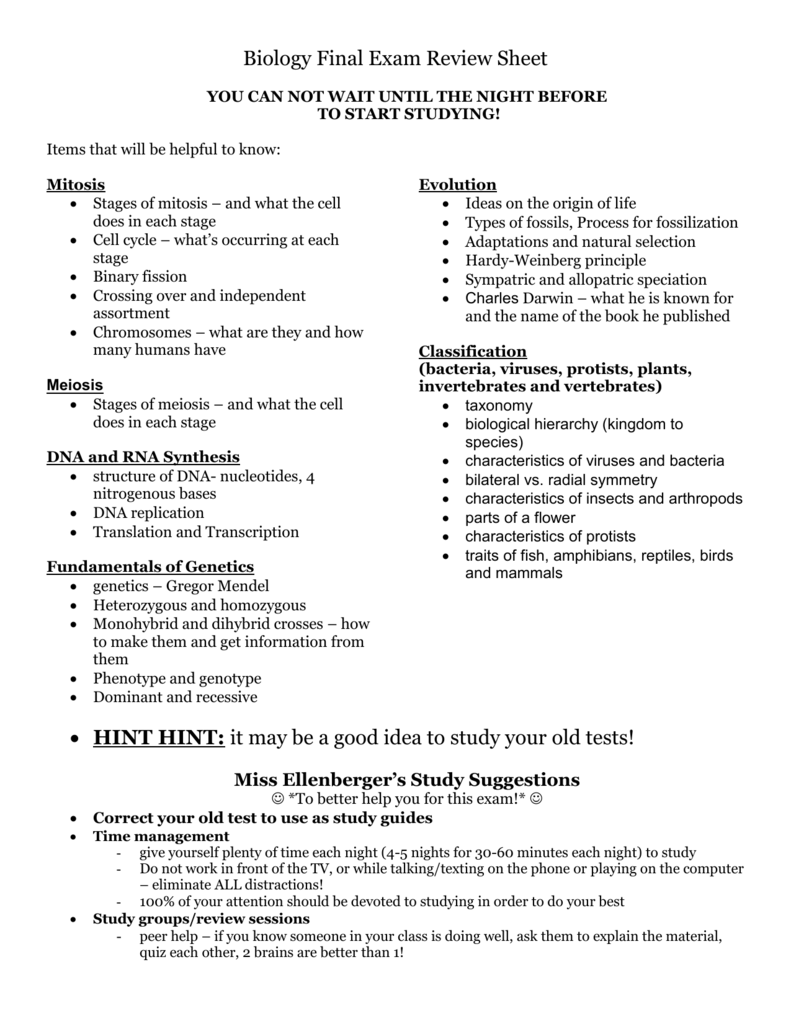 Biology Final Exam Review Sheet
YOU CAN NOT WAIT UNTIL THE NIGHT BEFORE
TO START STUDYING!
Items that will be helpful to know:
Mitosis
 Stages of mitosis – and what the cell
does in each stage
 Cell cycle – what's occurring at each
stage
 Binary fission
 Crossing over and independent
assortment
 Chromosomes – what are they and how
many humans have
Meiosis
 Stages of meiosis – and what the cell
does in each stage
DNA and RNA Synthesis
 structure of DNA- nucleotides, 4
nitrogenous bases
 DNA replication
 Translation and Transcription
Fundamentals of Genetics
 genetics – Gregor Mendel
 Heterozygous and homozygous
 Monohybrid and dihybrid crosses – how
to make them and get information from
them
 Phenotype and genotype
 Dominant and recessive
Evolution
 Ideas on the origin of life
 Types of fossils, Process for fossilization
 Adaptations and natural selection
 Hardy-Weinberg principle
 Sympatric and allopatric speciation
 Charles Darwin – what he is known for
and the name of the book he published
Classification
(bacteria, viruses, protists, plants,
invertebrates and vertebrates)
 taxonomy
 biological hierarchy (kingdom to
species)
 characteristics of viruses and bacteria
 bilateral vs. radial symmetry
 characteristics of insects and arthropods
 parts of a flower
 characteristics of protists
 traits of fish, amphibians, reptiles, birds
and mammals
 HINT HINT: it may be a good idea to study your old tests!
Miss Ellenberger's Study Suggestions



 *To better help you for this exam!* 
Correct your old test to use as study guides
Time management
- give yourself plenty of time each night (4-5 nights for 30-60 minutes each night) to study
- Do not work in front of the TV, or while talking/texting on the phone or playing on the computer
– eliminate ALL distractions!
- 100% of your attention should be devoted to studying in order to do your best
Study groups/review sessions
- peer help – if you know someone in your class is doing well, ask them to explain the material,
quiz each other, 2 brains are better than 1!