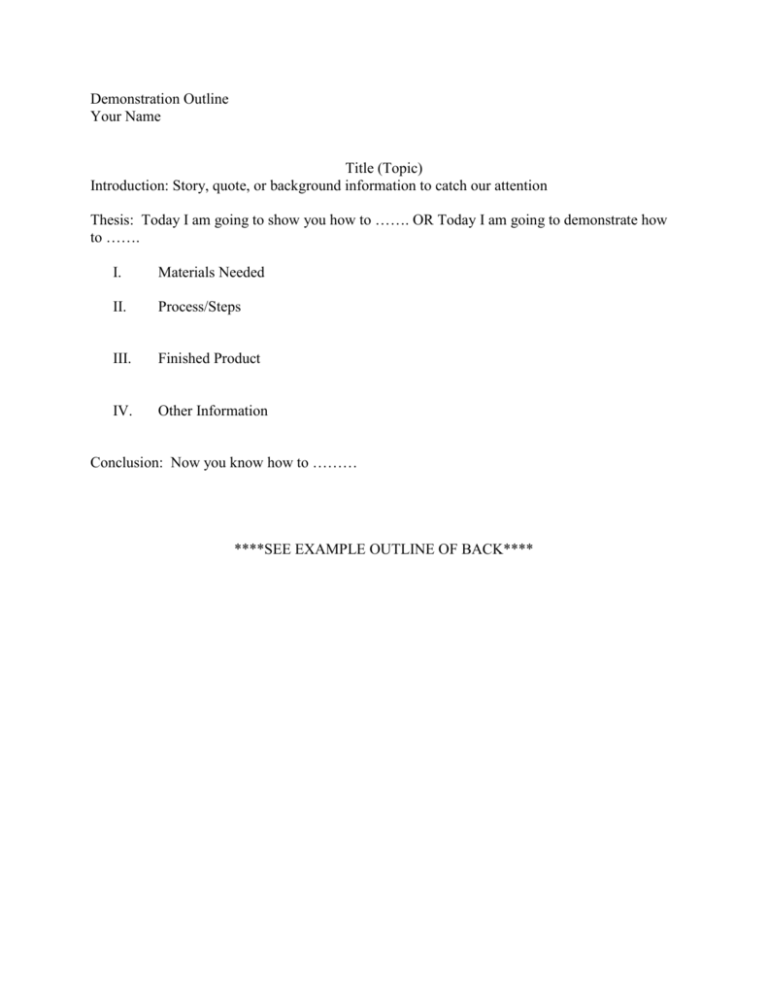 Demonstration Outline
Your Name
Title (Topic)
Introduction: Story, quote, or background information to catch our attention
Thesis: Today I am going to show you how to ……. OR Today I am going to demonstrate how
to …….
I.
Materials Needed
II.
Process/Steps
III.
Finished Product
IV.
Other Information
Conclusion: Now you know how to ………
****SEE EXAMPLE OUTLINE OF BACK****
How to Make Chocolate Chip Cookies
Introduction: What's warm, chewy, and makes your house smell great? It's my favorite treatchocolate chip cookies!
Thesis: Today I am going to show you how you can make chocolate chip cookies at home.
I.
A.
B.
C.
D.
E.
F.
Materials
Cookie Sheet
2 Mixing Bowls
Spoon
Ingredients
1. flour
2. white sugar
3. brown sugar
4. eggs
5. butter
6. baking soda
7. vanilla
8. chocolate chips
9. salt
Cooling Rack
Oven
II.
Process/Steps
A. Mix Dry Ingredients
1. flour
2. soda
3. salt
B. Mix Wet Ingredients
1. eggs
2. butter
3. white sugar
4. brown sugar
C. Blend two mixtures together
D. Add chocolate chips
E. Place on cookie sheet using spoon
F. Bake @ 350 degrees for 10-12 minutes
III.
Finished Product
A. Allow cookies to cool on cooling rack
B. Store in a air tight container
Conclusion: The next time you're hungry for a sweet treat, check your cupboards and hopefully
you will have all the needed ingredients to make warm, chewy chocolate chip cookies.