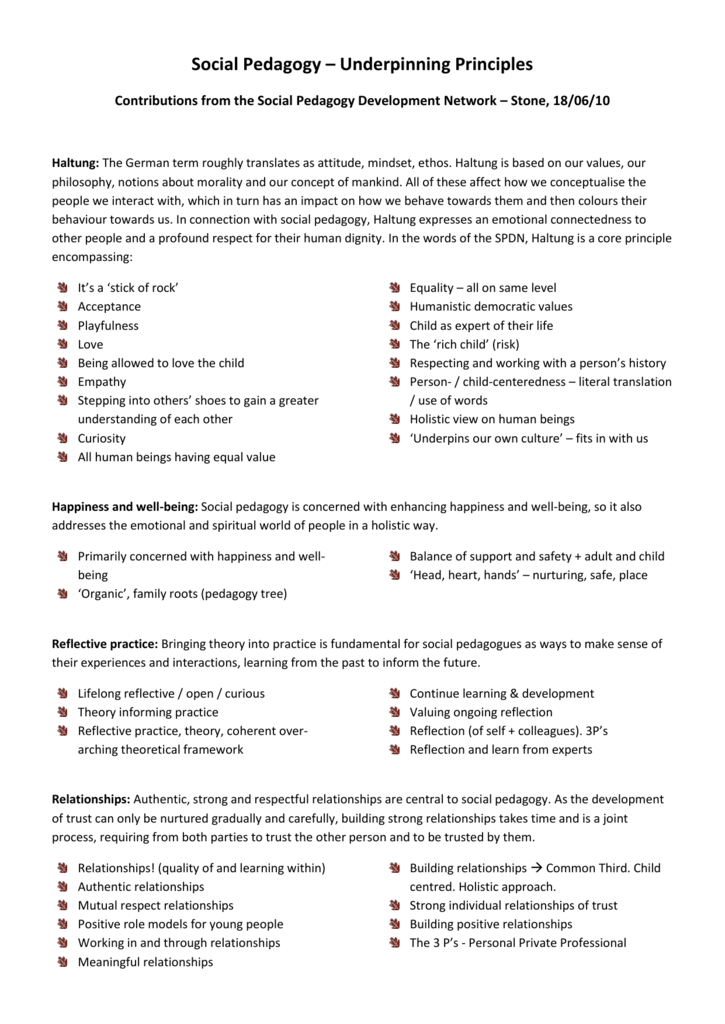 Social Pedagogy – Underpinning Principles
Contributions from the Social Pedagogy Development Network – Stone, 18/06/10
Haltung: The German term roughly translates as attitude, mindset, ethos. Haltung is based on our values, our
philosophy, notions about morality and our concept of mankind. All of these affect how we conceptualise the
people we interact with, which in turn has an impact on how we behave towards them and then colours their
behaviour towards us. In connection with social pedagogy, Haltung expresses an emotional connectedness to
other people and a profound respect for their human dignity. In the words of the SPDN, Haltung is a core principle
encompassing:
It's a 'stick of rock'
Acceptance
Playfulness
Love
Being allowed to love the child
Empathy
Stepping into others' shoes to gain a greater
understanding of each other
Curiosity
All human beings having equal value
Equality – all on same level
Humanistic democratic values
Child as expert of their life
The 'rich child' (risk)
Respecting and working with a person's history
Person- / child-centeredness – literal translation
/ use of words
Holistic view on human beings
'Underpins our own culture' – fits in with us
Happiness and well-being: Social pedagogy is concerned with enhancing happiness and well-being, so it also
addresses the emotional and spiritual world of people in a holistic way.
Primarily concerned with happiness and wellbeing
'Organic', family roots (pedagogy tree)
Balance of support and safety + adult and child
'Head, heart, hands' – nurturing, safe, place
Reflective practice: Bringing theory into practice is fundamental for social pedagogues as ways to make sense of
their experiences and interactions, learning from the past to inform the future.
Lifelong reflective / open / curious
Theory informing practice
Reflective practice, theory, coherent overarching theoretical framework
Continue learning & development
Valuing ongoing reflection
Reflection (of self + colleagues). 3P's
Reflection and learn from experts
Relationships: Authentic, strong and respectful relationships are central to social pedagogy. As the development
of trust can only be nurtured gradually and carefully, building strong relationships takes time and is a joint
process, requiring from both parties to trust the other person and to be trusted by them.
Relationships! (quality of and learning within)
Authentic relationships
Mutual respect relationships
Positive role models for young people
Working in and through relationships
Meaningful relationships
Building relationships  Common Third. Child
centred. Holistic approach.
Strong individual relationships of trust
Building positive relationships
The 3 P's - Personal Private Professional
Sharing life-space: The notion of life-space outlines a social pedagogic understanding of developing culture
together as equal human beings, a shared culture in which everyone has ownership.
Building and shaping meaningful relationships
towards a shared culture
Using and understanding the Common Third
Everyone is sharing the same life-space
Creating an awareness of community and social
responsibility
Seeing people as equal (non-hierarchy)
Shared living space + commitment by staff
'Social' pedagogy – groups, networks of
relationships, community, not just individuals,
society
Social justice: Social pedagogy aims to support social inclusion and tackle inequalities through educational means,
thus enabling people to empower themselves. The concept of life world orientation is central in ensuring that
social pedagogues take into consideration the many different realities for people affected by social inequality.
Social inclusion
Function of society
Inclusion  society
Empowerment + mediation  enabling learning
Empowerment
Life world orientation
Participation, empowerment, democracy, active
citizenship, involvement and emancipation of
the most socially excluded
The social 'justice' perspective, political
Responsibility through all levels, institutions and
society / (incl. media)
Anti-oppressive practice, social justice,
children/human rights
Participation through dialogue (communication)
Backed up by the society, share
Cultural change
Head, heart, hands – holistic approach: Social pedagogy follows the principle that 'it is not possible to teach. But
it is possible to create situations wherein it is impossible not to learn'. Initiating holistic learning situations that
take into consideration the person within their context is therefore a central element of social pedagogy.
(Socio-)education in the broadest sense
Learning and immersing
Guts to get in there
Holistic – child/young person and context
around them – community, society
Social education
Every situation is an opportunity
Meaningful
Learning by doing (sharing)
Positive experiences – strength-based: Learning is an enjoyable experience that helps us become more expert
and confident. As a result social pedagogues aim to build on positives and use their own and other people's
creativity to engage in mutual learning activities.
Learn through shared experiences – together!
Building on existing strengths
Palette of opportunities
Joyful / fun
Focusing upon positives
Distinguish person and behaviour (action)
Being creative to engage + provide opportunity
to do so
Activities, creative
Seeing risks as positive experiences
Solution focused
Creativity
Common third
Working together: Social pedagogues share the responsibility for their practice with many other professionals
and people that play a part in the child's or adult's life. They recognise that the most positive impact can only be
achieved in true partnership with all involved.
Collaboration – team, family, professionals,
young people
'Together'
To sum it all up, social pedagogy is about:
Principles not procedures, risk competence and experiential learning not risk assessment and aversion.