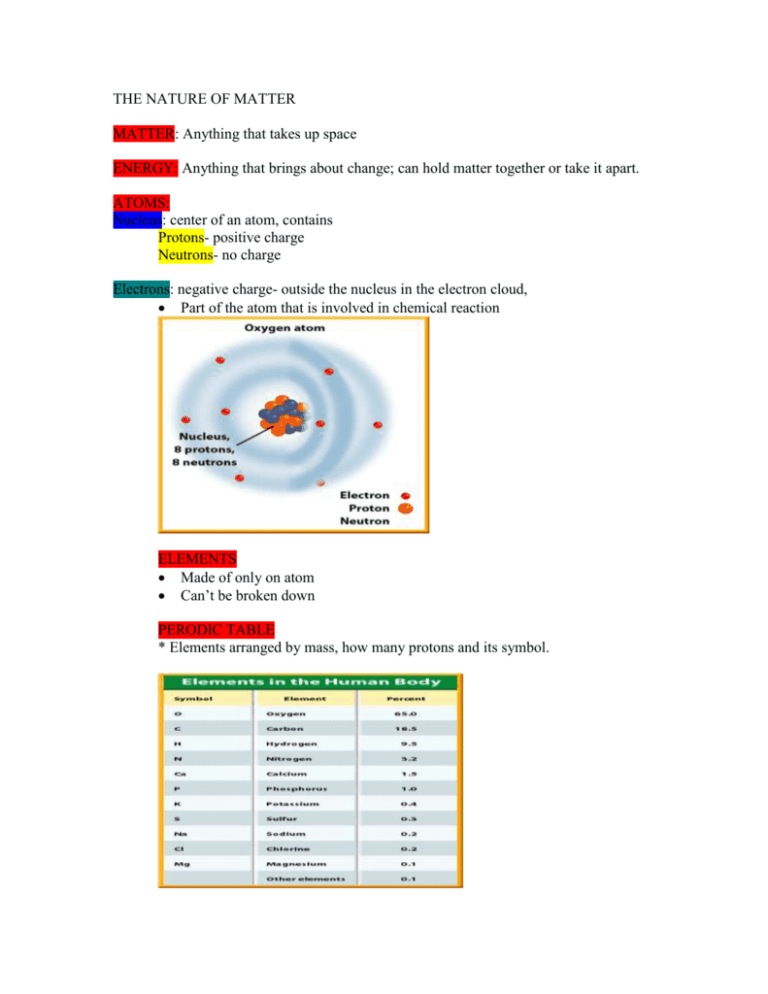 THE NATURE OF MATTER
MATTER: Anything that takes up space
ENERGY: Anything that brings about change; can hold matter together or take it apart.
ATOMS:
Nucleus: center of an atom, contains
Protons- positive charge
Neutrons- no charge
Electrons: negative charge- outside the nucleus in the electron cloud,
 Part of the atom that is involved in chemical reaction
ELEMENTS
 Made of only on atom
 Can't be broken down
PERODIC TABLE
* Elements arranged by mass, how many protons and its symbol.
COMPOUNDS AND MOLECULE
*Compounds are made of two or more elements in exact amounts.
*Two types of compounds
*molecular compounds
Molecule*a group of atoms held together by the energy of chemical bonds.
*Molecule produced are different from those that began the chemical
reaction.
* Form when different atoms share their outermost electrons.
H2O- Formula for water, one molecule of hydrogen and 2 molecules of
oxygen.
*Ions
* Electrically charge atoms
* Atoms come together because they've become positively or negatively charged.
* Atoms usually are neutral- no charge
* Electrons are the only part of an atom that can move.
* Negative charge- more electrons than protons.
* Positive charge- more protons than electrons
*Ions of opposite charge attract to one another- negative charge attracts to positive
charge.
* Table salt is a combination of Sodium (Na) and Chlorine (Cl) ion
- oppositely charged ions combine to form an ionic compound, sodium chloridesalt
MIXTURES
 Combination of substances that retain their own properties.
 Solutions- two or more substances mixed evenly.
ORGANIC COMPOUNDS
Always contain carbon and hydrogen- living things
Carbohydrates
 organic molecules that supply energy
 sugar and starches
Lipids
 Do not mix with water
 Fats and oils
 Phospholipid- major part of cell membranes
Proteins




small molecules called amino acids
building blocks of many structures in organisms
muscles contain large amounts of proteins
enzymes- proteins that regulate chemical reactions
NUCLEIC ACIDS
 Store important coded information
 Deoxyribonucleic Acid or DNA- genetic material- found in all cells.
 Ribonucleic Acid or RNA- needed to make enzymes and other proteins.
INORGANIC COMPOUNDS
 Contain elements nitrogen, phosphorus, sulfur
 Water- the most important inorganic compound
o Living things are composed of 50% water
 Water is used to transport things in the cells.
WATER MOLECULES
*Are like magnets- negative parts of water molecules are
attracted to positive parts of other molecules to form droplets
* This bond is strong enough to hold certain objects such as
insects.
*Water molecules are strongly attracted, causing waters
temperature to change slowly.
*Water freezes crystals form, water molecules are spaced evenly, ice will float because of
the spacing of molecules. Water freezes from the top down allowing the ice to insulate
and living things to survive.