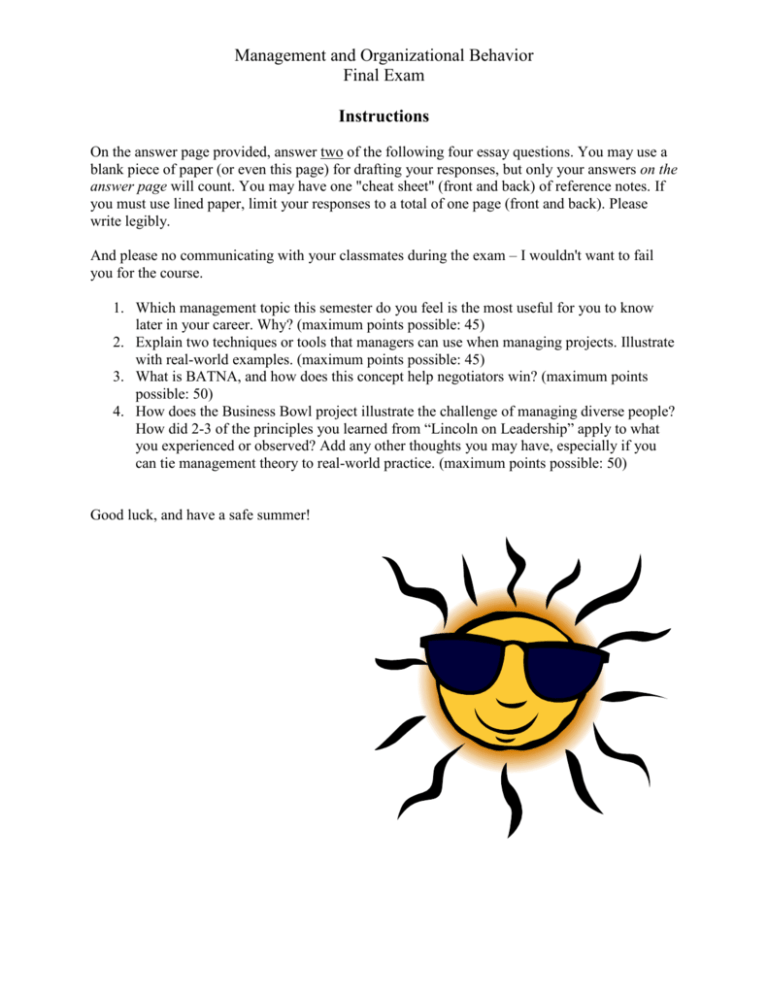 Management and Organizational Behavior
Final Exam
Instructions
On the answer page provided, answer two of the following four essay questions. You may use a
blank piece of paper (or even this page) for drafting your responses, but only your answers on the
answer page will count. You may have one "cheat sheet" (front and back) of reference notes. If
you must use lined paper, limit your responses to a total of one page (front and back). Please
write legibly.
And please no communicating with your classmates during the exam – I wouldn't want to fail
you for the course.
1. Which management topic this semester do you feel is the most useful for you to know
later in your career. Why? (maximum points possible: 45)
2. Explain two techniques or tools that managers can use when managing projects. Illustrate
with real-world examples. (maximum points possible: 45)
3. What is BATNA, and how does this concept help negotiators win? (maximum points
possible: 50)
4. How does the Business Bowl project illustrate the challenge of managing diverse people?
How did 2-3 of the principles you learned from "Lincoln on Leadership" apply to what
you experienced or observed? Add any other thoughts you may have, especially if you
can tie management theory to real-world practice. (maximum points possible: 50)
Good luck, and have a safe summer!