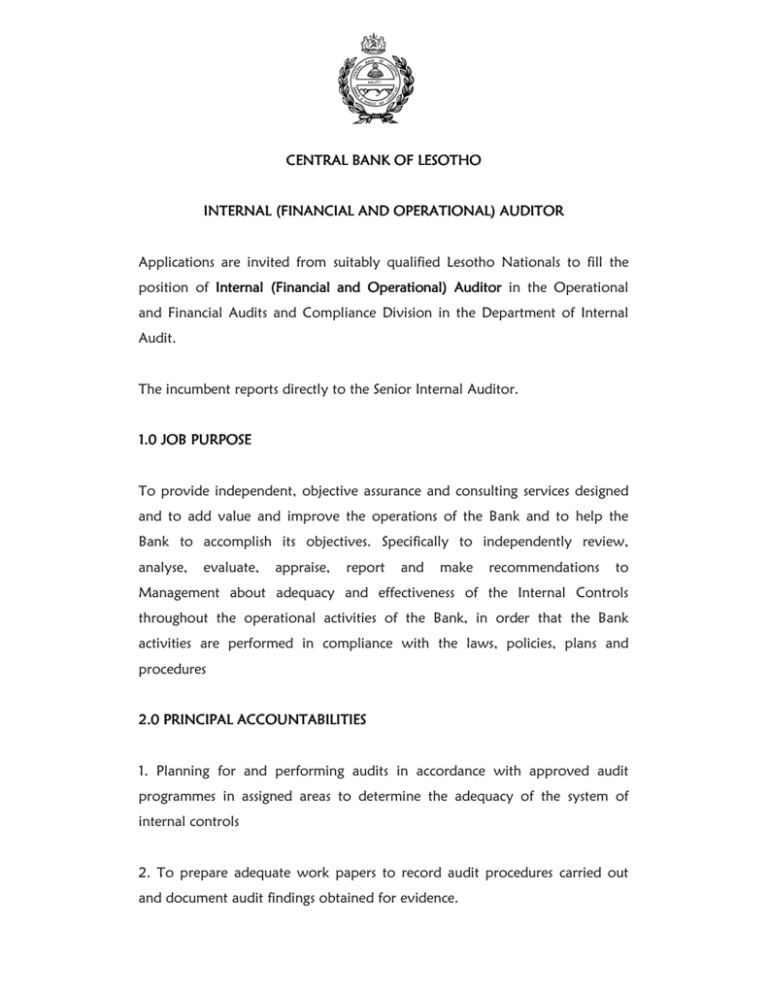 CENTRAL BANK OF LESOTHO
INTERNAL (FINANCIAL AND OPERATIONAL) AUDITOR
Applications are invited from suitably qualified Lesotho Nationals to fill the
position of Internal (Financial and Operational) Auditor in the Operational
and Financial Audits and Compliance Division in the Department of Internal
Audit.
The incumbent reports directly to the Senior Internal Auditor.
1.0 JOB PURPOSE
To provide independent, objective assurance and consulting services designed
and to add value and improve the operations of the Bank and to help the
Bank to accomplish its objectives. Specifically to independently review,
analyse,
evaluate,
appraise,
report
and
make
recommendations
to
Management about adequacy and effectiveness of the Internal Controls
throughout the operational activities of the Bank, in order that the Bank
activities are performed in compliance with the laws, policies, plans and
procedures
2.0 PRINCIPAL ACCOUNTABILITIES
1. Planning for and performing audits in accordance with approved audit
programmes in assigned areas to determine the adequacy of the system of
internal controls
2. To prepare adequate work papers to record audit procedures carried out
and document audit findings obtained for evidence.
3. To communicate the results of the audits undertaken and improvements
recommendations, by preparing audit reports for review by Senior Internal
Auditor prior submission tot eh Chief Internal Auditor, for final submission to
Management and Audit Committee.
4. To perform follow-up processes on the reports issued to ensure that
corrective action is taken.
5. To carry out any ad hoc Management assignments such as special
investigations; verifications and so on that may be ordered by management or
chief Internal Auditor through the Senior Internal Auditor.
6. To ensure filling work papers following established documents management
policy procedures.
7. To assist with the preparation of the Annual audit plan fo the financial and
operational audits section.
3.0 MINIMUM QUALIFICATIONS AND EXPERIENCE
Qualifications
Qualifications
Bachelor's degree in Business Administration, Commerce or equivalent OR
General Accountant or equivalent AND Medium to high level of computer
literacy.
Experience
Some prior auditing experience will be an added advantage
4.0
OTHER REQUIREMENTS
REQUIREMENTS
Letters of application including certified copies of certificates and academic
transcripts, detailed Curriculum Vitae, names and contact details of three
referees, should be delivered to:
The Section Head Talent Sourcing and Development
Central Bank of Lesotho
P.O Box 1184
Maseru 100
The closing date for applications is Friday 25th January, 2013
2013.
Please note that only shortlisted applicants will be responded to.