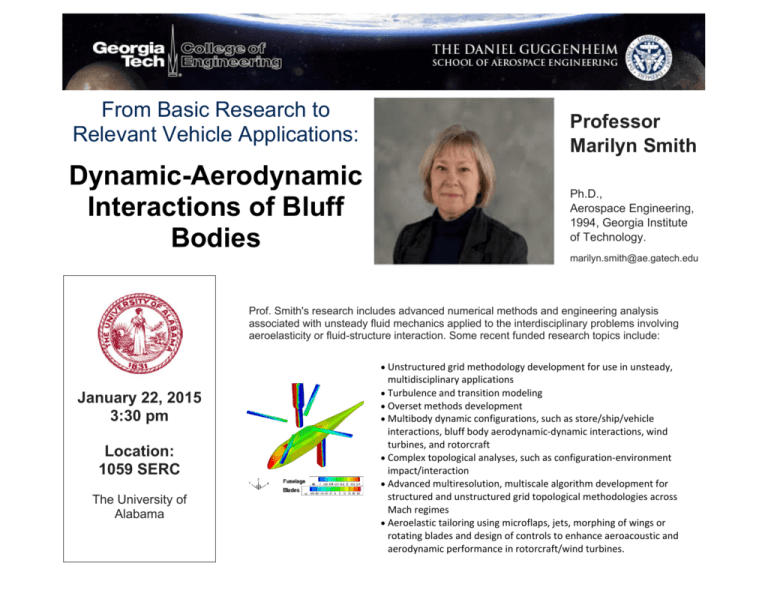 From Basic Research to
Relevant Vehicle Applications:
Dynamic-Aerodynamic
Interactions of Bluff
Bodies
Professor
Marilyn Smith
Ph.D.,
Aerospace Engineering,
1994, Georgia Institute
of Technology.
marilyn.smith@ae.gatech.edu
Prof. Smith's research includes advanced numerical methods and engineering analysis
associated with unsteady fluid mechanics applied to the interdisciplinary problems involving
aeroelasticity or fluid-structure interaction. Some recent funded research topics include:
 Unstructured grid methodology development for use in unsteady, January 22, 2015
3:30 pm
Location:
1059 SERC
The University of
Alabama
multidisciplinary applications  Turbulence and transition modeling  Overset methods development  Multibody dynamic configurations, such as store/ship/vehicle interactions, bluff body aerodynamic‐dynamic interactions, wind turbines, and rotorcraft  Complex topological analyses, such as configuration‐environment impact/interaction  Advanced multiresolution, multiscale algorithm development for structured and unstructured grid topological methodologies across Mach regimes  Aeroelastic tailoring using microflaps, jets, morphing of wings or rotating blades and design of controls to enhance aeroacoustic and aerodynamic performance in rotorcraft/wind turbines.