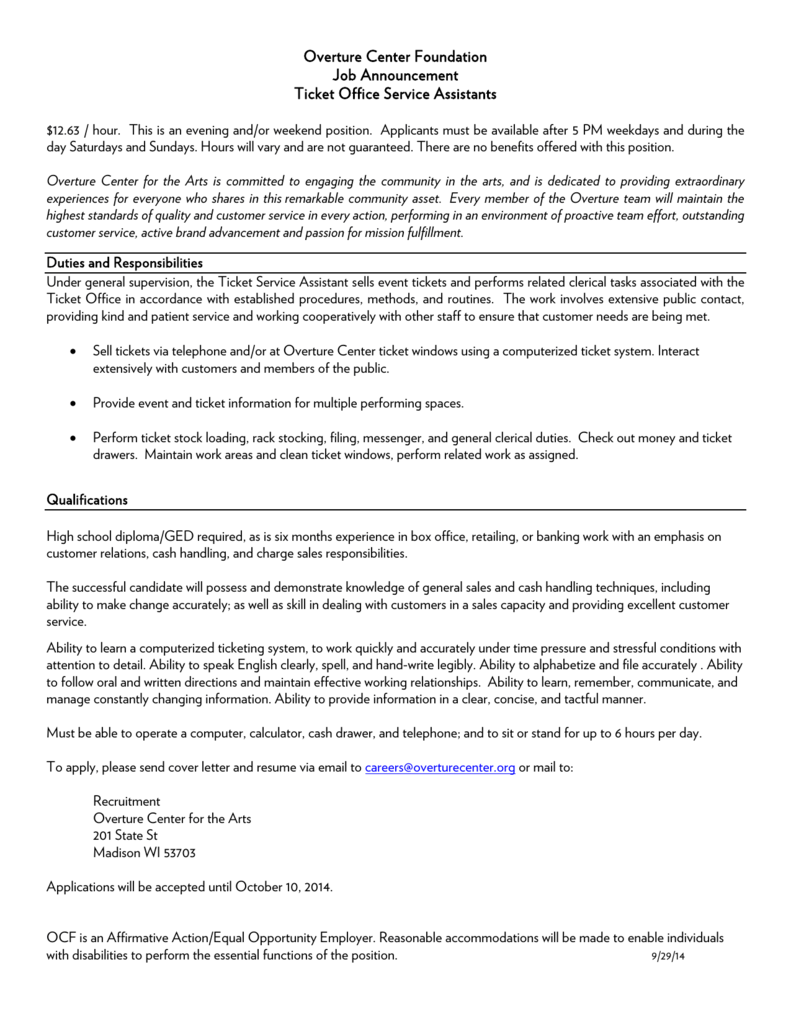 Overture Center Foundation
Job Announcement
Ticket Office Service Assistants
$12.63 / hour. This is an evening and/or weekend position. Applicants must be available after 5 PM weekdays and during the
day Saturdays and Sundays. Hours will vary and are not guaranteed. There are no benefits offered with this position.
Overture Center for the Arts is committed to engaging the community in the arts, and is dedicated to providing extraordinary
experiences for everyone who shares in this remarkable community asset. Every member of the Overture team will maintain the
highest standards of quality and customer service in every action, performing in an environment of proactive team effort, outstanding
customer service, active brand advancement and passion for mission fulfillment.
Duties and Responsibilities
Under general supervision, the Ticket Service Assistant sells event tickets and performs related clerical tasks associated with the
Ticket Office in accordance with established procedures, methods, and routines. The work involves extensive public contact,
providing kind and patient service and working cooperatively with other staff to ensure that customer needs are being met.
•
Sell tickets via telephone and/or at Overture Center ticket windows using a computerized ticket system. Interact
extensively with customers and members of the public.
•
Provide event and ticket information for multiple performing spaces.
•
Perform ticket stock loading, rack stocking, filing, messenger, and general clerical duties. Check out money and ticket
drawers. Maintain work areas and clean ticket windows, perform related work as assigned.
Qualifications
High school diploma/GED required, as is six months experience in box office, retailing, or banking work with an emphasis on
customer relations, cash handling, and charge sales responsibilities.
The successful candidate will possess and demonstrate knowledge of general sales and cash handling techniques, including
ability to make change accurately; as well as skill in dealing with customers in a sales capacity and providing excellent customer
service.
Ability to learn a computerized ticketing system, to work quickly and accurately under time pressure and stressful conditions with
attention to detail. Ability to speak English clearly, spell, and hand-write legibly. Ability to alphabetize and file accurately . Ability
to follow oral and written directions and maintain effective working relationships. Ability to learn, remember, communicate, and
manage constantly changing information. Ability to provide information in a clear, concise, and tactful manner.
Must be able to operate a computer, calculator, cash drawer, and telephone; and to sit or stand for up to 6 hours per day.
To apply, please send cover letter and resume via email to [email protected] or mail to:
Recruitment
Overture Center for the Arts
201 State St
Madison WI 53703
Applications will be accepted until October 10, 2014.
OCF is an Affirmative Action/Equal Opportunity Employer. Reasonable accommodations will be made to enable individuals
9/29/14
with disabilities to perform the essential functions of the position.