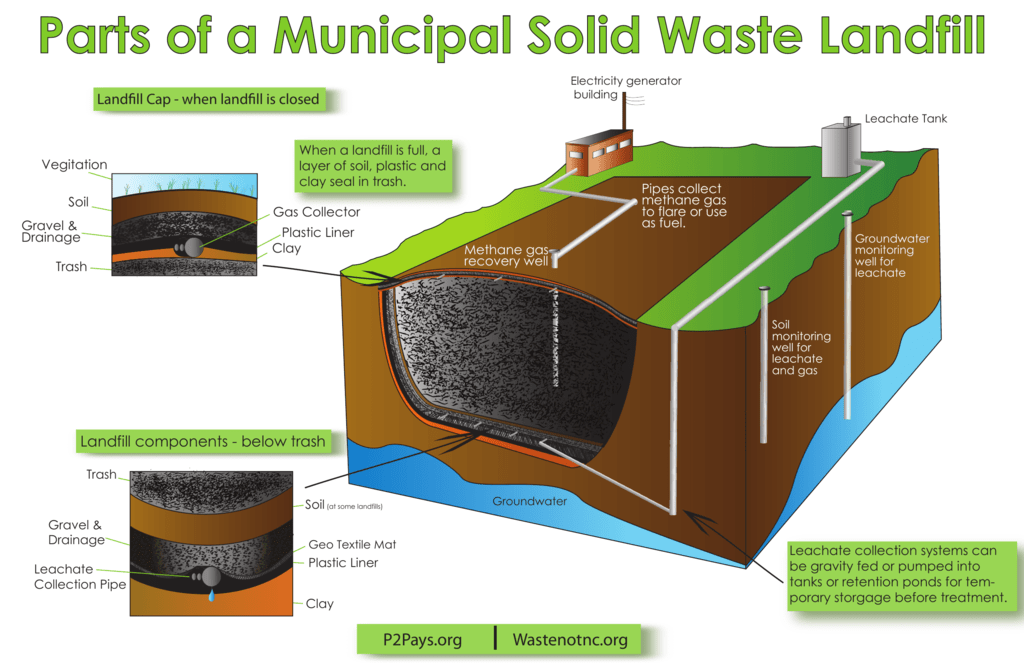 Parts of a Municipal Solid Waste Landfill
Electricity generator
building
Landfill Cap - when landfill is closed
Leachate Tank
Vegitation
Soil
Gravel &
Drainage
When a landfill is full, a
layer of soil, plastic and
clay seal in trash.
Pipes collect
methane gas
to flare or use
as fuel.
Gas Collector
Plastic Liner
Clay
Groundwater
monitoring
well for
leachate
Methane gas
recovery well
Trash
Soil
monitoring
well for
leachate
and gas
Landfill components - below trash
Trash
Groundwater
Soil (at some landfills)
Gravel &
Drainage
Leachate
Collection Pipe
Geo Textile Mat
Leachate collection systems can
be gravity fed or pumped into
tanks or retention ponds for temporary storgage before treatment.
Plastic Liner
Clay
P2Pays.org
Wastenotnc.org
Ground Water - Water that flows beneath the ground
and needs to be protected.
Compacted Clay - A type of soil that is nearly
impermeable when compacted.
Plastic Liner – A puncture-resistant plastic layer.
Leachate Collection Pipe – Water that percolates through the landfill is
called leachate and may contain harmful substances that needs to
be separated from groundwater.
Geotextile Mat – A mat that allows water to percolate through
to the leachate collection system and protects liner from tearing or puncturing.
Gravel and Drainage Layer- Stones and rock that help filter the leachate.
Soil - The final layer before trash is put into the landfill.