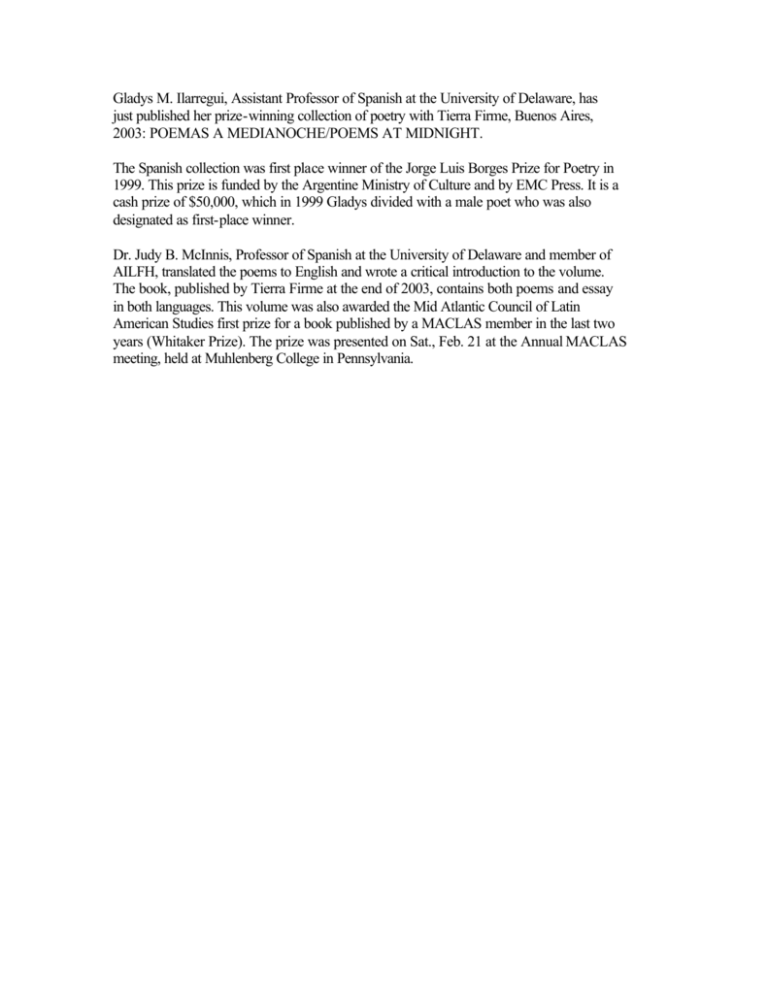 Gladys M. Ilarregui, Assistant Professor of Spanish at the University of Delaware, has
just published her prize-winning collection of poetry with Tierra Firme, Buenos Aires,
2003: POEMAS A MEDIANOCHE/POEMS AT MIDNIGHT.
The Spanish collection was first place winner of the Jorge Luis Borges Prize for Poetry in
1999. This prize is funded by the Argentine Ministry of Culture and by EMC Press. It is a
cash prize of $50,000, which in 1999 Gladys divided with a male poet who was also
designated as first-place winner.
Dr. Judy B. McInnis, Professor of Spanish at the University of Delaware and member of
AILFH, translated the poems to English and wrote a critical introduction to the volume.
The book, published by Tierra Firme at the end of 2003, contains both poems and essay
in both languages. This volume was also awarded the Mid Atlantic Council of Latin
American Studies first prize for a book published by a MACLAS member in the last two
years (Whitaker Prize). The prize was presented on Sat., Feb. 21 at the Annual MACLAS
meeting, held at Muhlenberg College in Pennsylvania.