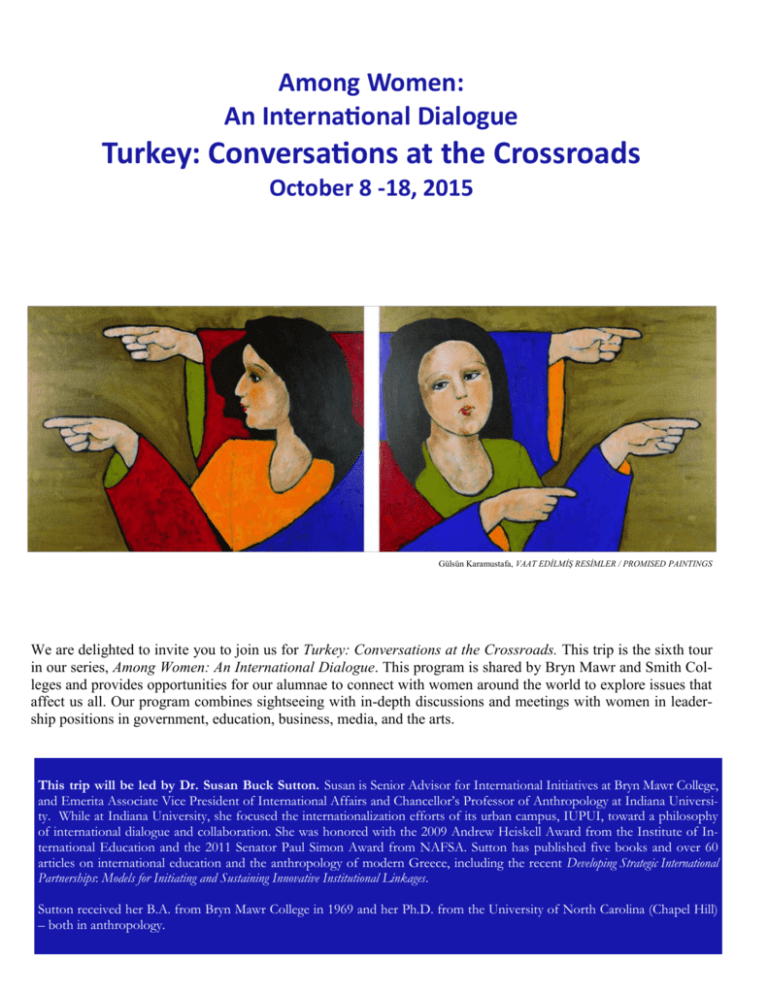 Among Women:
An International Dialogue
Turkey: Conversations at the Crossroads
October 8 -18, 2015
Gülsün Karamustafa, VAAT EDİLMİŞ RESİMLER / PROMISED PAINTINGS
We are delighted to invite you to join us for Turkey: Conversations at the Crossroads. This trip is the sixth tour
in our series, Among Women: An International Dialogue. This program is shared by Bryn Mawr and Smith Colleges and provides opportunities for our alumnae to connect with women around the world to explore issues that
affect us all. Our program combines sightseeing with in-depth discussions and meetings with women in leadership positions in government, education, business, media, and the arts.
This trip will be led by Dr. Susan Buck Sutton. Susan is Senior Advisor for International Initiatives at Bryn Mawr College,
and Emerita Associate Vice President of International Affairs and Chancellor's Professor of Anthropology at Indiana University. While at Indiana University, she focused the internationalization efforts of its urban campus, IUPUI, toward a philosophy
of international dialogue and collaboration. She was honored with the 2009 Andrew Heiskell Award from the Institute of International Education and the 2011 Senator Paul Simon Award from NAFSA. Sutton has published five books and over 60
articles on international education and the anthropology of modern Greece, including the recent Developing Strategic International
Partnerships: Models for Initiating and Sustaining Innovative Institutional Linkages.
Sutton received her B.A. from Bryn Mawr College in 1969 and her Ph.D. from the University of North Carolina (Chapel Hill)
– both in anthropology.
Turkey: Conversations at the Crossroads
October 8 - 18, 2015
Wednesday, October 7
U.S. to Ankara
Depart the United States.
Thursday, October 8
Ankara
Arrive Ankara and transfer to the Divan Cukurhan, a 16th
century caravanserai which has been recently converted into
a boutique hotel. Enjoy a late afternoon visit to Atatürk
founded mausoleum. The great square-pillared rectangular
block dominates the new city, and is meant to echo Hittite
architecture.
Saturday,
October 10
Lake van
After breakfast meet with Bryn
Mawr alumna MarieHenriette Gates to learn more
about "blue-collar archaeology"
and the role of women in it.
Her talk will address the
concept of art which has always
been an active part of the human psyche.
This evening meet for an introductory briefing and
reception. R,D.
Continue to the Museum of Anatolian Civilizations to
enjoy this prize-winning museum's impressive successive
collection of Anatolian civilizations, from 6000BC
Çatalhüyük to Roman Ancyra.
Friday, October 9
Ankara
After breakfast enjoy a morning meeting with the Aylin
Nazhaka who establish HRM Consulting, now one of the
most respected human resource companies in Turkey. Aylin
later entered Turkish politics and was most recently awarded
the Politician of the Year Award in 2014.
After lunch fly from Ankara to Lake Van, located in eastern
Turkey, a natural wonder set in the middle of a wild and
unspoiled environment. For those who are up for a hike
walk up Van Kalesi, a fortress balanced on a lone limestone
ridge near the lake-shore.
For lunch meet with Bryn Mawr alumna Marie-Henriette
Gates, a professor of archaeology and Bronze Age specialist
at Bilkent University in Ankara and her husband Charles
Gates, who teaches at Bilkent's archaeology department.
Enjoy an afternoon meeting with Flying Broom, a
women's organization which has been working continuously
since 1996 to enhance gender equality consciousness,
provide information and training to empower women, and
contribute to the development of efficient policies for
solving women's problems stemming from inequality.
Before dinner meet with Ümmiye Koçak, a farm-worker
who fell in love with the theatre and in 2002 formed the
Arslanköy Women's Theatre Group, an all-female theatre
collective. Watch the documentary called "The Play", which
focuses on "Women's Outcry," a play written by the theater
group and based on the their own experiences, including
kidnapping, forced marriage, and domestic abuse.
Enjoy dinner at a local restaurant. B,L,D.
Overnight at the Rescate Hotel. B,L,D.
sunday, October 11
Lake van
This morning visit the Nar Besin Pazari, a covered market
whose main entrance is lined with shops selling cheeses,
butter, yogurt, kaymak and honey brought in daily from
villages outside the city.
Continue on to meet with women from the Van Women's
Association. The Association works on economic, social,
individual, cultural, legal and political issues. This dynamic
group were very involved in the aftermath of the Van
earthquake in 2011 which left 604 dead and much of the
area with a damaged infra-structure.
Take a ferry to the island of Akdamar where the 11th
century king, Vaspurakan Gagik, of Christian Armenia built
his palace and church.
Enjoy a traditional lunch on the island.
Return to Van and meet with women to talk about the
impact of the Armenian genocide, when the government
arrested more than 200 Armenian community leaders in
Constantinople.
Enjoy a cooking class and dinner that introduces us to the
wonderful cuisine of the area. B,L,D.
Monday, October 12
Istanbul
Join thousands of members of the Van Breakfast Club who
sit down for serious business - kahvalti, or breakfast. Enjoy
glistening olives, slabs of honeycombs, blocks of cheese,
and bowls and plates stacked with delicate sheets of fresh
kaymak, Turkish-style clotted cream. Hot dishes are
prepared in a kitchen at the back, and pide (flatbreads) and
ekmek (crusty loaves) are brought in from a nearby bakery
to order, so they always arrive at the table warm.
After lunch fly to Istanbul and transfer to the Shangri-La
Hotel.
End the day with a lovely dinner at the roof-top restaurant
of the Arcadia Blue Hotel for fabulous views of the
Haghia Sophia. B,L,D.
Tuesday, October 13
Istanbul
Morning meeting with Elf Shafik, an outspoken columnist,
speaker and academic, the author of eight novels and
Turkey's most widely read woman writer. Safak blends
Western and Eastern traditions of storytelling, bringing out
the myriad stories of women, minorities, immigrants,
subcultures, youth and global souls. She was awarded the
Chevalier of the Order of Arts and Letters in 2010.
Enjoy lunch at the Modern Art Museum.
Head over to KOC University to meet with Cigdem
Kagitcibasi, director of the Gender Studies Center. The
center, one of the few in the country, has worked with
UNESCO on several initiatives connected to rural women's
empowerment.
Stroll through the Museum of Innocence set in a 19thcentury house on a quiet street in the Cukurcuma
neighborhood. The museum, based on the novel "The
Museum of Innocence", which chronicles the efforts of hautebourgeois Istanbulis to define themselves by Western
values, a pursuit that continues today as Turkey as a whole
takes a more Islamic turn.
Enjoy a lovely dinner at a private home. B,L,D.
Wednesday,
October 14
Istanbul
Spend the morning with
designer Gönül Paksoy who
is considered one of the
doyennes of the Turkish fashion
industry, known for her unique
aesthetic and designs.
We have requested an
afternoon meeting with Emine Erdogan, current first lady
of Turkey.
Explore the Topkapi Palace, known as the palace of the
Sultans. A city in itself, it occupies the first of
Constantinople's seven hills, and was the site of the
acropolis and the original nucleus of the Greek Town of
Byzantion. Our tour this morning will be led by Hande
Birkalan who did her PhD at Indiana University, taught at
Byrn Mawr and is now professor of Anthropology and
Folklore at Yeditepe University, Istanbul.
From here walk a short distance to a wonderful spa where
the group will enjoy a real hammam experience. Get ready
to have layers and layers of dead skin peel away as our
bodies are pummeled and scrubbed. At the end, enjoy a 30minute massage.
Enjoy dinner tonight at a private home. B,L,D.
Thursday, October 15
Istanbul
This morning participate in a round-table discussion
regarding President Erdogan's shocking remarks when in
2014 where he declared women are not equal to men and
accused feminists of not understanding the special status
that Islam attributes to mothers. Joining this discussion are
several women including Hulya Gubahar who currently
works as a lawyer in Istanbul. We will also invite Eren
Keskin who has received multiple honors recognizing her
work and currently works for an organization – Initiation
for Freedom of Expression (IFEX) that provides legal aid
for women who have been sexually harassed by civil
servants including police and the military.
Sail up the beautiful Bosphoris for a local lunch overlooking
the city of Istanbul.
After lunch meet with Zeynep Fadillioglu, an architect of
the newly opened Sakirin Mosque - the first mosque
designed by a woman who worked with a primarily femalebased team of interior designers.
Head over to the pop-up Souk Karakoy, the perfect place
to browse the products of and meet some of Istanbul's local
designers, curators, artists and more. You can find anything
from vintage clothing, to handmade jewelry, to a locally
roasted coffee. B,L.D.
Friday, October 16
cappadocia
After breakfast enjoy a morning meeting with Sinem Kaya
founder of the on-line site, Global Motherhood, a space
where moms can share their problems and solutions across
cultures.
Take a mid-day flight to Cappadocia known for its
surrealistic landscape, a strange area of multi-hued volcanic
pillars and tortuous valleys sculpted by a millennia of rain
and wind.
Spend the afternoon sightseeing at Kaymakli, an
underground city is contained within the citadel of
Kaymaklı. The houses in the village are constructed around
the nearly one hundred tunnels of the underground city.
The tunnels are still used today as storage areas, stables, and
cellars
End the day exploring the captivating Uchisar Fortress,
which is situated at the highest point of the region. The
numerous rooms, steps, tunnel and galleries inside the castle
are connected to each other. Highlights include, a climb to
the top of the tall rock outcrop via tunnels to see three
tombs top of the castle and to marvel the spectacular
panoramic view.
Accommodations and dinner tonight at the Museum
Hotel. B,L,D.
Saturday, October 17
Cappadocia
Begin the morning exploring the many churches that were
carved around the Goreme Valley and the Ihlara Gorge.
The area was, at one time, covered in lava from Mt. Erciyes.
Later, floods, rain and wind swept away at the table of lava,
creating deep valleys and fissures:
slopes turned into cones and
columns.
After visiting a number of the
rock churches, continue on to
visit the cliff dwellings in the
three valleys of Zelve, then drive
to the village of Avanos famous for its beautiful old houses,
pottery and onyx.
Enjoy a lovely lunch at a local restaurant.
End the afternoon with a debrief a chance to review the
trip, share thoughts and ideas and relax! Farewell dinner
tonight. B,L,D.
sunday, October 18
Return to the U.s.
Morning return flight to Istanbul for onward flights home.
Please note that it is highly likely that briefings may be
changed or substituted to accommodate the schedules of
our speakers.
Trip Price: $7,480, Single room supplement: $1,880
Trip price includes accommodations in hotels as outlined in
the itinerary based on double occupancy, all meals listed, arrival
and departure transfers if arriving on the group flights, all sightseeing and entrance fees, all special events, briefings and receptions as listed and the services of local guides. Dr. Susan Buck
Sutton and Janet Moore from Distant Horizons will accompany
the trip.
Trip price does not include international airfare to Ankara
and from Istanbul; transfers at the beginning and end of the
trip unless on designated group flights, airport departure taxes,
passports and visa fees; drinks other than water with meals,
personal insurance for health, baggage, and trip cancellation;
and items of a purely personal nature.
For additional information, a more detailed
itinerary or any questions, contact
Karen Siman-Tov at Distant Horizons at
1-800-333-1240 or
KarenS@distant-horizons.com
PLEASE NOTE: We plan on accepting the first 30 applications (fifteen from each of the two participating schools) on a
first come, first serve basis. Additional applications will be accepted on a wait list specific for each individual school. A spot
can only be held by completing the enclosed application form
and returning it with a $1,000 deposit payable by check (credit
cards are not accepted) and a legible copy of the first two pages
of your passport.