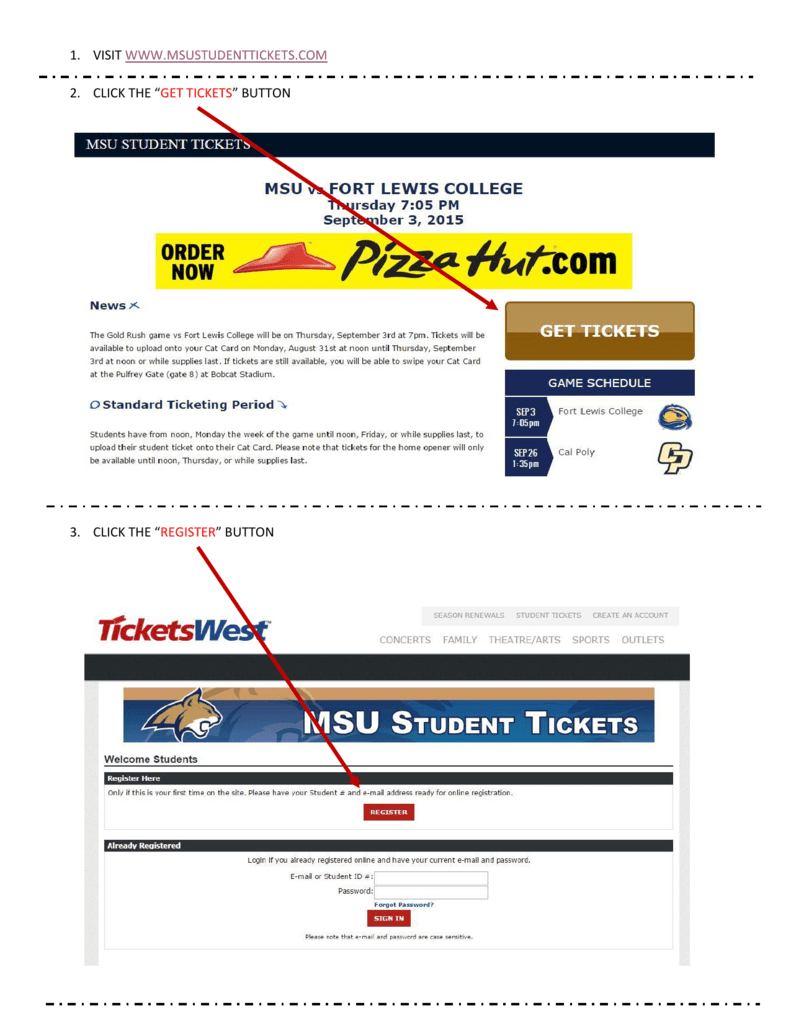 1. VISIT WWW.MSUSTUDENTTICKETS.COM
2. CLICK THE "GET TICKETS" BUTTON
3. CLICK THE "REGISTER" BUTTON
4. ENTER YOUR STUDENT NUMBER STARTING WITH "0". DO NOT START WITH A DASH (-). CLICK THE ACTIVATE
BUTTON AFTER THE NUMBER IS ENTERED
5. FILL OUT THE FOLLOWING AREAS:
a. EMAIL ADDRESS YOU WANT YOUR CONFIRMATION EMAIL TO GO TO
b. PASSWORD BETWEEN 4 AND 12 CHARACTERS LONG
c. YOUR ADDRESS, EITHER ON CAMPUS OR HOME
d. CURRENT PHONE NUMBER
6. CLICK NEXT STEP
A.
B.
C.
D.
7. VERIFY THE INFORMATION YOU ENTERED ON THE PREVIOUS SCREEN. CLICK YES IF THE INFORMATION IS
CORRECT. CLICK NO IF THERE ARE ANY MISTAKES. THIS WILL TAKE YOU BACK TO STEP 5.
8. THERE ARE TWO TICKET OPTIONS TO CHOSE FROM EACH GAME
a. IF YOU ONLY WANT A STUDENT TICKET, USE THE TOP OPTION. CLICK FIND TICKETS
b. IF YOU WANT A STUDENT TICKET AND A BUDDY PASS, USE THE BOTTOM OPTION. CLICK FIND TICKETS
9. IN THE QUANTITY FIELD, ENTER 1. THEN CLICK ADD TO CART. IF YOU SELECTED THE BUDDY PASS OPTION, THERE
WILL BE ANOTHER SCREEN FOR THE BUDDY PASS TICKET FIRST. FOLLOW THE SAME STEPS.
10. DELIVERY METHOD AND CHECKOUT SCREEN
a. STUDENT TICKET ONLY OPTION: YOU WILL ONLY SEE THE STUDENT TICKET IN YOUR SHOPPING CART.
SELECT "MSU Student ID" IN THE SELECT DELIVERY METHOD DROPDOWN MENU
b. BUDDY PASS & TICKET OPTION: YOU MUST SELECT THE DELIVERY METHOD FOR YOUR BUDDY PASS.
EITHER MOBILE DELIVERY OR PRINT AT HOME. SELECT THE "MSU Student ID" DELIVERY METHOD FOR
YOUR STUDENT TICKET
c. CLICK CHECKOUT
11. STUDENT TICKET ONLY OPTION: READ AND ACCEPT THE TERMS AND CONDITIONS BY CHECKING THE BOX. CLICK
SUBMIT TO FINISH THE ORDER
STUDENT TICKET AND BUDDY PASS OPTION: ENTER YOUR CREDIT CARD INFORMATION. READ AND ACCEPT THE
TERMS AND CONDITIONS BY CHECKING THE BOX. CLICK SUBMIT PAYMENT TO FINISH THE ORDER.
12. ORDER CONFIRMATION SCREEN. YOU WILL ALSO RECEIVE AN EMAIL CONFIRMATION TO THE ADDRESS YOU
PROVIDED.
13. FUTURE GAMES
YOU ONLY NEED TO COMPLETE THE REGISTRATION PROCESS ONE TIME. FOR EACH GAME AFTER YOU REGISTER,
YOU WILL USE THE ALREADY REGISTERED PORTION. ENTER YOUR STUDENT ID # AND PASSWORD TO SIGN IN.
AFTER SIGNING IN YOU CAN FOLLOW THE DIRECTIONS STARTING AT STEP 8.