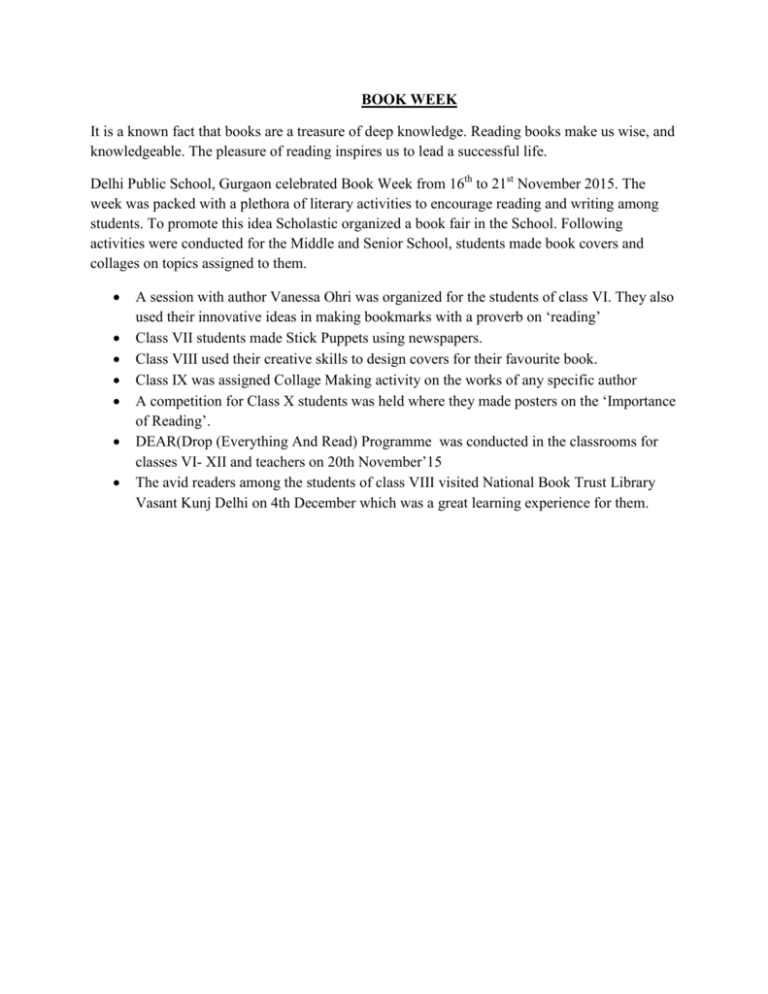 BOOK WEEK
It is a known fact that books are a treasure of deep knowledge. Reading books make us wise, and
knowledgeable. The pleasure of reading inspires us to lead a successful life.
Delhi Public School, Gurgaon celebrated Book Week from 16th to 21st November 2015. The
week was packed with a plethora of literary activities to encourage reading and writing among
students. To promote this idea Scholastic organized a book fair in the School. Following
activities were conducted for the Middle and Senior School, students made book covers and
collages on topics assigned to them.







A session with author Vanessa Ohri was organized for the students of class VI. They also
used their innovative ideas in making bookmarks with a proverb on 'reading'
Class VII students made Stick Puppets using newspapers.
Class VIII used their creative skills to design covers for their favourite book.
Class IX was assigned Collage Making activity on the works of any specific author
A competition for Class X students was held where they made posters on the 'Importance
of Reading'.
DEAR(Drop (Everything And Read) Programme was conducted in the classrooms for
classes VI- XII and teachers on 20th November'15
The avid readers among the students of class VIII visited National Book Trust Library
Vasant Kunj Delhi on 4th December which was a great learning experience for them.