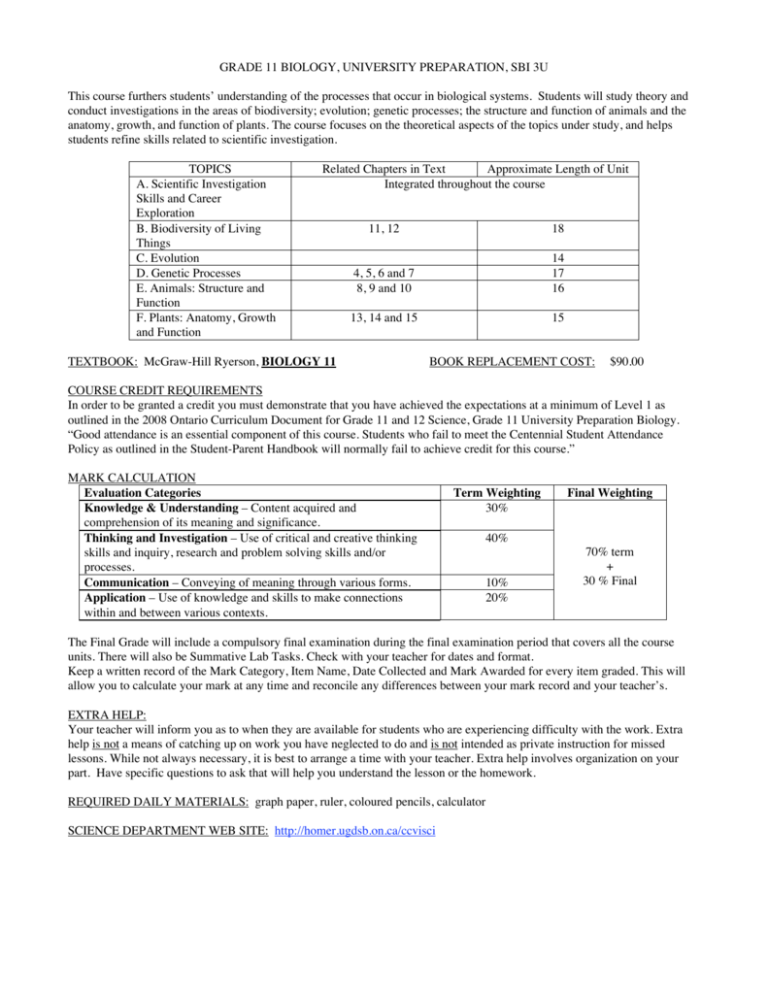 GRADE 11 BIOLOGY, UNIVERSITY PREPARATION, SBI 3U
This course furthers students' understanding of the processes that occur in biological systems. Students will study theory and
conduct investigations in the areas of biodiversity; evolution; genetic processes; the structure and function of animals and the
anatomy, growth, and function of plants. The course focuses on the theoretical aspects of the topics under study, and helps
students refine skills related to scientific investigation.
TOPICS
A. Scientific Investigation
Skills and Career
Exploration
B. Biodiversity of Living
Things
C. Evolution
D. Genetic Processes
E. Animals: Structure and
Function
F. Plants: Anatomy, Growth
and Function
Related Chapters in Text
Approximate Length of Unit
Integrated throughout the course
11, 12
18
4, 5, 6 and 7
8, 9 and 10
14
17
16
13, 14 and 15
15
TEXTBOOK: McGraw-Hill Ryerson, BIOLOGY 11
BOOK REPLACEMENT COST:
$90.00
COURSE CREDIT REQUIREMENTS
In order to be granted a credit you must demonstrate that you have achieved the expectations at a minimum of Level 1 as
outlined in the 2008 Ontario Curriculum Document for Grade 11 and 12 Science, Grade 11 University Preparation Biology.
"Good attendance is an essential component of this course. Students who fail to meet the Centennial Student Attendance
Policy as outlined in the Student-Parent Handbook will normally fail to achieve credit for this course."
MARK CALCULATION
Evaluation Categories
Knowledge & Understanding – Content acquired and
comprehension of its meaning and significance.
Thinking and Investigation – Use of critical and creative thinking
skills and inquiry, research and problem solving skills and/or
processes.
Communication – Conveying of meaning through various forms.
Application – Use of knowledge and skills to make connections
within and between various contexts.
Term Weighting
30%
Final Weighting
40%
10%
20%
70% term
+
30 % Final
The Final Grade will include a compulsory final examination during the final examination period that covers all the course
units. There will also be Summative Lab Tasks. Check with your teacher for dates and format.
Keep a written record of the Mark Category, Item Name, Date Collected and Mark Awarded for every item graded. This will
allow you to calculate your mark at any time and reconcile any differences between your mark record and your teacher's.
EXTRA HELP:
Your teacher will inform you as to when they are available for students who are experiencing difficulty with the work. Extra
help is not a means of catching up on work you have neglected to do and is not intended as private instruction for missed
lessons. While not always necessary, it is best to arrange a time with your teacher. Extra help involves organization on your
part. Have specific questions to ask that will help you understand the lesson or the homework.
REQUIRED DAILY MATERIALS: graph paper, ruler, coloured pencils, calculator
SCIENCE DEPARTMENT WEB SITE: http://homer.ugdsb.on.ca/ccvisci
COMMENTS ON HOMEWORK & GRADING
Lessons are taught assuming that all assigned work has been completed. If you come to class not having done the required
preparatory work, you will not get as much from the lesson as you should. All assigned work should be completed assuming
that it will be evaluated.
Graded items may be classified as either assessment or evaluation.
Formative Assessment items are essentially practice. They may be self assessed, peer assessed or assessed by your teacher
using an anecdotal comment, a numerical grade assignment or a Level assignment. Formative Assessment items allow you to
establish the quality of your work without penalty and to make adjustments or correct poorly understood concepts before an
actual evaluation. They are not included in your grade calculation. They may or may not be recorded by your teacher. The
completion of all assignments to the best of your ability along with taking seriously the need to self assess and to reevaluate assessed items is a significant responsibility. Ignoring this responsibility invariably results in lower
evaluation grades.
Evaluation items are included in your grade calculation and generally occur after you have had the opportunity to practice
those skills or concepts and have had assessment feedback.
WHAT TO DO IF?
PROBLEM
Missed Test, Quiz or
Presentation
Absent when an assignment or
a lab was given.
Failure to submit an
assignment or lab on time.
WHAT TO DO
Every effort must be made to notify the school
in advance. This includes phoning before 9
AM the day of illness.
Immediately upon return to school, discuss
with your teacher what action will be taken.
Be prepared to write or make your presentation
that day.
Every effort must be made to contact a
classmate to determine what work has been
assigned.
Immediately upon return to school discuss with
your teacher what to do regarding a missed lab.
Immediately upon return to school submit the
work with written explanation.
CONSEQUENCES
The opportunity to demonstrate
achievement of those course expectations
may be lost.
See the Spartan Planner for details on the
Deadlines for Assignments.
Requests for extensions must be
submitted in writing at least one day
ahead of time. Late penalties may be
assigned to a maximum of 10%
according to the policy in the Spartan
Planner. Failure to submit the assignment
by the negotiated date will result in no
mark for that assignment.