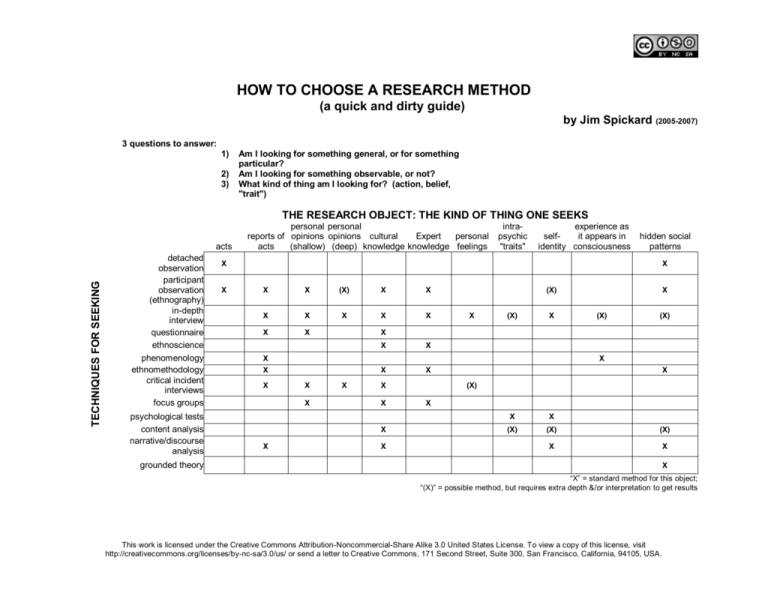 HOW TO CHOOSE A RESEARCH METHOD
(a quick and dirty guide)
by Jim Spickard (2005-2007)
3 questions to answer:
1)
2)
3)
Am I looking for something general, or for something
particular?
Am I looking for something observable, or not?
What kind of thing am I looking for? (action, belief,
"trait")
THE RESEARCH OBJECT: THE KIND OF THING ONE SEEKS
TECHNIQUES FOR SEEKING
acts
detached
observation
participant
observation
(ethnography)
in-depth
interview
questionnaire
ethnoscience
phenomenology
ethnomethodology
critical incident
interviews
focus groups
psychological tests
content analysis
narrative/discourse
analysis
personal personal
reports of opinions opinions cultural
Expert
personal
acts
(shallow) (deep) knowledge knowledge feelings
intrapsychic
"traits"
experience as
selfit appears in
identity consciousness
hidden social
patterns
X
X
X
X
X
(X)
X
X
X
X
X
X
X
X
X
(X)
X
(X)
X
(X)
X
X
X
X
X
X
X
X
X
X
X
X
X
(X)
X
X
X
X
X
X
(X)
X
X
X
(X)
(X)
(X)
X
X
grounded theory
X
"X" = standard method for this object;
"(X)" = possible method, but requires extra depth &/or interpretation to get results
This work is licensed under the Creative Commons Attribution-Noncommercial-Share Alike 3.0 United States License. To view a copy of this license, visit
http://creativecommons.org/licenses/by-nc-sa/3.0/us/ or send a letter to Creative Commons, 171 Second Street, Suite 300, San Francisco, California, 94105, USA.