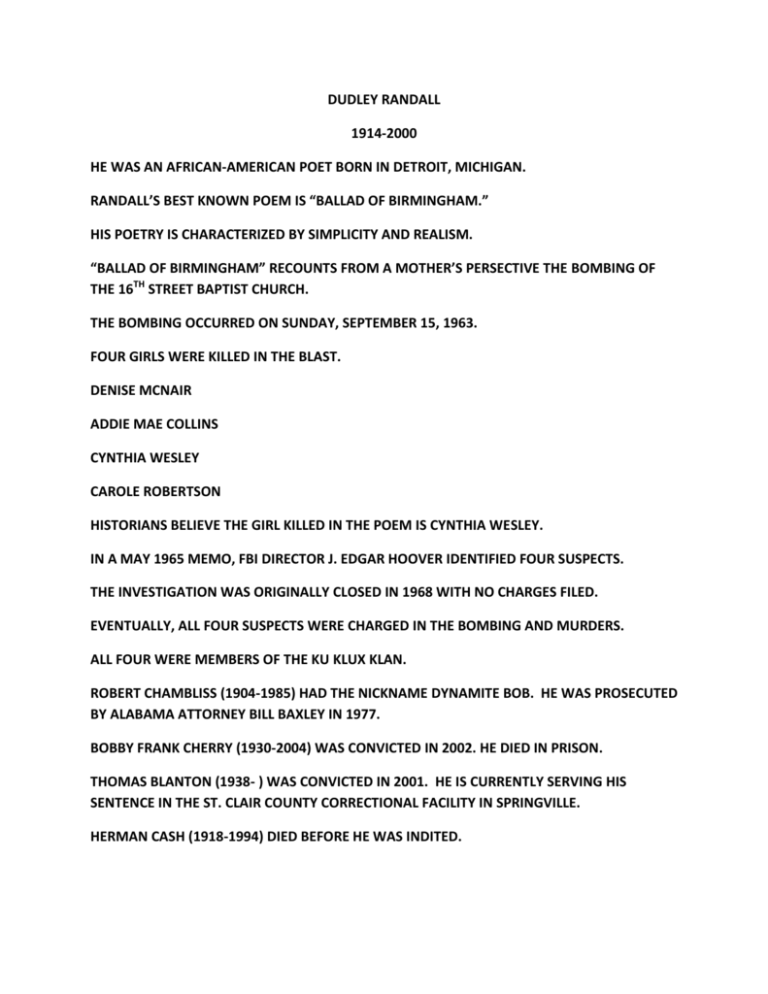 DUDLEY RANDALL
1914-2000
HE WAS AN AFRICAN-AMERICAN POET BORN IN DETROIT, MICHIGAN.
RANDALL'S BEST KNOWN POEM IS "BALLAD OF BIRMINGHAM."
HIS POETRY IS CHARACTERIZED BY SIMPLICITY AND REALISM.
"BALLAD OF BIRMINGHAM" RECOUNTS FROM A MOTHER'S PERSECTIVE THE BOMBING OF
THE 16TH STREET BAPTIST CHURCH.
THE BOMBING OCCURRED ON SUNDAY, SEPTEMBER 15, 1963.
FOUR GIRLS WERE KILLED IN THE BLAST.
DENISE MCNAIR
ADDIE MAE COLLINS
CYNTHIA WESLEY
CAROLE ROBERTSON
HISTORIANS BELIEVE THE GIRL KILLED IN THE POEM IS CYNTHIA WESLEY.
IN A MAY 1965 MEMO, FBI DIRECTOR J. EDGAR HOOVER IDENTIFIED FOUR SUSPECTS.
THE INVESTIGATION WAS ORIGINALLY CLOSED IN 1968 WITH NO CHARGES FILED.
EVENTUALLY, ALL FOUR SUSPECTS WERE CHARGED IN THE BOMBING AND MURDERS.
ALL FOUR WERE MEMBERS OF THE KU KLUX KLAN.
ROBERT CHAMBLISS (1904-1985) HAD THE NICKNAME DYNAMITE BOB. HE WAS PROSECUTED
BY ALABAMA ATTORNEY BILL BAXLEY IN 1977.
BOBBY FRANK CHERRY (1930-2004) WAS CONVICTED IN 2002. HE DIED IN PRISON.
THOMAS BLANTON (1938- ) WAS CONVICTED IN 2001. HE IS CURRENTLY SERVING HIS
SENTENCE IN THE ST. CLAIR COUNTY CORRECTIONAL FACILITY IN SPRINGVILLE.
HERMAN CASH (1918-1994) DIED BEFORE HE WAS INDITED.