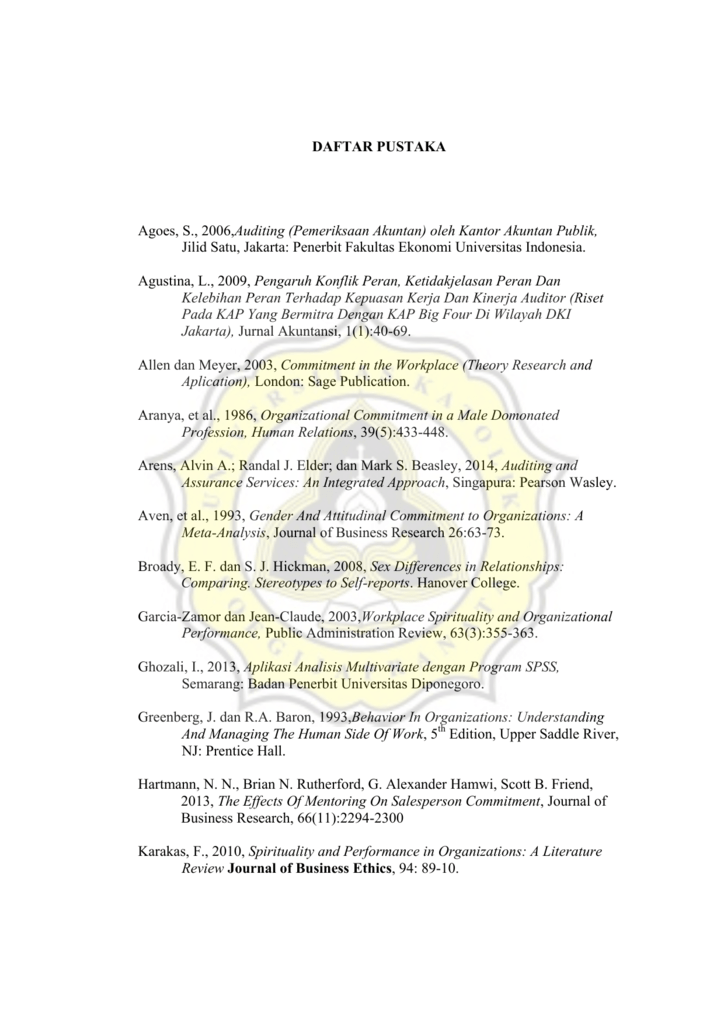 DAFTAR PUSTAKA
Agoes, S., 2006,Auditing (Pemeriksaan Akuntan) oleh Kantor Akuntan Publik,
Jilid Satu, Jakarta: Penerbit Fakultas Ekonomi Universitas Indonesia.
Agustina, L., 2009, Pengaruh Konflik Peran, Ketidakjelasan Peran Dan
Kelebihan Peran Terhadap Kepuasan Kerja Dan Kinerja Auditor (Riset
Pada KAP Yang Bermitra Dengan KAP Big Four Di Wilayah DKI
Jakarta), Jurnal Akuntansi, 1(1):40-69.
Allen dan Meyer, 2003, Commitment in the Workplace (Theory Research and
Aplication), London: Sage Publication.
Aranya, et al., 1986, Organizational Commitment in a Male Domonated
Profession, Human Relations, 39(5):433-448.
Arens, Alvin A.; Randal J. Elder; dan Mark S. Beasley, 2014, Auditing and
Assurance Services: An Integrated Approach, Singapura: Pearson Wasley.
Aven, et al., 1993, Gender And Attitudinal Commitment to Organizations: A
Meta-Analysis, Journal of Business Research 26:63-73.
Broady, E. F. dan S. J. Hickman, 2008, Sex Differences in Relationships:
Comparing. Stereotypes to Self-reports. Hanover College.
Garcia-Zamor dan Jean-Claude, 2003,Workplace Spirituality and Organizational
Performance, Public Administration Review, 63(3):355-363.
Ghozali, I., 2013, Aplikasi Analisis Multivariate dengan Program SPSS,
Semarang: Badan Penerbit Universitas Diponegoro.
Greenberg, J. dan R.A. Baron, 1993,Behavior In Organizations: Understanding
And Managing The Human Side Of Work, 5th Edition, Upper Saddle River,
NJ: Prentice Hall.
Hartmann, N. N., Brian N. Rutherford, G. Alexander Hamwi, Scott B. Friend,
2013, The Effects Of Mentoring On Salesperson Commitment, Journal of
Business Research, 66(11):2294-2300
Karakas, F., 2010, Spirituality and Performance in Organizations: A Literature
Review Journal of Business Ethics, 94: 89-10.
Khalili, A dan A. Asmawi, 2012, Appraising the Impact of Gender Differences on
Organizational Commitment: Empirical Evidence from a Private SME in
Iran, International Juornal of Business and Management, 7(5).
Locke, E. A., 1969, The Nature and Causes of Job Satisfaction, Chicago: Rand
McNally.
Loong, Leow Kah dan Khong Kok Wei, 2004,The Study of Mentoring and
Leader-Member Exchange (LMX) on Organizational Commitment Among
Auditors in Malaysia, Sunway Academic Journal 6.
Marschke, E., Preziosi, R., dan Harrington, W. J., 2011, How Sales Personnel
View the Relationship Between Job Satisfaction and Spirituality in the
Workplace, Journal of Organizational Culture, Communications and
Conflict, 15(2).
Meyers, 1986, Performance Appraisal Reactions: Measurement, Modelling And
Method Bias, Journal of Applied Psychology, 85(5):708-723.
Mowday, R.T., Porter, L.W., dan Steers, R.M., 1982, Employee-Organization
Linkages: The Psychology Of Commitment, Absenteeism And Turnover,
New York: Academic Press.
Mulyadi, 2014, Auditing, Jakarta: Salemba Empat.
Nasina, M. D. dan K. P. P. Doris, 2011, The Workplace Spirituality and Affective
Commitment Among Auditors in Big Four Accounting Firms: Does it
Matter?, Journal of Global Management. 2(1).
Petchsawang, P. dan D. Duchon, 2009, Measuring Workplace Spirituality In An
Asian Context, Human Resource Development International, 12(4):459468.
Rego, A. dan M. P. Cunha, 2008, Workplace Spirituality And Organizational
Commitment: An Empirical Study, Journal of Organizational Change
Management, 21(1):53-75.
Robbins, S. P., 2013, Perilaku Organisasi atau perusahaan, Konsep Kontroversi
dan Aplikasi. Jakarta: PT. Indeks Kelompok Gramedia.
Scandura , T. A., dan Viator , R. E., 2001, Mentoring In Public Accounting Firms:
An Analysis Of Mentor-Protégé Relationship, Mentoring Function, and
protégé Turnover Intention, Accounting, Organization And Society, 717733.
Setiawan, I. A. dan I. Ghozali, 2013, Multidimensional Causal Path On
Organizational Commitment And Job Satisfaction In Intention To Leave
By Accountants, Journal of Economics, Business, and Accountancy
Ventura, 16(2):339-354.
Showalter, E. 1989. Speaking of Gender. New York and London: Routledge.
Sijabat, J., 2009, Komitmen Organisasi atau perusahaan Auditor Studi Empiris
Pada KAP Besar Di Jakarta Yang Berafiliasi Dengan KAP Asing (The Big
Four), Kajian Akuntansi 1(2):153-164.
, 2011, Pengaruh Kepuasan Kerja Terhadap Komitmen Organisasi atau
perusahaan Dan Keinginan Untuk Pindah, Visi, 19(3):592-608.
Stallworth, L. H., 2004, Mentoring, Organizational Commitment and Intention to
Leave Public Accounting. Managerial Auditing Journal, 18(5):405-418.
Umar, N.,1999, Argumen Kesetaraan Gender, Jakarta: Paramadina.
Viator, R. E., 2001, The Relevance Of Transformational Leadership
Tonontraditional Accounting Services: Information Systems Assurance
Andbusiness Consulting, Journal of Information Systems, 15(2):99-125.