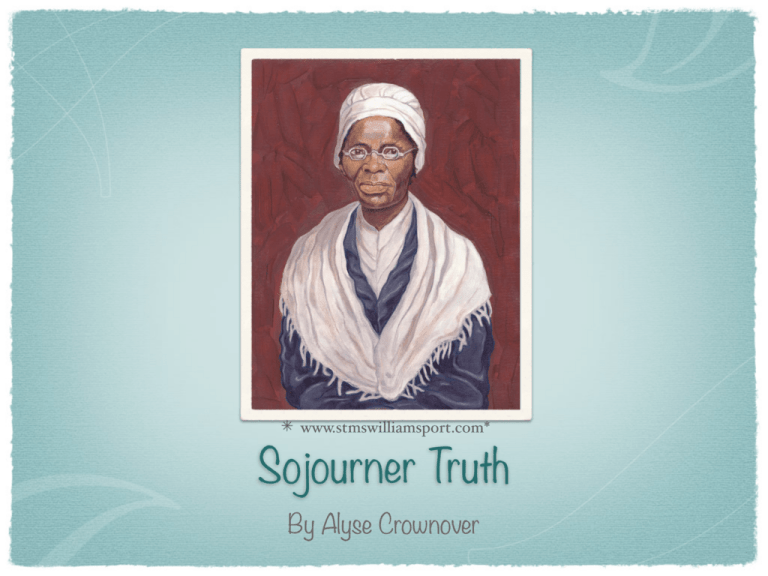 www.stmswilliamsport.com*
Sojourner Truth
By Alyse Crownover
A Sojourner Truth Expository !
by: Alyse Crownover!
Sojourner Truth, was an amazing, smart woman who was a peacemaker in the mid 1800's. She
gave meaningful speeches, and is still remembered today by many. She was a strong woman with a deep
voice, which was great for speeches. In fact, she traveled the world giving these amazing speeches. Her birth
name was Isabella Baumfree, but she changed her name to Sojourner Truth because she wanted to be
known as a traveler, and she wanted to tell everyone the downright truth about free rights. The problem she
was fighting against was the world was full of slavery where people used the blacks as their slaves, as their
property, and as their workers. Another thing she fought for was women's rights, how she fought for this is
that she went to many conventions and ran most of the clubs for this. Other people involved include the
government, other women's rights convention members, people of the U.S., and slaves from around the world.
The solution was that Sojourner and many more people gave meaningful speeches, and the government
made the laws that provided the solution. A positive effect from the solution is that women had equal rights,
and slaves were freed. There were no negative effects as a result of the solution other than the madness of
some disbelievers. This is Sojourner Truth.!
e
n
i
l
e
m
Ti
N
s
w
e
r
e
p
a
p
Slave for twenty-three years from birth in 1799!
Ordered for people to be treated equally and have rights!
Judged people not by color, but personality!
Objected to people that thought she was crazy. !
Understood the important meaning of freedom for all!
POEM
Relentless in her fight for women's rights and freedom!
Now we have what she fought for back then in the 1800's!
Effective speeches given all around the world!
Repeatedly said and told the truth!
!
Taught millions of people to show equality no matter what!
Ran the women's rights convention and club until death!
Undertook the un-equality in New York in the 1800's!
Took some of the hardest decisions to consideration!
Hoped for the best as her dreams began to come true
http://calendar.unco.edu/
Calendar/
ErrorHandler.aspx
http://stmwilliamsport.org/history/
about-sojourner-truth/
http://www.historycentral.com/
Bio/ant/Truth.html...
www.fanpop.com
http://tuttiedom.com/
2009/10/free-theslaves.html
http://
library.newpaltz.edu/
/
banner/archives
stcoll2.html
I chose these pictures because most of them showed a visual of Sojourner Truth and who she
was. I also chose them because they were black and white and showed my audience the time
period she lived in. The only ones that were colored, were paintings that had been copied later,
or posters that had been copied later. I also chose them because they showed watch she was
fighting for. In fact, one of them was a poster that was showed when she was going to give
her " Ain't I A Woman" speech. Only some of the pictures are really pictures of her because
most of the time she didn't smile, which shied away reporters. One of my favorite pictures is
the one that is the tan color because she has an interesting expression there. I think that. The
pictures I chose were some of the best pictures to choose.
I hope you have learned a lot
about my peaceable person,
Sojourner Truth. Thank you for
watching!