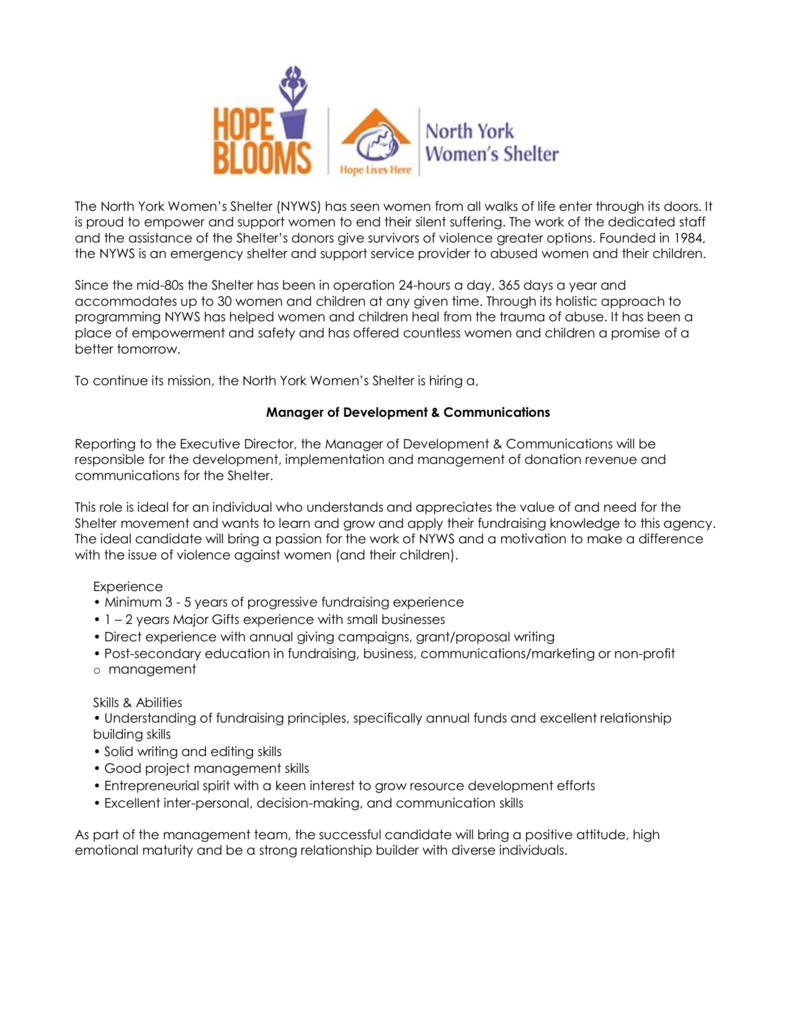 The North York Women's Shelter (NYWS) has seen women from all walks of life enter through its doors. It
is proud to empower and support women to end their silent suffering. The work of the dedicated staff
and the assistance of the Shelter's donors give survivors of violence greater options. Founded in 1984,
the NYWS is an emergency shelter and support service provider to abused women and their children.
Since the mid-80s the Shelter has been in operation 24-hours a day, 365 days a year and
accommodates up to 30 women and children at any given time. Through its holistic approach to
programming NYWS has helped women and children heal from the trauma of abuse. It has been a
place of empowerment and safety and has offered countless women and children a promise of a
better tomorrow.
To continue its mission, the North York Women's Shelter is hiring a,
Manager of Development & Communications
Reporting to the Executive Director, the Manager of Development & Communications will be
responsible for the development, implementation and management of donation revenue and
communications for the Shelter.
This role is ideal for an individual who understands and appreciates the value of and need for the
Shelter movement and wants to learn and grow and apply their fundraising knowledge to this agency.
The ideal candidate will bring a passion for the work of NYWS and a motivation to make a difference
with the issue of violence against women (and their children).
Experience
• Minimum 3 - 5 years of progressive fundraising experience
• 1 – 2 years Major Gifts experience with small businesses
• Direct experience with annual giving campaigns, grant/proposal writing
• Post-secondary education in fundraising, business, communications/marketing or non-profit
o management
Skills & Abilities
• Understanding of fundraising principles, specifically annual funds and excellent relationship
building skills
• Solid writing and editing skills
• Good project management skills
• Entrepreneurial spirit with a keen interest to grow resource development efforts
• Excellent inter-personal, decision-making, and communication skills
As part of the management team, the successful candidate will bring a positive attitude, high
emotional maturity and be a strong relationship builder with diverse individuals.
Contact:
If someone you know may be interested in this position please feel free to forward this document –
we'd be pleased to connect with them. This search is being conducted on behalf of the North York
Women's Shelter by crawfordconnect, a search firm specializing in recruiting leaders for Canada's nonprofit sector.
Qualified applicants are invited to apply through our career portal. If you require any assistance with
your online application, please contact us at 416-977-2913.
Note: Please submit your cover letter and resume in one document/attachment through the career
portal, in confidence, prior to June 30, 2014 for the Manager of Development & Communications
position (Job #7).
For additional information please reach out to Liz Latimer at 416.690.5377. We request all applications
be submitted online only via our career portal.
We thank all applicants for applying, however, only qualified candidates selected for an interview will
be contacted.