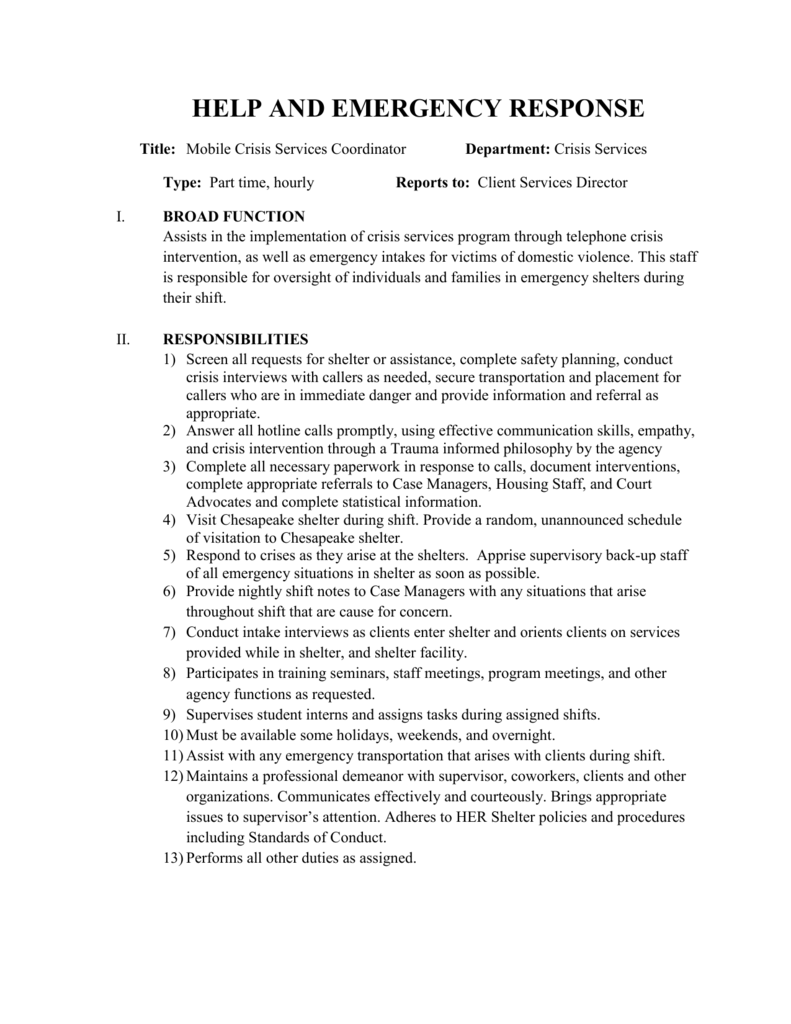 HELP AND EMERGENCY RESPONSE
Title: Mobile Crisis Services Coordinator
Type: Part time, hourly
Department: Crisis Services
Reports to: Client Services Director
I.
BROAD FUNCTION
Assists in the implementation of crisis services program through telephone crisis
intervention, as well as emergency intakes for victims of domestic violence. This staff
is responsible for oversight of individuals and families in emergency shelters during
their shift.
II.
RESPONSIBILITIES
1) Screen all requests for shelter or assistance, complete safety planning, conduct
crisis interviews with callers as needed, secure transportation and placement for
callers who are in immediate danger and provide information and referral as
appropriate.
2) Answer all hotline calls promptly, using effective communication skills, empathy,
and crisis intervention through a Trauma informed philosophy by the agency
3) Complete all necessary paperwork in response to calls, document interventions,
complete appropriate referrals to Case Managers, Housing Staff, and Court
Advocates and complete statistical information.
4) Visit Chesapeake shelter during shift. Provide a random, unannounced schedule
of visitation to Chesapeake shelter.
5) Respond to crises as they arise at the shelters. Apprise supervisory back-up staff
of all emergency situations in shelter as soon as possible.
6) Provide nightly shift notes to Case Managers with any situations that arise
throughout shift that are cause for concern.
7) Conduct intake interviews as clients enter shelter and orients clients on services
provided while in shelter, and shelter facility.
8) Participates in training seminars, staff meetings, program meetings, and other
agency functions as requested.
9) Supervises student interns and assigns tasks during assigned shifts.
10) Must be available some holidays, weekends, and overnight.
11) Assist with any emergency transportation that arises with clients during shift.
12) Maintains a professional demeanor with supervisor, coworkers, clients and other
organizations. Communicates effectively and courteously. Brings appropriate
issues to supervisor's attention. Adheres to HER Shelter policies and procedures
including Standards of Conduct.
13) Performs all other duties as assigned.
III.
REQUIREMENTS
Must have a driver's license and good driving record. Knowledge of domestic
violence and women's issues preferred. Personal Qualifications: Ability to work
independently, communicate effectively, orally and in writing.