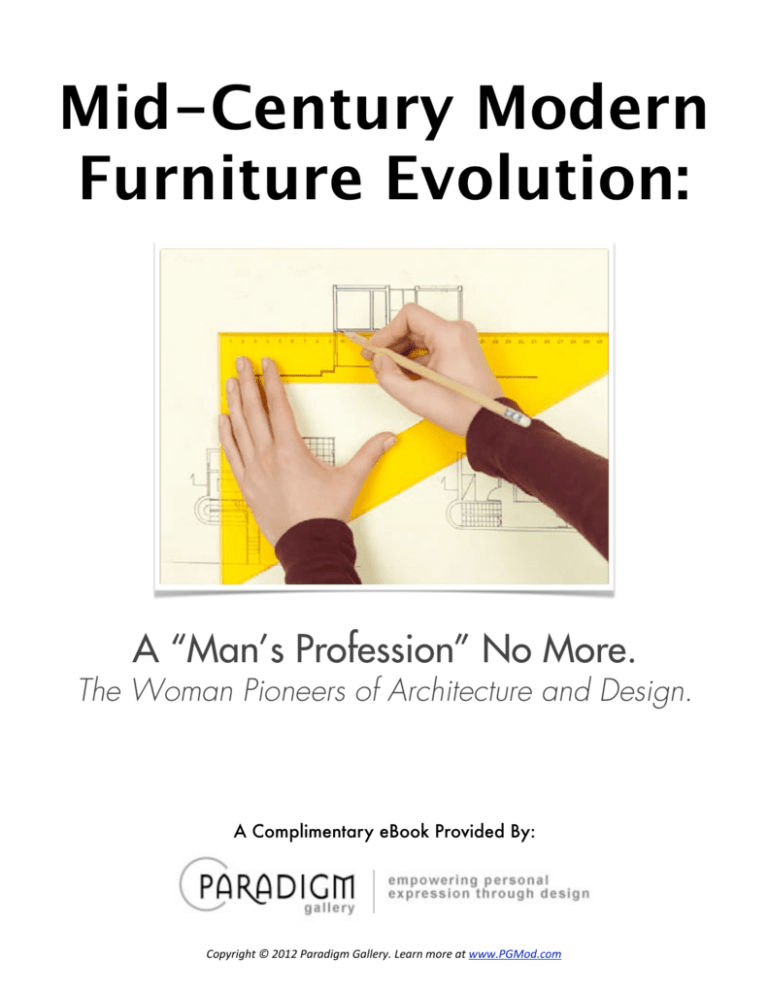 Mid-Century Modern
Furniture Evolution:
A "Man's Profession" No More.
The Woman Pioneers of Architecture and Design.
A Complimentary eBook Provided By:
!"#$%&'()*+*,-.,*/0%01&'2*30445%$6*750%8*2"%5*0)*9996/3:"16;"2
A "Man's Profession" No More. The Women Pioneers of Architecture and Design
Table of Contents
1: Julia Morgan!
3
2: Lilly Reich!
5
3: Charlotte Perriand!
6
4: Florence Schust Knoll!
7
5: Louise Blanchard Bethune!
8
6: Chloethiel Woodard Smith!
9
7: Marion Mahoney Griffin!
10
8: Greta Magnussen Grossman!
11
9: Ray Kaiser Eames!
12
10: Eileen Gray!
13
11: Marianne Brandt !
14
12: Eva Zeisel!
15
This eBook is about notable architects and designers who happen to be women. Although we'd like to
think that a good architect or designer is not defined by gender, or that being an amazing architect
and a woman isn't a singularly special occurrence, this has unfortunately not always been the
accepted sentiment. The simple truth is, in the era that these women began their careers, being a
woman and a talented architect was an accomplishment worthy of great recognition.
These architects and designers simply because they were women, were forced to overcome many
hurdles and challenges imposed upon them by the stigma of their era. In addition to being visionaries
in their field and producing amazing works, these women were also pioneers of their time, and
deserve the respect as such. Below are just a few of the noteworthy women who overcame these
challenges, and rose to be well respected architects and designers.
Learn more by visiting www.PGMod.com or by calling 1-877-PGMOD-07 (746-6307)
Copyright © 2012. Paradigm Gallery. All rights reserved.
A "Man's Profession" No More. The Women Pioneers of Architecture and Design
1: Julia Morgan
"My buildings will be my legacy! they will speak for me long after I'm gone." —Julia Morgan
As the architect of over 700 buildings in California, and the first woman to receive a Civil Engineering
degree from the University of California at Berkley, Julia Morgan was a force to be reckoned with. She
surmounted gender barriers in the United States and abroad, and inspired generations of young
women to follow their dreams.
Julia was born in January of 1872 in San Francisco. After graduating from the the University of
California at Berkley, one of her instructors encouraged her to apply to the famous "École Nationale
Supérieure des Beaux-arts", the distinguished National School of Fine Arts in Paris, France. However,
she was met with a few hurdles. The administration had previously never conceived of admitting
women, so Morgan was rejected. For the next two years, Julia Morgan participated in prestigious
competitions in Paris, winning most of them.
In 1898, École Nationale Supérieure des Beaux-Arts (National School of Fine Arts) in Paris finally
admitted her, and Julia became the first woman to be admitted, and graduate with a degree in
architecture from this prestigious institution.
Upon returning to the States, Julia Morgan became the first female architect in California. She worked
for John Galen Howard in Berkeley, drawing elevations and designing details for the Hearst Memorial
Mining Building and helping with the design of the Hearst Greek Theater.
Over the span of her career, Julia was the architect of over 700 buildings in California. These included
such projects as several private residential projects and the Oakland's Mills College Bell Tower
(1904), as you can see below.
Old Mills College photo courtesy of SnapShotsofThePast (flickr), Mills College banner photo
courtesy of Portmanteaus (flickr), Mills Hall photo courtesy of Wikimeida user Sanfranman59.
Learn more by visiting www.PGMod.com or by calling 1-877-PGMOD-07 (746-6307)
Copyright © 2012. Paradigm Gallery. All rights reserved.
A "Man's Profession" No More. The Women Pioneers of Architecture and Design
After the San Francisco earthquake and fire in 1906, Julia took on institutional works in addition to her
already busy schedule. These included over 15 projects for the YWCA (Young Women's Christian
Association), an organization that provided low-income women with housing, job, training, and other
assistance. Some of her notable works for YWCA are:
Mills College (1904)
Asilomar Conference Center (1915) in Pacific Grove, CA
Berkeley Women's City Club (1930)
Other famous works include:
William Randolph Hearst's Castle in San Simeon
Bow Bay House at Lake Tahoe, CA
Livermore House in San Francisco
Julia understood the value in every project. Even if it seemed like something insignificant, she knew
that it could blossom into something great.
"Never turn down a job because you think it's too small; you don't know where it can lead." —Julia
Morgan
And, as she predicted, even after she passed away in 1957, her legacy lives on through her amazing
works.
Hurst Castle photo courtesy of Julia Morgan
Learn more by visiting www.PGMod.com or by calling 1-877-PGMOD-07 (746-6307)
Copyright © 2012. Paradigm Gallery. All rights reserved.
A "Man's Profession" No More. The Women Pioneers of Architecture and Design
2: Lilly Reich
Lilly Reich was a German modernist designer, and closely collaborated with Ludwig Mies Van der
Rohe for over 10 years. In fact, the famous "Mies Barcelona Chair", was not designed by Mies alone.
Conclusive records state that this honor should be shared by his co-designer, Lilly Reich. The Mies
Barcelona Chair has become an "icon of modern classic design, an international symbol of good
taste, perhaps the classiest chair you can own."(www.modernfurnitureclassics.com)
As with other women of her time, Lilly was confined to traditionally acceptable female careers.
Therefore, she got her start working as a designer of textiles and women's apparel. However, her
passion for design and architecture surpassed the confinement of gender roles in society at that time.
In 1912, Lilly joined the Deutsch Werkbund, and became the first female to be made director. The
Deutsch Werkbund is an organization credited with the first seeds of modern design, and was a
precursor to the Bauhaus School. During her time there, Lilly worked in the studio of the famous
Bauhaus designer Josef Hoffman. It was also during this time at the Werkbund that Reich met Mies
Van der Rohe.
Many would argue that Lilly Reich was at least as skilled a designer as Mies, and was most likely
more articulate than he was. Mies was typically more reserved. Although he was said to have rarely
solicited other's comments, he was always eager to discuss design with Lilly. Those who knew both
Lilly and Meis regarded her as "the detail and execution person", and Mies as the "broad
conceptualist."
Together with Mies van der Rohe, Lilly Reich designed many notable works, including:
Organization and design of several interiors for the Werkbund exhibition "Die Wohnung" in
Stuttgart (1927)
Design of "Wohnraum in Spiegelglas" ("Living Room in Mirror Glass")
Organization of the German contribution to the World Exposition in Barcelona (1929)
Organization and design of the "Deutsche Bau-Ausstellung", a famous architectural trade fair,
in Berlin (1931)
"The wall that has hidden her talent has begun to crack. Hopefully it will come tumbling down and she will
gain the place in design history that she deserves." - Albert Pfeiffer, VP of Design Management at Knoll
Learn more by visiting www.PGMod.com or by calling 1-877-PGMOD-07 (746-6307)
Copyright © 2012. Paradigm Gallery. All rights reserved.
Barcelona Chair in situ courtesy of Gribiche (flickr).
A "Man's Profession" No More. The Women Pioneers of Architecture and Design
3: Charlotte Perriand
"Life was good!and I filled my lungs with it." -Charlotte Periand
At 24 years old, Charlotte Perriand made a lasting impression on Le
Corbusier, when she walked into his studio and asked for a job as a
furniture designer. His response? He showed her the door and replied,
"We don't embroider cushions here". However, Perriand quickly earned his
apology. A few months later, Le Corbusier saw the impressive "glacial Bar
sous le Toît" (rooftop bar) that Perriand had created in glass, chrome, and
aluminium, for the Salon D'Automne exhibition in Paris. After seeing this
amazing display of Charlotte's talent, he invited her to come join him in his
studio.
Together with Le Corbusier, and his partner Pierre Jeanneret, Charlotte
Perriand designed a series of tubular steel chairs, based on Corbusier's
principles. These chairs were then – and continue today – to be hailed as
icons of the "machine age".
Many would say that the most famous Le Corbusier and Pierre Jeanneret
models may never have existed as we know them, had it not been for
Charlotte Perriand. She was recognized by Le Corbusier as having
extraordinary talent for interior design. Although Charlotte was loyal to the
concept of Corbusier, she was free to steer the project to its end result.
This type of relationship between designer and company created a
beautiful harmony that resulted in some amazing works. Each piece
renders a quality design and an expression of minimum values, yet with
profound depth.
Charlotte Perriand photo
courtesy of Knowtex.
In addition to her work as a respected designer, Charlotte was also very socially conscious. She
strongly advocated for improved social conditions and quality of life, and was involved with many
organizations such as:
The "Association des Écrivains et Artistes Révolutionnaires"
Maison de la Culture
The Union des Artistes Modernes
Her designs from that period also reflected her views. Rather than using
chrome, which could be expensive, she began to use traditional
materials such as wood and cane, which were more affordable.
Charlotte also traveled to Japan as an official adviser to the Ministry for
Trade and Industry. Here, she advised the Japanese government on
raising the standards of design in Japanese industry to develop products
for the West.
Charlotte Perriand bookcase photo
courtesy of Tomislavmedak.
Learn more by visiting www.PGMod.com or by calling 1-877-PGMOD-07 (746-6307)
Copyright © 2012. Paradigm Gallery. All rights reserved.
A "Man's Profession" No More. The Women Pioneers of Architecture and Design
4: Florence Schust Knoll
"Good design is good business." -Florence Knoll
Known in familiar circles simply as "Shu", Florence Schust Knoll was a memorable figure in midcentury modern design. She has had a profound influence on more than 50 years of buildings'
interiors.
Knoll graduated from the Kingswood School before studying at the famous Cranbrook Academy of Art
in Michigan. She also received a bachelor's degree in architecture from Armour Institute, which is now
the Illinois Institute of Technology. Following this, Florence Knoll briefly worked with many leaders of
the Bauhaus movement, including Walter Gropius, Marcel Breuer, and Wallace K. Harrison.
In the 1940's, while working for Wallace K. Harrison in New York , Shu met a well known furniture
company owner named Hans Knoll. She convinced Hans that, even in America's wartime economy,
she could help bring in business to his company by expanding into interior design and working with
architects. He asked her to design an office for Secretary of War, Henry L. Stimson, along with many
other jobs to follow. In 1946, Shu and Hans married and formed Knoll Associates, Inc.
Shu is famous for her "total design" philosophy. As the
director of the Knoll Planning Unit, she revolutionized
interior space planning. Her approach was to embrace
everything about a space. This included:
Architecture
Interior design
Graphics
Textiles
Manufacturing
This type of space planning was not the standard
practice in the mid-century era. But, it quickly caught
on, and is still considered the standard today. Shu was
also a furniture designer, and had a great eye for
talent. She discovered many of the modern masters,
when they created collections for Knoll. Some of these
legacies include:
Above Asymmetric Chaise photo courtesy of
Design Trust for Public Space. Background
photo courtesy of 1stsite.
Eero Saarinen's Tulip™ chairs and pedestal tables
Isamu Noguchi's coffee table
Harry Bertoia's wire furniture
Experience the brilliant works from
mid-century modern designers at Paradigm Gallery.
Learn more by visiting www.PGMod.com or by calling 1-877-PGMOD-07 (746-6307)
Copyright © 2012. Paradigm Gallery. All rights reserved.
A "Man's Profession" No More. The Women Pioneers of Architecture and Design
5: Louise Blanchard Bethune
"! there is no need whatever of a woman architect. No one wants her,
no one yearns for her and there is no special line in architecture to which
she is better adapted than a man . [The woman architect] has exactly the
same work to do as a man. When a woman enters the profession she will
be met kindly and will be welcome but not as a woman, only as an
architect." —Louise Blanchard Bethune
In a predominantly masculine profession, Louise Blanchard Bethune
proved that she could hold her own. It was also clear that Louise felt that
there was no need to distinguish women and men architects from each
other. She felt that they did the same job, and therefore required no
special treatment.
Louise began her career working as a draftsman in the office of well
known architects, Richard A. Waite and F.W. Caulkings. At the time it was more common to learn
architecture while working for a firm, rather than in a classroom. So, with this company, she received
a "man's" education and made her way as a respected architect.
Before long, Louise Blanchard opened her own independent office, and partnered with Robert
Bethune in Buffalo. It was here that she earned herself the title as the nation's first professional
woman architect.
Bethune was elected a member of the Western Association of Architects, and even served a term as
Vice President. She was the first female associate of the American Institute of Architects (A.I.A.) in
1888 and she became a fellow to the institute in 1889.
A woman of strong professional principles, Louise consistently supported the Architects' Licensing
Bill. This bill, after twenty five years of debate, became the law to enforce rigid preliminary
examinations for the practice of architecture. In 1891 she refused to compete for the design of the
Woman's Building for the World's Columbian Exposition in Chicago, because of the difference in how
men and women were being treated. Male architects were "appointed" to design major buildings and
were paid $10,000 for artistic services only, with all construction drawings made at the expense of the
Fair. However, women architects were asked to "compete" for the artistic design and to provide all
construction documents for a "prize" of only $1,000.
Bethune's specialty architecture consisted mostly of industrial and public buildings, such as schools.
She assisted in designing 18 schools in Western New York, including Hamburg High School, Lockport
High, and many public grammar schools in Buffalo. A few of these grammar schools are still around
today.
One of Bethune's most well known masterpieces was the neoclassical Hotel Lafayette. She was
commissioned $1 million to design this, and completed in 1904. It had 256 rooms and was one of the
top 15 finest hotels in the U.S. in its time.
Background Hotel Lafayette photo courtesy of Doug Kerr (wikimedia). Photograph of Louise Blanchard Bethune courtesy of wikimedia.com
Learn more by visiting www.PGMod.com or by calling 1-877-PGMOD-07 (746-6307)
Copyright © 2012. Paradigm Gallery. All rights reserved.
A "Man's Profession" No More. The Women Pioneers of Architecture and Design
6: Chloethiel Woodard Smith
"Smith was offended all of her life by the term "woman architect." She felt it demeaned her work and
ability as an architect."
Chloethiel Woodard Smith was one of the
leading mid-century modern architects in
Washington. In fact, at the time, she was
considered the most successful female
architect in the country. Smith was the
driving force behind many esteemed
projects, including:
The redevelopment of Southwest
Washington D.C. (Capitol Park,
Harbour Square, etc.)
The Waterview Townhouses in
Reston, Virginia (some of which
have spiral steps that descend into
a lake!)
Metro station at National Airport
Washington Square photo courtesy of AgnosticPeachersKid (wikimedia).
She also designed various downtown office buildings and custom homes for clients, such as the
home for Nathan and Alice Bindeman, a well-known local sculptor and painter. Smith also designed
three of the four office buildings at a key intersection in downtown Washington. If you go to the corner
of Connecticut Avenue and L Street NW – S you will see the area that architects and critics have
referred to as "Chloethiel's Corner."
It is said that Chloethiel took offense to the term "woman architect",
as she felt it was demeaning to her work and ability as an architect.
Fortunately, she lived long enough to see an era where this term was
seldom used. Throughout her career, however, she stubbornly
refused to be a part of any women's group. Her rise to the upper
echelon of the architect profession preceded the Women's Rights
Movement.
Chloethiel Smith's name is not as well known by the general public
as those of her contemporaries. However, Smith is considered to be
a master. Her successful career spanned five decades, and her work
has earned the respect and admiration of many.
Paradigm Gallery is the destination for Mid-Century Modern inspired furniture. The
inception of the Bauhaus Movement signaled the beginning of a new direction of
aesthetic relevance for furniture design. Contact us or browse our online showroom
today, and immerse yourself in the world of Mid-Century Modern Furniture.
Learn more by visiting www.PGMod.com or by calling 1-877-PGMOD-07 (746-6307)
Copyright © 2012. Paradigm Gallery. All rights reserved.
A "Man's Profession" No More. The Women Pioneers of Architecture and Design
7: Marion Mahoney Griffin
We know immediately that we are in the presence of a force of nature, a woman
of no uncertain opinions, a person possessed of deep convictions and profound
spiritual experiences." – Excerpt from 'Marion Mahony Reconsidered'
Born in Chicago, Illinois, Marion Mahony graduated from MIT in 1894, and
was one of the first women to receive a degree in architecture. Her work in
architecture began with the encouragement of her first cousin, Dwight
Perkins, who had completed a program in MIT's Department of Architecture
three years earlier.
Though Marion was extremely talented, she struggled at times with her place
in both society and the field of architecture. At MIT, she was unsure of her
ability to complete the thesis required for her bachelors degree. However, her
professor, Constant-Désiré Despradelle, pushed her forward.
After graduating from MIT, Mahony worked in her cousin's architecture firm,
which shared space with many architects, including Frank Lloyd Wright. In 1895
Mahony was the first employee hired by Frank Lloyd Wright. During her time
working with Wright, Marion designed a variety of works, including:
Photos courtesy of wikimedia.
Buildings
Furniture
Stained glass windows
Decorative panels
Marion was an intimate member of,
not only of Frank Lloyd Wright's
office, but of his household as well.
She was very close with his wife,
and was a partner in creating and
publicizing an entirely original
approach to the American home.
Mahony developed her distinctive rendering style, which was influenced by Japanese prints, in both
composition and technique. Her drawings were instrumental in enhancing Wright's early reputation. In
fact, a member of Wright's studio was quoted as saying the following about Marion Mahony:
"She was the most talented member of Frank Lloyd Wright's staff ! Mr. Wright would occasionally sit
at Marion's board and work on her drawings, and I recall one hilarious occasion when his work ruined
the drawing. On that occasion Andrew Willatzen, an outspoken member of the staff, loudly proclaimed
that Marion Mahony was Wright's superior as a draftsman. As a matter of fact, she was. Wright took
the statement of her superiority equably." —H. Allen Brooks, The Prairie School: Frank Lloyd Wright
and His Midwest Contemporaries, 1972
Learn more by visiting www.PGMod.com or by calling 1-877-PGMOD-07 (746-6307)
Copyright © 2012. Paradigm Gallery. All rights reserved.
A "Man's Profession" No More. The Women Pioneers of Architecture and Design
8: Greta Magnussen Grossman
"(California design) is not a superimposed style, but an answer to present conditions. It has
developed out of our own preference for living in a modern way." —Gretta Grossman
Greta Magnusson Grossman often appeared alongside midcentury greats such as Charles and Ray
Eames. She designed houses, interiors, and furniture, and gained a loyal and following that remains
to this day. Though she never gained the same level of fame as that of many of her contemporaries,
she maintained a prolific forty-year career on two continents, Europe and North America, with
achievements in industrial design, interior design, and architecture. Her work is remains admired and
sought after by people around the world.
Greta Magnusson Grossman was a Swedish born architect and designer. When she landed in
California in 1940, she declared that she needed " a car and some shorts." As a new immigrant, it
was the most American idea she could think of. At this point, Grossman was already an accomplished
interior designer in her native land of Sweden.
She'd taken on numerous commissions in Stockholm, designing unique furniture and interiors. She'd
garnered abundant press attention and accolades, and her work was exhibited frequently at "Galerie
Moderne", a cultural mecca in Stockholm at the time.
In 1937, for a large group exhibition at the National museum in Stockholm, Grossman designed a crib
for Sweden's Princess Birgitta. This work became famous, and drew much attention in the press for
Greta Grossman.
After moving to the United States with her husband, Grossman then went onto achieve acclaim for
her shop in Beverly Hills. She even began attracting celebrity clients, such as Greta Garbo, Joan
Fontaine, and Gracie Allen.
Greta began making connections that led to a number of projects, both from her own shop and from
Barker Brothers' Modern Shop, launched in 1947. Over the next twenty years she produced work for
companies like:
Glenn of California
Sherman Bertram
Martin/Brattrud
Modern Line
The work for Glenn of California, some of her best known, is characterized by the materials she used.
These included rich, colorful textiles and woods like California walnut paired in surprising and elegant
combination with black plastic laminate and wrought iron. The uniquely petite proportions and
asymmetrical lines of her furniture also set her work apart.
Learn more by visiting www.PGMod.com or by calling 1-877-PGMOD-07 (746-6307)
Copyright © 2012. Paradigm Gallery. All rights reserved.
A "Man's Profession" No More. The Women Pioneers of Architecture and Design
9: Ray Kaiser Eames
"I never gave up painting, I just changed my palette." – Ray Eames
Ray Kaiser Eames was born in Sacramento, California in the mid
1920's. She studied painting with Hans Hofmann in New York before
moving on to Cranbrook Academy. Ray had a great appreciation for the
education she received from Hans, and felt that this was a key element
in her understanding of relationships between color and structure. She
would one day go on to use this knowledge in her furniture design
collaboration with Charles Eames. Ray was quoted as saying the
following regarding her studies with Hans:
"He didn't close anything, he opened everything and made it possible
to see wholly, I think, as we do see. We don't see a line, we see a line
and both sides of the line. . . I don't know anyone else who was as able
to relate the experience of life to a canvas, to a format." —Ray Eames
After her lessons with Hans, Ray went on to study at Cranbrook academy, where she met Charles
Eames. She assisted Charles, along with Eero Saarinen, in preparing designs for the Museum of
Modern Art's "Organic Furniture Competition." These designs, created by molding plywood into
complex curves, won them the two first prizes.
Ray went on to marry Charles Eames in 1941, and they moved to California. Here, they continued
their furniture design work with molding plywood, and were commissioned by the Navy during the war
to produce molded plywood splints, stretchers, and experimental glider shells. In 1946, their molded
plywood furniture began to be produced by Evans, which was soon taken over by Herman Miller, Inc.
This company continues to produce Eames style furniture in the United States to this day.
In 1949, Charles and Ray designed and built their own California home as part of the Case Study
House Program sponsored by Arts and Architecture Magazine. Their unique design and innovative
use of materials made this house an example for architects and designers worldwide. It is considered
one of the most important post-war residences built anywhere in the world.
Eames' furniture creations, playful films, and beautiful steel-and-glass house were
rhythmically colorful and gained worldwide fame. Ray Eames' personal style and
wardrobe was also something worthy of mention, however, it was a
much more subtle attraction. On most days, you would find Ray
wearing starchy white blouses, trim square-necked jumpers,
waist-cropped jackets and dirndl skirts. This style was often
emulated by her contemporaries. She donned this look throughout
her lifetime, regardless of the changing trends.
What works is better than what looks good. The looks good can change, but what works, works."
-Ray Eames
Learn more by visiting www.PGMod.com or by calling 1-877-PGMOD-07 (746-6307)
Copyright © 2012. Paradigm Gallery. All rights reserved.
A "Man's Profession" No More. The Women Pioneers of Architecture and Design
10: Eileen Gray
"(Our furniture is) suited to our existence, in proportion to our rooms and in accordance with our
aspirations and feelings." —Eileen Gray
Unlike most of the other women who made an impact on early 20th century design,
Irish-born Eileen Gray did not have the advantage of working with a powerful male
mentor. As a woman, Eileen Gray was also denied access to the supportive
networks from which her male contemporaries benefited. Even facing such
challenges, Eileen Gray distinguished herself and is now regarded as one of the
most important furniture designers and architects of the early 20th century. In
addition, she has been one of the most influential women in these fields. Her
distinctive design style has inspired both modernism and "Art Deco".
Eileen Gray initially sought after a career in drawing and painting. When she was
20 years old, she attended classes at the Slade School of Fine Art in London. After
several years, and moves to Paris, Ireland, then back to London, Gray found that
her drawing and painting courses were
becoming less satisfying. She took an
interest in lacquer work after coming
across a lacquer repair shop in Soho.
In 1906, Gray moved back to Paris, into
an apartment where she remained for
much of her working life. Here, she
met Japanese artisan Seizo Sugawara
(or Sugawara-san), who worked in the
laquer industry and originated from an
area of Japan that was known for its
decorative lacquer work. Eileen worked
with Sugawara for four years. Even after developing
"lacquer disease" (a rash that is hard to heal) on her hands, she persisted in her
work. By 1912, she was producing pieces to commission for some of Paris's
richest clients. It was not until 1913, at thirty-five years old, that she exhibited any
of her work. When she did, however, it was a great success. These and other
works by Eileen Gray are now considered icons of the International Style:
"Bibendum Chair" – a voluptuous leather and tubular steel, perfect for
lounging and socializing
"The E-1027 House" – Gray designed the furniture, and collaborated with
Jean Badovici on the house's structure. "E-1027" stands for their names: E
for Eileen, 10 for Jean (J is the tenth letter of the alphabet), 2 for Badovici and 7 for Gray
"E-1027 glass and tubular steel table" – This chic table was one of the pieces designed with
the house
Photos Courtesy of PGMod.com and Wikimedia.
Learn more by visiting www.PGMod.com or by calling 1-877-PGMOD-07 (746-6307)
Copyright © 2012. Paradigm Gallery. All rights reserved.
A "Man's Profession" No More. The Women Pioneers of Architecture and Design
11: Marianne Brandt
Brandt's designs for household objects such as lamps, ashtrays and teapots are considered the
harbinger of modern industrial design.
Brandt will forever be associated with the 'Bauhaus'. During the mid to late 1920's Marianne Brandt
was at the peak of her creative flow. She produced numerous designs, in quick succession, that are
now considered icons of 'Bauhaus' design.
Marianne Brandt was born in Germany in 1893. In 1911, she went to study painting and sculpture at
the Grand-ducal College of Fine Arts in Weimar, and remained there for seven years. Following her
schooling, Marianne married a Norwegian painter named Erik Brandt. The couple lived in Norway and
the South of France, before joining the Weimar Bauhaus in 1923. At Bauhaus, Marianne became a
student of László Moholy-Nagy, a Hungarian modernist theorist and designer, in the metal workshop.
Erik Brandt returned alone to Norway, and the couple would eventually divorce 12 years later.
In 1926, Marianne Brandt became deputy head of the metalworking workshop, responsible for most
important Bauhaus contracts, as well as collaborations with industry. These contracts for the
production of lights and other metal workshop designs were actually one of the few workshops
helping to fund the school.
Marianne Brandt was the only woman who took part in the "Metallwerkstatt" of the Bauhaus. Her
objects are an excellent example of her research, which centered around ways to simplify the
industrial processes of spinning and printing.
During her time at the Bauhaus, Marianne Brandt produced works have become icons of Bauhaus
movement. These include her innovative designs of items such as:
Metal ashtrays
Tea and coffee services
Lamps
Other household objects
Brandt rose to the top of her profession in a time that is hardly renowned for sexual equality in the
workplace. She achieved great success, despite the odds being stacked against her. Marianne
Brandt's work indicates a feeling of enthusiasm for modern culture.
Background Photos
courtesy of Christian
Stock (flickr), Bauhaus
ashtray photo courtesy of
Geheimnisträgerin
(wikimedia). Tea Infuser
photo courtesy of
Christos Vittoratos.
Learn more by visiting www.PGMod.com or by calling 1-877-PGMOD-07 (746-6307)
Copyright © 2012. Paradigm Gallery. All rights reserved.
A "Man's Profession" No More. The Women Pioneers of Architecture and Design
12: Eva Zeisel
"The joy of creating beautiful things for people 'to please the eye, and invite the hand to touch' is
evident in all of Eva Zeisel's designs, whether produced in ceramic, plastic, metal, wood or glass." –
The Schein-Joseph International Museum of Ceramic Art
Eva Zeisel overcame many
odds in her journey to
prevail as a respected
figure in the world of midcentury modern design. Not
only did she have to
overcome the odds of
being a woman in a malecentric field, but she also
was forced to endure a
year and a half prison
sentence at the beginning
of her career, for something
of which she was
completely innocent.
However, this amazing
woman not only overcame
these odds and went on to
have a successful career.
She also lived to be 105
years old!
At 17 years old, Eva Zeisel aspired to be an artist. Born in Budapest, Hungary in 1906, Eva had
always possessed a deep appreciation for art, and wanted to pursue a career in painting. This was
slightly unusual, considering all of her family had pursued successful careers in the fields of science.
Her mother, Laura Polanyi Stricker, was the first woman to get a PhD from the University of Budapest.
Laura's brothers were also well known, one as a sociologist and economist, and the other a physical
chemist and philosopher of science.
Although she was still destined to be an artist, Eva soon decided (with the strong encouragement of
her mother) that her career pursuit should not lie in a canvas, brush, and palette. She set out to
pursue something that would be a bit more "practical", yet would still allow her to express her
creativity and artistic passion. So, in the early 1920's Eva abandoned the pursuit of painting and
began working with ceramic arts. She apprenticed herself to a traditional potter and began learning
her trade.
Although the apprentice life can be very difficult, Eva quickly rose to the challenge and soon
graduated to journeyman status. In only a year, her work was chosen for display and won honorable
mention at the Philadelphia Sesquicentennial.
Learn more by visiting www.PGMod.com or by calling 1-877-PGMOD-07 (746-6307)
Copyright © 2012. Paradigm Gallery. All rights reserved.
A "Man's Profession" No More. The Women Pioneers of Architecture and Design
Prison Sentence
In the 1930's, Eva moved to Berlin, and then on to Russia. Here, Eva was working as artistic director,
overseeing the Russian China and glass industry. During this time, Eva was falsely accused of
participation in a plot to assassinate Joseph Stalin, and spent close to a year and a half in prison. She
was released in 1937 and extricated to Vienna. According to "The Eva Zeisel Forumhe", she soon fled
Vienna as the Nazis began their occupation. Eva then married Hans Zeisel, and they moved to the
United States in 1938. Here, Eva quickly began to establish herself as a respected artist.
Big Break
Eva's "big break" came in the early 1940s when she was asked to create modernist tableware for the
Museum of Modern Art (MoMa) in New York. She was featured in a one woman show at MoMA, and
was given the opportunity to introduce her designs to the American public. Eva's Museum dinnerware
set remains as a part of MoMa's permanent collection. Eva Zeisel also has permanent collections in
the most renowned museums across the US and abroad.
Learn more by visiting www.PGMod.com or by calling 1-877-PGMOD-07 (746-6307)
Copyright © 2012. Paradigm Gallery. All rights reserved.