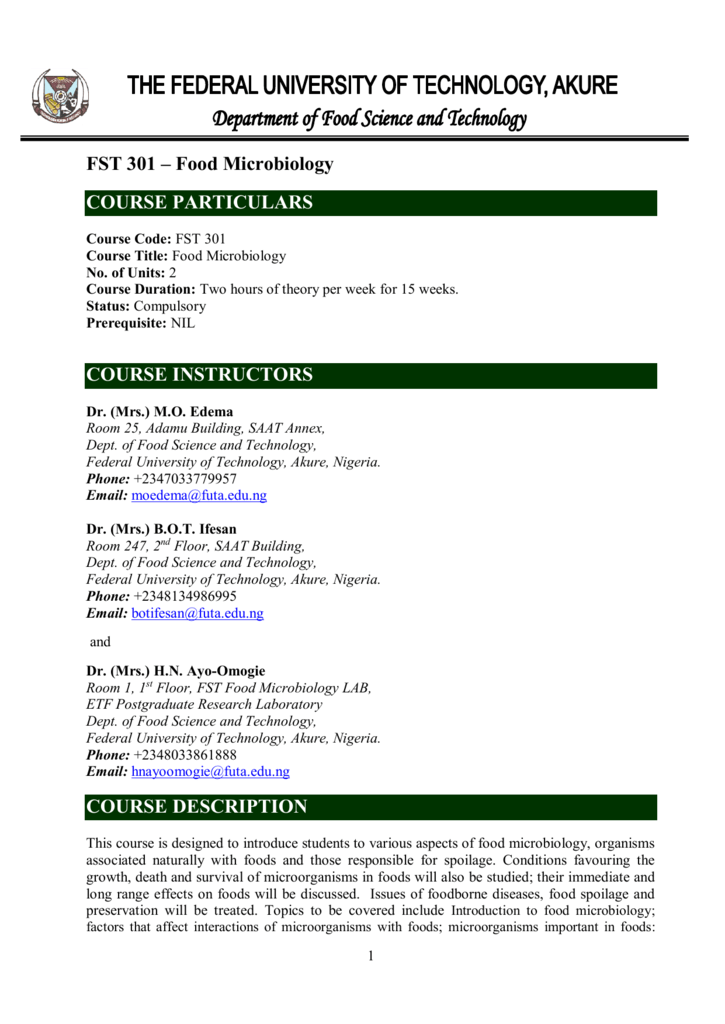 FST 301 – Food Microbiology
COURSE PARTICULARS
Course Code: FST 301
Course Title: Food Microbiology
No. of Units: 2
Course Duration: Two hours of theory per week for 15 weeks.
Status: Compulsory
Prerequisite: NIL
COURSE INSTRUCTORS
Dr. (Mrs.) M.O. Edema
Room 25, Adamu Building, SAAT Annex,
Dept. of Food Science and Technology,
Federal University of Technology, Akure, Nigeria.
Phone: +2347033779957
Email: [email protected]
Dr. (Mrs.) B.O.T. Ifesan
Room 247, 2nd Floor, SAAT Building,
Dept. of Food Science and Technology,
Federal University of Technology, Akure, Nigeria.
Phone: +2348134986995
Email: [email protected]
and
Dr. (Mrs.) H.N. Ayo-Omogie
Room 1, 1st Floor, FST Food Microbiology LAB,
ETF Postgraduate Research Laboratory
Dept. of Food Science and Technology,
Federal University of Technology, Akure, Nigeria.
Phone: +2348033861888
Email: [email protected]
COURSE DESCRIPTION
This course is designed to introduce students to various aspects of food microbiology, organisms
associated naturally with foods and those responsible for spoilage. Conditions favouring the
growth, death and survival of microorganisms in foods will also be studied; their immediate and
long range effects on foods will be discussed. Issues of foodborne diseases, food spoilage and
preservation will be treated. Topics to be covered include Introduction to food microbiology;
factors that affect interactions of microorganisms with foods; microorganisms important in foods:
1
bacteria, moulds, yeast, viruses, protozoa, algae - their classification and growth characteristics. Also
included are food spoilage and preservation; food-borne diseases - infections and intoxications;
public health and sanitation and microbiology of water.
COURSE OBJECTIVES
The objectives of this course are to:
 introduce students to the use of computers for various academic activities; and
 provide students with opportunities to develop basic computing skills with respect to
preparation of documents, use of spreadsheets, making PowerPoint presentations, and
efficient use of the Internet.
COURSE LEARNING OUTCOMES / COMPETENCIES
Upon successful completion of this course, students should:
(Knowledge based)





be familiar with intrinsic/extrinsic conditions affecting the growth, survival and death of
microorganisms in foods;
recognize names and taxa of important bacteria and have an understanding of their
properties (environmental, biochemical, physiological) as they pertain to spoilage, safety
and industrial importance;
be familiar with hurdle technology and other preservation techniques relative to food
safety and spoilage;
be able to distinguish between microbial foodborne intoxications and infections; and
understand the etiologic agents of microbial foodborne diseases
GRADING SYSTEM FOR THE COURSE
This course will be graded as follows:
Assignments
10%
Test(s)
20%
Final Examination
70%
TOTAL
100%
2
GENERAL INSTRUCTIONS
Attendance: It is expected that every student will be in class for lectures and also participate in
all practical exercises. Attendance records will be kept and used to determine each person's
qualification to sit for the final examination. In case of illness or other unavoidable cause of
absence, the student must communicate as soon as possible with any of the instructors, indicating
the reason for the absence.
Academic Integrity: Violations of academic integrity, including dishonesty in assignments,
examinations, or other academic performances are prohibited. You are not allowed to make
copies of another person's work and submit it as your own; that is plagiarism. All cases of
academic dishonesty will be reported to the University Management for appropriate sanctions in
accordance with the guidelines for handling students' misconduct as spelt out in the Students'
Handbook.
Assignments and Group Work: Students are expected to submit assignments as scheduled.
Failure to submit an assignment as at when due will earn you zero for that assignment. Only
under extenuating circumstances, for which a student has notified any of the instructors in
advance, will late submission of assignments be permitted.
Code of Conduct in Lecture Rooms and Laboratories: Students should turn off their cell phones
during lectures. Students are prohibited from engaging in other activities (such as texting,
watching videos, etc.) during lectures. Food and drinks are not permitted in the laboratories.
READING LIST
1
Ayres, J.C., Mundt, J.O. and Sardine, W.E. (1990). Microbiology of Foods. McGraw Hill Book
Company, New York.
1
Frazier, C.W. and Westhoff, D.C. (1988). Food Microbiology. 539pp. 4th ed. McGraw Hill
Company, Singapore.
1
Microorganisms in Foods (1978). Thatcher, F.S and Clark, D.S. University of Toronto Press,
Toronto.
1,4
Jay, M.J. (2000). Modern Food Microbiology. 6th edition. Aspen Publishers Inc; Maryland.
4
Banwart, G.J. (1979). Basic Food Microbiology. 2nd edition. AVI Publishing Company.
4
Modi, H.A. (2009). Microbial Spoilage of Foods. Aavishkaar Publishers, India.
Legend
1- Available in the University Library
2- Available in Departmental/School Libraries
3- Available on the Internet.
4- Available as Personal Collection
5- Available in local bookshops.
3
COURSE OUTLINE
Week
1
2&3
4&5
6&7
8&9
10, 11 &
12
13
13 & 14
15
Topic
Remarks
Introduction and Course Overview
Introduction to Food Microbiology
During this first class, the
expectation of the students from
the course will also be
documented.
Factors that affect interaction of microorganisms with
foods
 Intrinsic parameters
 Extrinsic parameters
Microorganisms important in foods:
 Bacteria
 Moulds
 Yeasts
 Viruses
 Protozoa
 Algae
Classification and Growth characteristics of
microorganisms important in foods
Food spoilage
 Microorganisms responsible for spoilage of
specific food groups
 Spoilage patterns in different food groups
Food preservation
 Preservation methods used for different foods
 Hurdle technology
Foodborne diseases:
 Infections
 intoxications
Public health and sanitation
Microbiology of water
REVISION
4
MID-SEMESTER TEST
This is the week preceding the final
examination. At this time,
evaluation will be done to assess
how far the students' expectations
for the course have been met.