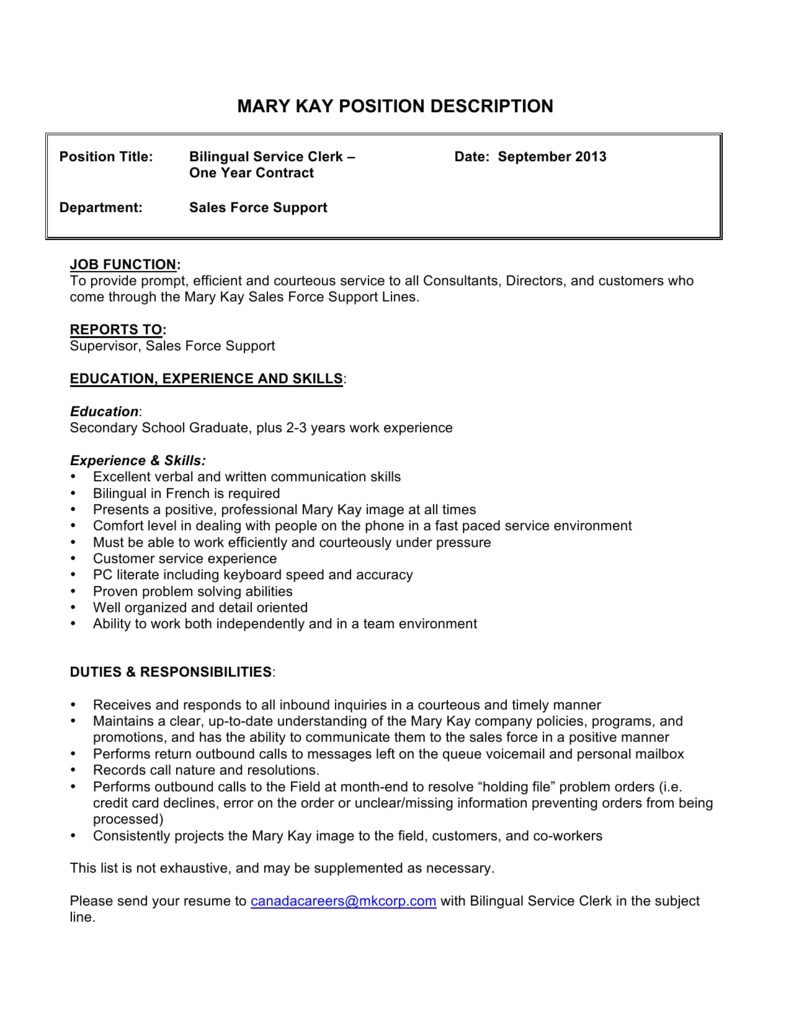 MARY KAY POSITION DESCRIPTION
Position Title:
Bilingual Service Clerk –
One Year Contract
Department:
Sales Force Support
Date: September 2013
JOB FUNCTION:
To provide prompt, efficient and courteous service to all Consultants, Directors, and customers who
come through the Mary Kay Sales Force Support Lines.
REPORTS TO:
Supervisor, Sales Force Support
EDUCATION, EXPERIENCE AND SKILLS:
Education:
Secondary School Graduate, plus 2-3 years work experience
Experience & Skills:
• Excellent verbal and written communication skills
• Bilingual in French is required
• Presents a positive, professional Mary Kay image at all times
• Comfort level in dealing with people on the phone in a fast paced service environment
• Must be able to work efficiently and courteously under pressure
• Customer service experience
• PC literate including keyboard speed and accuracy
• Proven problem solving abilities
• Well organized and detail oriented
• Ability to work both independently and in a team environment
DUTIES & RESPONSIBILITIES:
•
•
•
•
•
•
Receives and responds to all inbound inquiries in a courteous and timely manner
Maintains a clear, up-to-date understanding of the Mary Kay company policies, programs, and
promotions, and has the ability to communicate them to the sales force in a positive manner
Performs return outbound calls to messages left on the queue voicemail and personal mailbox
Records call nature and resolutions.
Performs outbound calls to the Field at month-end to resolve "holding file" problem orders (i.e.
credit card declines, error on the order or unclear/missing information preventing orders from being
processed)
Consistently projects the Mary Kay image to the field, customers, and co-workers
This list is not exhaustive, and may be supplemented as necessary.
Please send your resume to [email protected] with Bilingual Service Clerk in the subject
line.