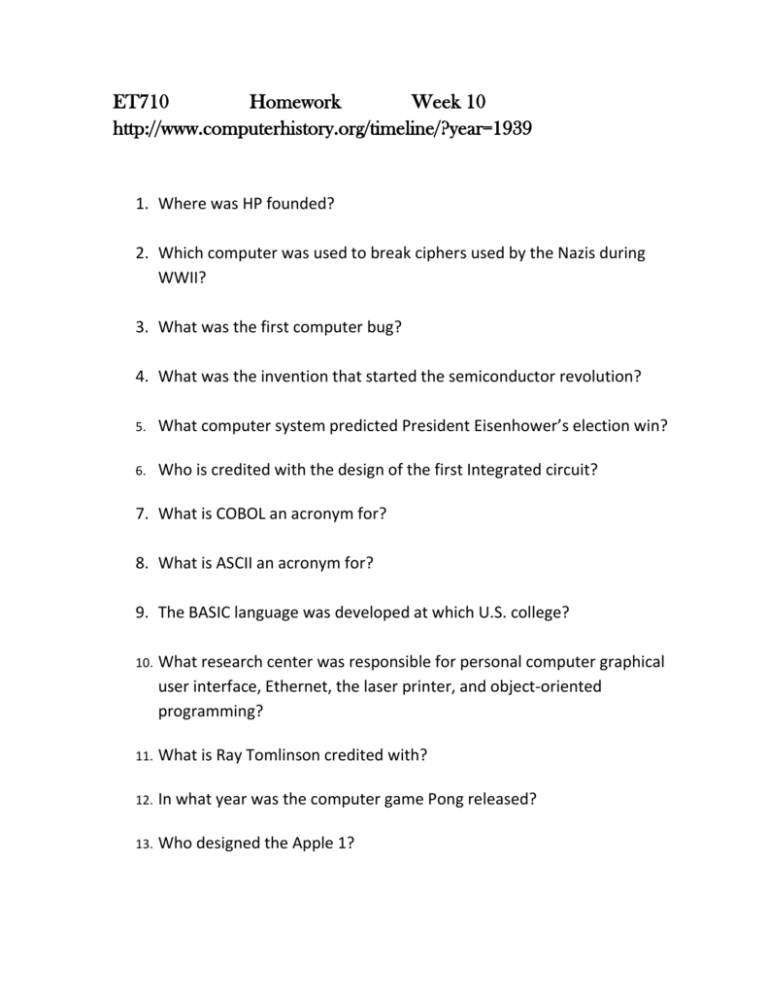 ET710
Homework
Week 10
http://www.computerhistory.org/timeline/?year=1939
1. Where was HP founded?
2. Which computer was used to break ciphers used by the Nazis during
WWII?
3. What was the first computer bug?
4. What was the invention that started the semiconductor revolution?
5.
What computer system predicted President Eisenhower's election win?
6.
Who is credited with the design of the first Integrated circuit?
7. What is COBOL an acronym for?
8. What is ASCII an acronym for?
9. The BASIC language was developed at which U.S. college?
10.
What research center was responsible for personal computer graphical
user interface, Ethernet, the laser printer, and object-oriented
programming?
11.
What is Ray Tomlinson credited with?
12.
In what year was the computer game Pong released?
13.
Who designed the Apple 1?
14.
What Operating system ran on the first IBM PC?
15.
Years after its inception, what was the Arpanet renamed?
16.
What famous computer was first introduced to the public in a Super
Bowl television commercial?
17.
What was the first computer-animated film to win an Academy Award?
18.
What invention is Tim Berners-Lee credited with?
19.
Who is the inventor of the Linux Operating System?
20.
What famous Internet search company was founded in 1994?