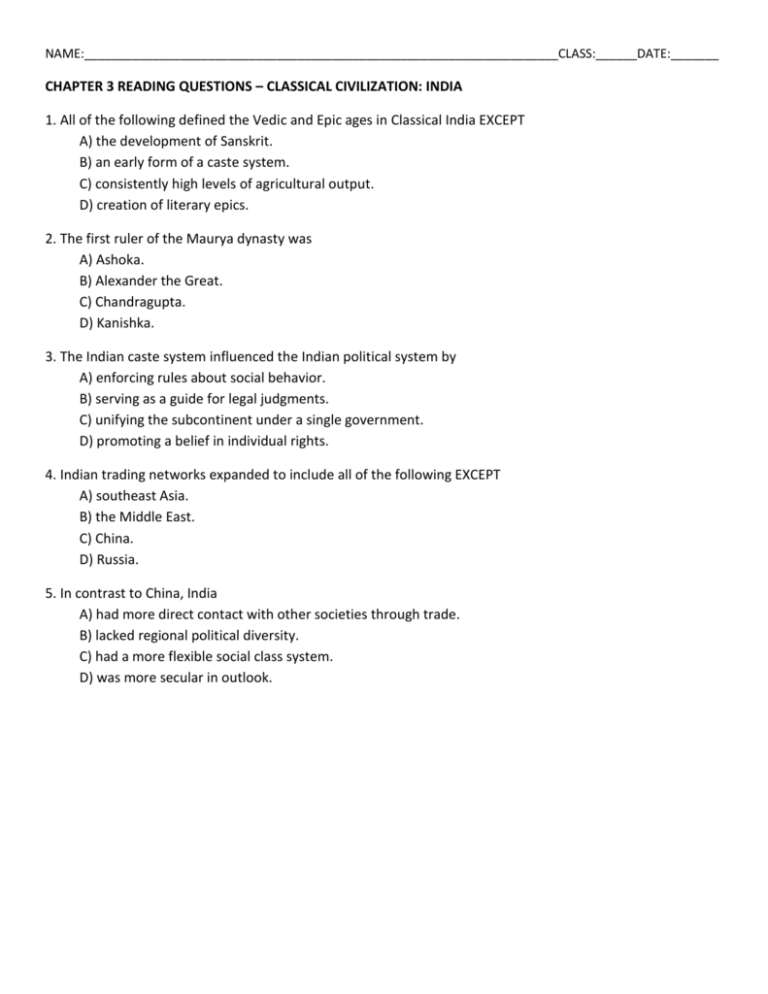 NAME:_____________________________________________________________________CLASS:______DATE:_______
CHAPTER 3 READING QUESTIONS – CLASSICAL CIVILIZATION: INDIA
1. All of the following defined the Vedic and Epic ages in Classical India EXCEPT
A) the development of Sanskrit.
B) an early form of a caste system.
C) consistently high levels of agricultural output.
D) creation of literary epics.
2. The first ruler of the Maurya dynasty was
A) Ashoka.
B) Alexander the Great.
C) Chandragupta.
D) Kanishka.
3. The Indian caste system influenced the Indian political system by
A) enforcing rules about social behavior.
B) serving as a guide for legal judgments.
C) unifying the subcontinent under a single government.
D) promoting a belief in individual rights.
4. Indian trading networks expanded to include all of the following EXCEPT
A) southeast Asia.
B) the Middle East.
C) China.
D) Russia.
5. In contrast to China, India
A) had more direct contact with other societies through trade.
B) lacked regional political diversity.
C) had a more flexible social class system.
D) was more secular in outlook.