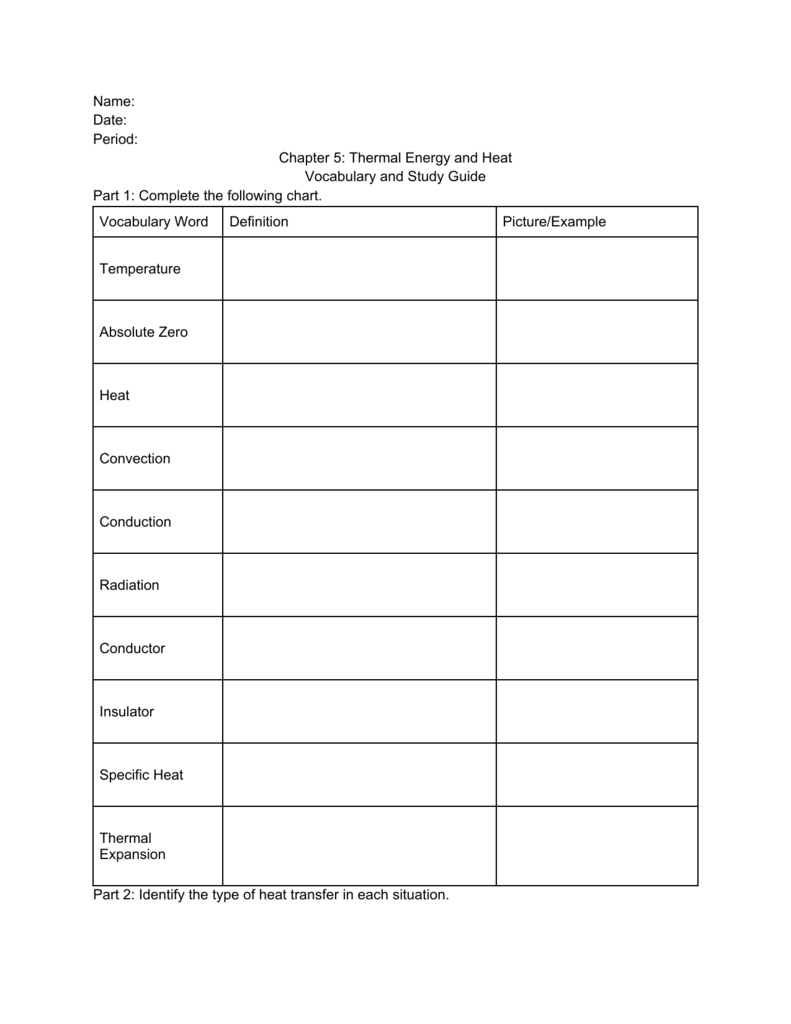 Name:
Date:
Period:
Chapter 5: Thermal Energy and Heat
Vocabulary and Study Guide
Part 1: Complete the following chart.
Vocabulary Word
Definition
Temperature
Absolute Zero
Heat
Convection
Conduction
Radiation
Conductor
Insulator
Specific Heat
Thermal Expansion
Part 2: Identify the type of heat transfer in each situation.
Picture/Example
A. Conduction
B. Convection
C. Radiation
_____ 1. An entire lake is heated by water from a hot spring at the bottom of the lake.
_____ 2. Sunlight melts a wax crayon left outside.
_____ 3. A burner on a stove heats the bottom of a pan.
_____ 4. The inside frame of your front door feels cold during the winter.
_____ 5. A kite rises above a hot, sandy beach.
Part 3: BIG QUESTION! Answer in complete sentences.
How does heat flow from one object to another. Explain the three ways and give an example of each using the picture as a reference.
Part 4: Thermal Energy
Look at the pictures of beakers below and answer the question that follows. Assume each beak contains distilled water.
.
A. 100 B. 50 C. 25 D. 100
Which beaker has the most thermal energy? Explain in a complete sentence.