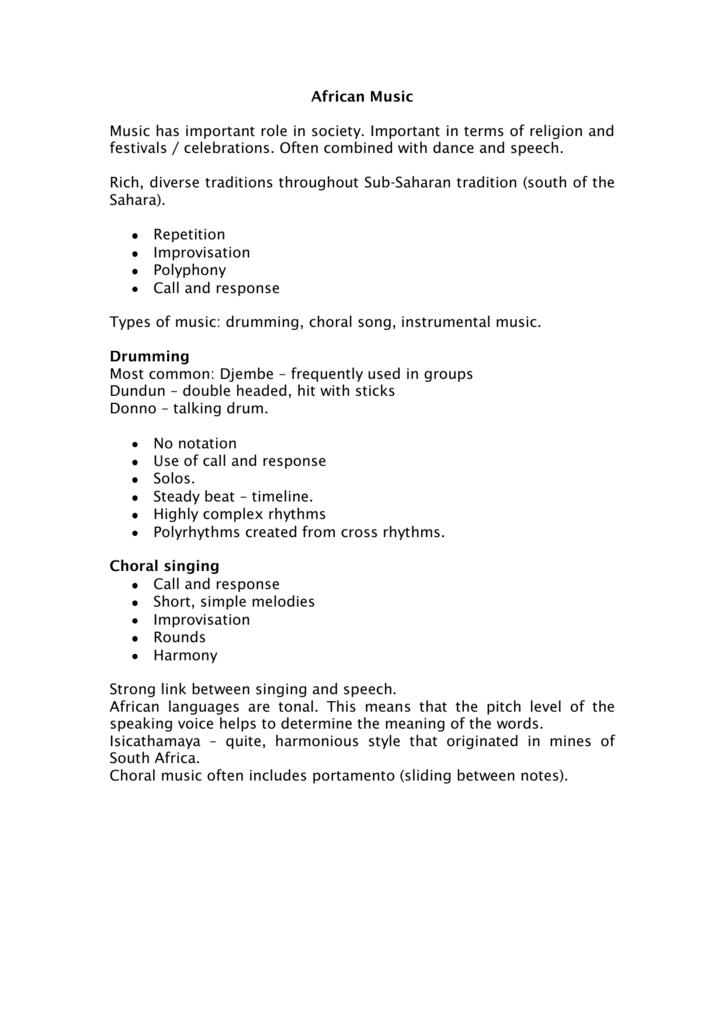 African Music
Music has important role in society. Important in terms of religion and
festivals / celebrations. Often combined with dance and speech.
Rich, diverse traditions throughout Sub-Saharan tradition (south of the
Sahara).
Repetition
Improvisation
Polyphony
Call and response
Types of music: drumming, choral song, instrumental music.
Drumming
Most common: Djembe – frequently used in groups
Dundun – double headed, hit with sticks
Donno – talking drum.
No notation
Use of call and response
Solos.
Steady beat – timeline.
Highly complex rhythms
Polyrhythms created from cross rhythms.
Choral singing
Call and response
Short, simple melodies
Improvisation
Rounds
Harmony
Strong link between singing and speech.
African languages are tonal. This means that the pitch level of the
speaking voice helps to determine the meaning of the words.
Isicathamaya – quite, harmonious style that originated in mines of
South Africa.
Choral music often includes portamento (sliding between notes).
Instrumental music
Instrument classification
Idiophones – percussion but not drums. Mbira (thumb piano quite important)
Membranophones – drums made from wood, gourds, metal,
earthenware.
Aerophones – wind
Chordophones – strings
Repetition
Improvisation
Cyclic structures
Polyphonic textures
Interweaving melodies
Minimalist music shares some characteristics with African music –
polyrhythms, linear texture.