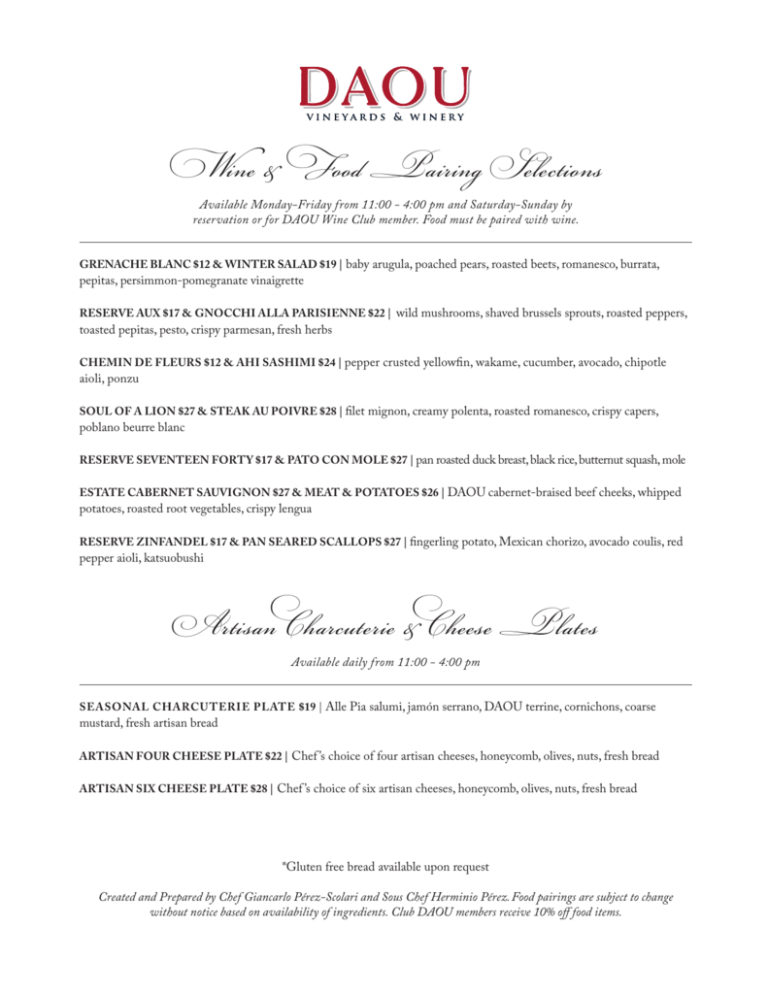 Wine & Food Pairing Selections
Available Monday-Friday from 11:00 - 4:00 pm and Saturday-Sunday by
reservation or for DAOU Wine Club member. Food must be paired with wine.
GRENACHE BLANC $12 & WINTER SALAD $19 | baby arugula, poached pears, roasted beets, romanesco, burrata,
pepitas, persimmon-pomegranate vinaigrette
RESERVE AUX $17 & GNOCCHI ALLA PARISIENNE $22 | wild mushrooms, shaved brussels sprouts, roasted peppers,
toasted pepitas, pesto, crispy parmesan, fresh herbs
CHEMIN DE FLEURS $12 & AHI SASHIMI $24 | pepper crusted yellowfin, wakame, cucumber, avocado, chipotle
aioli, ponzu
SOUL OF A LION $27 & STEAK AU POIVRE $28 | filet mignon, creamy polenta, roasted romanesco, crispy capers,
poblano beurre blanc
RESERVE SEVENTEEN FORTY $17 & PATO CON MOLE $27 | pan roasted duck breast, black rice, butternut squash, mole
ESTATE CABERNET SAUVIGNON $27 & MEAT & POTATOES $26 | DAOU cabernet-braised beef cheeks, whipped
potatoes, roasted root vegetables, crispy lengua
RESERVE ZINFANDEL $17 & PAN SEARED SCALLOPS $27 | fingerling potato, Mexican chorizo, avocado coulis, red
pepper aioli, katsuobushi
Artisan Charcuterie & Cheese Plates
Available daily from 11:00 - 4:00 pm
SEASONAL CHARCU TERIE PLATE $19 | Alle Pia salumi, jamón serrano, DAOU terrine, cornichons, coarse
mustard, fresh artisan bread
ARTISAN FOUR CHEESE PLATE $22 | Chef 's choice of four artisan cheeses, honeycomb, olives, nuts, fresh bread
ARTISAN SIX CHEESE PLATE $28 | Chef 's choice of six artisan cheeses, honeycomb, olives, nuts, fresh bread
*Gluten free bread available upon request
Created and Prepared by Chef Giancarlo Pérez-Scolari and Sous Chef Herminio Pérez. Food pairings are subject to change
without notice based on availability of ingredients. Club DAOU members receive 10% off food items.