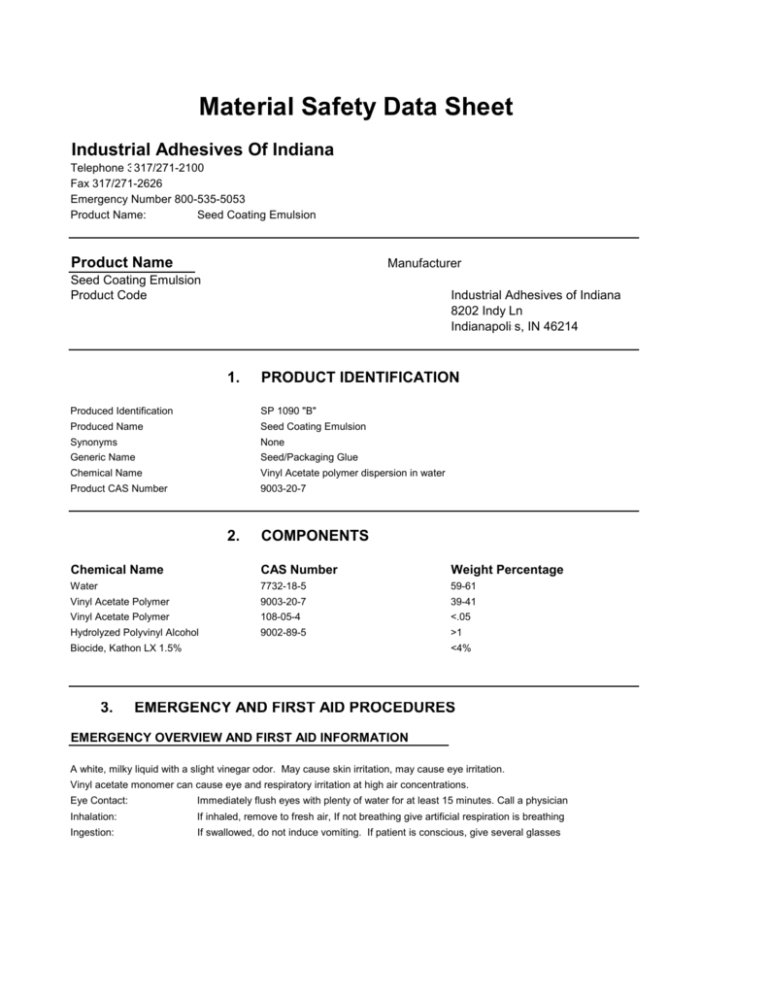 Material Safety Data Sheet
Industrial Adhesives Of Indiana
Telephone 317/541-1100
317/271-2100
Fax 317/271-2626
Emergency Number 800-535-5053
Product Name:
Seed Coating Emulsion
Product Name
Manufacturer
Seed Coating Emulsion
Product Code
Industrial Adhesives of Indiana
8202 Indy Ln
Indianapolis,
s,IN
IN46218
46214
1.
PRODUCT IDENTIFICATION
Produced Identification
SP 1090 "B"
Produced Name
Seed Coating Emulsion
Synonyms
None
Generic Name
Seed/Packaging Glue
Chemical Name
Vinyl Acetate polymer dispersion in water
Product CAS Number
9003-20-7
2.
COMPONENTS
Chemical Name
CAS Number
Weight Percentage
Water
7732-18-5
59-61
Vinyl Acetate Polymer
9003-20-7
39-41
Vinyl Acetate Polymer
108-05-4
<.05
Hydrolyzed Polyvinyl Alcohol
9002-89-5
>1
Biocide, Kathon LX 1.5%
3.
<4%
EMERGENCY AND FIRST AID PROCEDURES
EMERGENCY OVERVIEW AND FIRST AID INFORMATION
A white, milky liquid with a slight vinegar odor. May cause skin irritation, may cause eye irritation.
Vinyl acetate monomer can cause eye and respiratory irritation at high air concentrations.
Eye Contact:
Immediately flush eyes with plenty of water for at least 15 minutes. Call a physician
Inhalation:
If inhaled, remove to fresh air, If not breathing give artificial respiration is breathing
Ingestion:
If swallowed, do not induce vomiting. If patient is conscious, give several glasses
4.
FIREFIGHTING MEASURES
Hazard Ranking
Hazard
1
Flammability
0
Reactivity
0
Other
0
Flash Point
Aqueous System
Method
Not Determined
Lower Explosion Limit
Not Determined
Minimum Ignition Temp
Not Determined
Extinguishing Media
Aqueous product, for fires involving dried material, use water, carbon dioxide,
dry chemicals or foam.
Unusual Fire and Explosion
Hazards
None
Thermal Decomposition
Carbon monoxide, Carbon Dioxide
Fire Fighting Guidance
If product is present in fire and threat of decomposition exists, wear self
contained breathing apparatus with full face piece.
5.
SPILL OR LEAK PROCEDURES
Build Dike to contain flow. Soak up with sawdust, sand oil dry or other absorbent material. Use appropriate
personal equipment during cleanup, treatment, storage, transportation, and disposal must be in accordance
with Federal, State, Local Regulations. Soak up with absorbent material and place material in paper carton.
Landfill according to regulations.
6.
SPECIAL PROTECTION INFORMATION
Emergencey Overview:
White colored water-based adhesive. Slippery in the wet state.
Ventilation:
Use with adequate ventilation. For normal use, ordinary air movement is sufficient.
Ingestion:
No hazard expected in normal industrial use. Ingestion is not a likely route of exposure.
Respiratory:
This product can produce a mild respiratory tract irritation in confined areas under
Protective Gloves:
Protective gloves should be worn when repeated or long contact with skin is exposed.
Eye Protection:
Wear Safety Glasses or other eye/face protection. Substance may cause moderate eye
EXTREME conditions.
irritation.
7.
PHYSICAL DATA
Physical State
Liquid
Vapor Pressure
Same as Water
Color
Milky white
Vapor Density
Same as Water
Odor
Slight Vinegar
Water Solubility
Miscible
Boiling Point
100 C.
Bulk Density
Not Determined
Freezing Point
Not Determined
Specific Gravity
1.1
Melting Point
Not Determined
Evaporation Rate
Same as Water
PH
4-7
Hazardous Polymerization
Will not occur
Stability
Stable
Conditions to Avoid
None Known
8.
STABILITY AND REACTIVITY
Stability:
This product is stable
Hazardous Polymerization:
Hazardous polymerization will not occur
CONDITIONS TO AVOID:
none known
INCOMPATIBILITY:
Strong acids and bases.
HAZARDOUS DECOMPOSITION PRODUCTS:
Oxides of carbon may be released during combustion.
9.
TOXICOLOGICAL, ECOLOGICAL, DISPOSAL
Acute and chronical health effects are not expected as long as good industrial hygiene and safety percautions
are followed. This product has not been tested for environmental effects.
WASTE DISPOSAL:
Disposal of this product must comply with all applicable federal, state and local regulations.
CONTAINER DISPOSAL:
Disposal of this container should comply with all applicabe federal, state and local regulations.
This information is based on our best knowledge and we believe it to be true and accurate. HOWEVER, NO WARRANTY OR
MERCHANTABILLITY, FITNESS OR ANY PARTICULAR PURPOSE, OR ANY OTHER WARRANTY IS EXPRESSED OR IMPLIED REGARDING
THE ACCURACY OR COMPLETENESS OF THIS INFORMATION. THE INFORMATION. THE RESULTS TO BE OBTAINED FROM THE
USE OF THIS INFORMATION OR THE PRODUCT, THE SAFETY OF THIS PRODUCT, OR THE HAZARDS RELATED TO ITS USE. This
information and product are furnished on the condition that the person receiveng them shall make his own determination as to the suitability of
the product for his particular purpose and on either condition that he assume the risk of his use thereof.