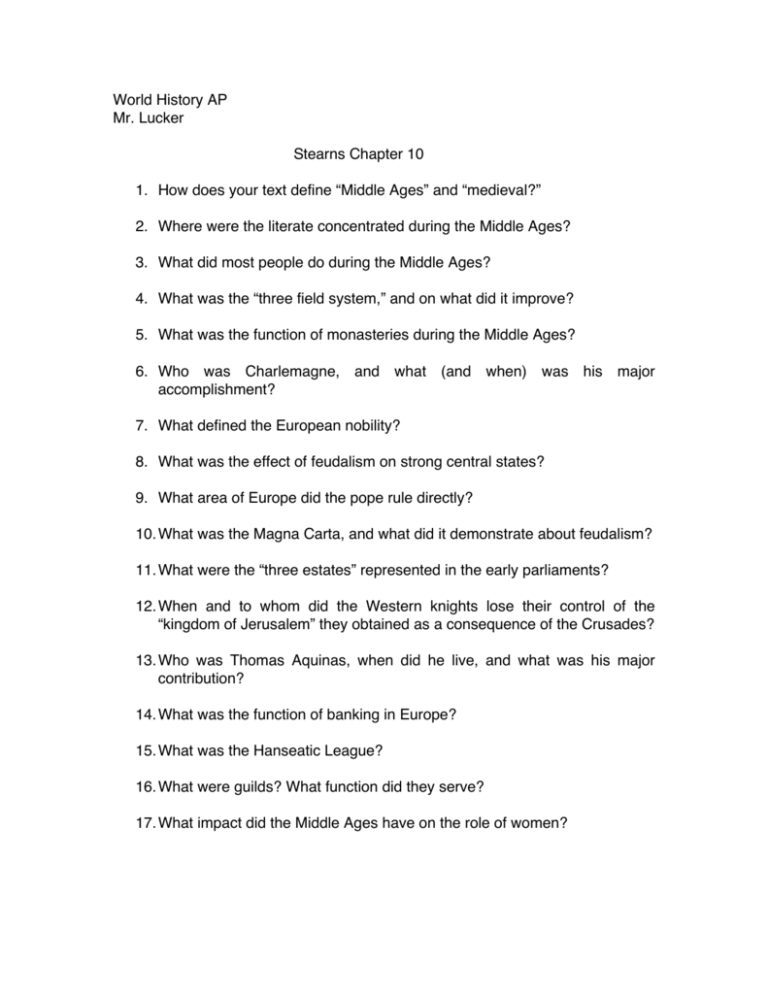 World History AP
Mr. Lucker
Stearns Chapter 10
1. How does your text define "Middle Ages" and "medieval?"
2. Where were the literate concentrated during the Middle Ages?
3. What did most people do during the Middle Ages?
4. What was the "three field system," and on what did it improve?
5. What was the function of monasteries during the Middle Ages?
6. Who was Charlemagne, and what (and when) was his major
accomplishment?
7. What defined the European nobility?
8. What was the effect of feudalism on strong central states?
9. What area of Europe did the pope rule directly?
10. What was the Magna Carta, and what did it demonstrate about feudalism?
11. What were the "three estates" represented in the early parliaments?
12. When and to whom did the Western knights lose their control of the
"kingdom of Jerusalem" they obtained as a consequence of the Crusades?
13. Who was Thomas Aquinas, when did he live, and what was his major
contribution?
14. What was the function of banking in Europe?
15. What was the Hanseatic League?
16. What were guilds? What function did they serve?
17. What impact did the Middle Ages have on the role of women?