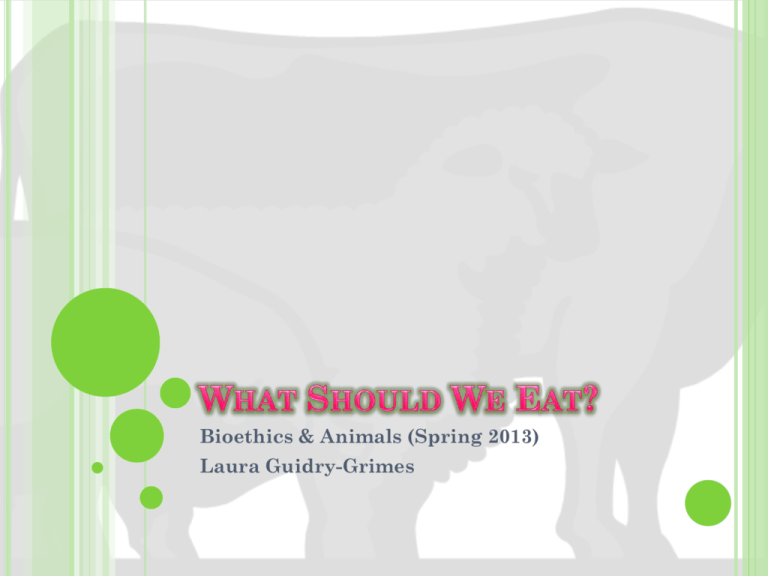 Bioethics & Animals (Spring 2013)
Laura Guidry-Grimes
INTRODUCTION
VIDEO: FOOD, INC. (10:30-17:00)
VIDEO: BEING A WEEKDAY VEGETARIAN
U.S. Census Bureau
ALWARD VS. BENATAR ON NAÏVE ARGUMENTS FOR
& AGAINST MORAL VEGETARIANISM

Vegetarian Thesis (VT): Eating the meat of an animal
with properties X, Y, Z,…that was killed for the purpose
of being eaten is morally wrong.


Alward –defends Naïve Argument


"Naïve" Argument against VT: If it is not morally wrong for
other carnivores to kill and eat animals with properties X, Y,
Z,…, then it is not wrong for us to kill and eat them either.
Vegetarians would need to be committed to preventing natural
predation and euthanizing carnivores in lieu of alternatives.
Benatar –argues against Naïve Argument

VT is not the only formulation of moral vegetarianism.

There is a moral difference in the carnivorous habits of lions
and most humans, and we should not always prevent
unfortunate occurrences (like a deer being ripped apart by a
lion).
NON-ANTHROPOCENTRIC ARGUMENTS:
REASONS TO END MEAT-EATING
Problems with factory farming:

Immobilized, incapacitated

Obsessive, self-destructive behaviors

Family separation; premature weaning

Prevented from species-typical behavior

Sickness, disability, mutilation

Mal-nourishment (over- or underfed)

Subjected to acts of cruelty

Extreme pain without anesthesia

Painful deaths
ARGUMENT FOR COMPASSIONATE EATING
Gap:
How do we
arrive at (4)
from (3) ?
1)
It is wrong to cause suffering unless there is
a good (excellent) reason to do so.
2)
Industrial farming causes billions of animals
to suffering without good reason.
3)
Therefore, industrial farming is wrong.
4)
Therefore, you shouldn't buy factory-farmed
meat.

Problem of dirty hands (participating and benefitting from
wrongful enterprise)

I am responsible for causing animals' suffering as part of
larger group of meat-eaters.

My behavior could possibly make a difference to how much
meat is produced in the future (and even a low probability is
worth it).
"Rethinking the Meat Guzzler" (2008)
"Rethinking the Meat
Guzzler" (2008)
ANTHROPOCENTRIC ARGUMENTS:
REASONS TO END MEAT-EATING


Spread of new, drug-resistant infectious diseases
Pollution of air, soil, water from animal waste,
pesticides, fumes

Overconsumes fossil fuels, water, and land

Wastes food energy and resources
Health problems due to antibiotic resistance, obesity,
heart problems, cancer
 Harms those who live near plants, plant workers,
small farming businesses, and international farmers

ARGUMENT FROM CAUTION
1)
Killing animals might be murder.
2)
So, killing animals to obtain food is wrong.
3)
So, we should be vegetarians.

Do you find this argument compelling?

Could it be applied to other spheres of animal use?
DISCUSSION QUESTIONS

What are the best arguments for continuing meat-eating?




How compelling are aesthetic and cultural considerations?
Do some people have a stronger obligation than others to
change their eating habits?
Rachels considers several ways to bridge the gap between
the wrongfulness of killing animals to eat them and the
obligation to be vegetarian. Which of these arguments do
you find most convincing?
PETA has compared our treatment of animals to the
Holocaust. Do you find this comparison compelling? What
might be problematic about using this analogy in animal
advocacy?
ADDITIONAL REFERENCES

"Meat Consumption by Country"
http://www.census.gov/compendia/statab/2012/tables/12s1377.pdf

"Meat: Making Global Warming Worse"
http://www.time.com/time/health/article/0,8599,1839995,00.html



"How Meat Contributes to Global Warming"
http://www.scientificamerican.com/article.cfm?id=the-greenhousehamburger
"Coop D'Etat: Farmers, Humane Society Partner on ChickenCage Revolution"
http://www.npr.org/blogs/thesalt/2012/01/26/145900751/ex-foesstage-coop-detat-for-egg-laying-chickens
"Rethinking the Meat Guzzler"
http://www.nytimes.com/2008/01/27/weekinreview/27bittman.htm
l?pagewanted=all&_r=0
QUESTIONS? COMMENTS?