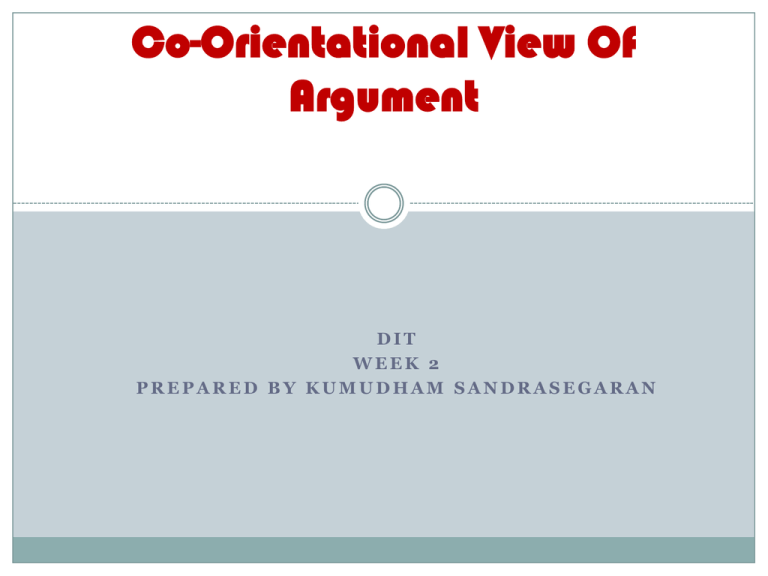 Co-Orientational View Of
Argument
DIT
WEEK 2
PREPARED BY KUMUDHAM SANDRASEGARAN
Learning outcomes
 Perspective Of An Argumentation
 How Argument Perspectives are Used
 Arguer –Based Argument
 A Co-Orientational Approach
 We encounter arguments everywhere in daily life.
 Basic test of arguments :-
1) it is a group of two or more statements
2) one of those statements(the conclusion)
is claimed or intended to be supported by
the others(premise)
What is not an argument
 Reports
 Unsupported assertions
 Conditional statements
 Illustrations
 explanations
Identify arguments
 I ate because I was hungry
 He must be home. He's car is in the diveway.
 I'm trading in my Ford Explorer for a Toyota Corolla
because they are more reliable and get better gas
mileage.
 If Christmas is on a Friday, the day after Christmas
must be a Saturday.
Toulmin Model
Data
2. Claim
3. Warrant
4. Backing
5. Qualifier
6. Reservation
Using the model
1.
Argument styles
 Competing
 Collaborating
 Compromising
 Avoiding
 Accommodating
Activity
 In groups of three, come up with names for several
new cars – a massive luxury sedan, an CRV for the
family, an off-road vehicle for the sports minded, an
affordable four-door, and a sleek, sporty coupe'.
Then choose one of your new cars and write an
advertisement to sell it.